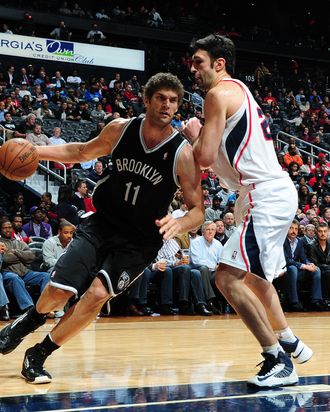 The Nets Power Rankings, written by the excellent Devin Kharpertian from the Brooklyn Game, run every Thursday. Enjoy.
This is a new team under P.J. Carlesimo. Even after a smallish sample size of eleven games, there's no denying the difference. Thusly, this week's power rankings will focus on the "Phase Two Brooklyn Nets," and how they've performed in the eleven games since interim coach P.J. Carlesimo took the helm.
1. Brook Lopez. Make no mistake: Lopez was playing excellent basketball before his injury, but he's ramped it up to another level under P.J. With Carlesimo putting him in more pick-and-rolls and increasing his post-ups slightly, Lopez has extended his offensive dominance, averaging 25.8 points and 9.8 rebounds per 36 minutes on 54.9 percent shooting. His buckets come in a variety of ways — his standard back-downs and rolls aside, Lopez is most successful in finding those little holes near the basket when either Joe Johnson or Deron Williams attacks the basket and sucks in defense. According to Synergy, he's scored more points off those little cut plays than any other player in the NBA — and that's including eight missed games and some rough nights playing through recovery. And though Lopez is criticized as a poor rebounder, he's around the league average for centers. He'll never be a healthy Dwight Howard defensively, but Lopez is using his length effectively and has read opposing offenses better than ever under Carlesimo. Lopez posts the team's best defensive rating in the P.J. era, allowing just 97.1 points per 100 possessions — a number that would rank second in the NBA among teams this season. Deron Williams and Joe Johnson may make the All-Star game over him for proprietary reasons, but don't let that fool you: Brook Lopez has been this team's best player this year.
2. Deron Williams. Lopez's dominance is by no means a knock on D-Will — much of the reason Lopez has been able to flourish is Deron's ability to create off the dribble and find teammates for easy buckets, as well as his newfound ability to hit three-pointers. Williams, a 29.5 percent shooter from beyond the arc at the time of Avery Johnson's firing, has hit three-pointers at a 39 percent clip under Carlesimo. From this eye, it just appears that Williams is taking better shots; his threes are usually open and within the flow of an offense, rather than oddly timed chucks. I don't know if it was his wrist, his hip, his quad, his ankle, his brain, or his Avery, but whatever it is, it appears to be gone. Hopefully, for the sake of the Nets and the sake of basketball, it's gone for good.
3. Joe Johnson. Johnson had already begun a climb back up to normalcy before Carlesimo took over, and outside of a rough game in former stomping ground Atlanta Wednesday night, he's been everything they expected him to be: a killer spot-up shooter, someone that can overpower opposing guards in one-on-one situations, and a reliable threat to score anywhere within 26 feet of the basket. The only big issue with Johnson is his free throw allergy: Despite his control, his smarts attacking the basket, and his 81 percent rate from the free throw line, Johnson rarely attacks the basket looking to draw contact. He knows it's something he needs to do, and he's said as much — but he's still not doing it.
4. Gerald Wallace. True to form, Wallace has shot horribly (34 percent from the field in the team's last eleven games), incurred a freak injury, and the team plays far, far better with him on the floor. It's a little bit of everything; Wallace often defends the opposing team's best wing or forward, out-rebounds his opponents, can post-up, spot-up, or drive the lane, and is the team's best passer not named Deron Michael Williams. He rarely shoots — only Reggie Evans has attempted fewer field goals per minute in the P.J. era — but on a team with this offensive firepower, he's fitting in just fine.
5. Mirza Teletovic. If there was a statistic for "shots attempted per seconds touching the ball," Mirza Teletovic would be No. 1 all-time and it wouldn't be close. On at least two occasions this season, Brooklyn Nets PA Announcer David Diamante said his name back-to-back as if he were rolling in a conversation: "In for the Brooklyn Nets, Mirza Teletovic. MIRZA TELETOVIC! FOR THREE." The Nets signed Teletovic to do one thing: hit three-pointers. Under P.J. Carlesimo, he's doing just that, hitting ten threes in 89 minutes at a 43 percent clip. But he's also shown a surprising ability to put the ball on the floor, attack the basket, and swing the ball to open shooters; Carlesimo said after one game that the stat guys shorted him at least one assist because of how well he was passing the ball. Also: AIR MIRZA.
6. MarShon Brooks. Like Teletovic, like Williams, and like Lopez, Brooks has had a resurgence under P.J. Carlesimo, looking more like the smooth scorer the Nets saw in his rookie season than the bumbling mishap machine they saw in the first 29 games. Most importantly, he has a pretty sweet couch.
7. Andray Blatche. Blatche, who tweeted (before deleting it) to Avery Johnson's son that he missed having Johnson & Johnson Jr. around, hasn't skipped a beat on the floor under Carlesimo. He's even found ways to adjust his game when dealing with illness, focusing on the little things instead of trying to create his own shot on possession after possession. The worry: Blatche is hitting a surprising amount of fadeaway jumpers, shots that may look good when they fall but aren't high-percentage looks, and if that ever evens out it's going to be a rough fall. With that said, most of his shot attempts under P.J. have been dunks, layups, or chip shots from within five feet. Let's hope he sticks to that.
8. Reggie Evans. Evans's aggressive rebounding will never go away, but his defense has looked a little more frightening — it's becoming more clear that he can't defend taller, longer forwards, and the team sometimes seems to abandon him on rebounding opportunities, leaving him to fight four opponents for the ball. It's astounding how often he wins those matchups, frankly, but it often ends with him on the floor flailing for a loose ball and the opponents with a sudden five-on-four break. With that said, Reginald Jamaal Evans dribbled between his legs in a professional basketball game and I am still in a state of shock.
9. C.J. Watson. Watson is an odd duck: He's a point guard, but not a prolific passer. He's a sneaky defender, but also easily beaten. He's a great shooter, but not a good scorer. He draws fouls but can't make shots inside. He's six feet tall in stilettos and has recorded more rebounds than assists in the P.J. era. He's a dependable backup point guard and a steal for the minimum, as long as he's on the floor with someone else that can handle the ball.
10. Keith Bogans. Bogans is a paradox — a bench player best suited to play with the starters.
11. Kris Humphries. January 15 is somewhat of a holiday for Nets fans, mostly because it means Kris Humphries is now eligible to be included in potential Nets trades. Humphries has strung together a few decent games off the bench, but struggles with inconsistent playing time and hasn't produced anywhere near what a $12 million price tag may indicate. If the Nets are looking to boost his trade value, this isn't really the way to go.
12. Jerry Stackhouse. The fall from grace was inevitable, but there's no better dressed member of the Nets organization.
13. Tornike Shengelia. #FreeToko. Maybe he doesn't deserve playing time, but whenever he plays he does a couple of smooth things you don't expect. A steal and a fast-break layup. A nice defensive rotation to cut off a backdoor. An offensive rebound and tip pass to a teammate for a dunk. He seems to specialize in the little things. Would be nice to see him get a shot.
14. Tyshawn Taylor. The third-string point guard averages the third-most field goal attempts per 36 minutes of all Nets players and more than both Deron Williams and Joe Johnson. Also has more than twice as many assists than turnovers. He'll figure it out someday. I think.