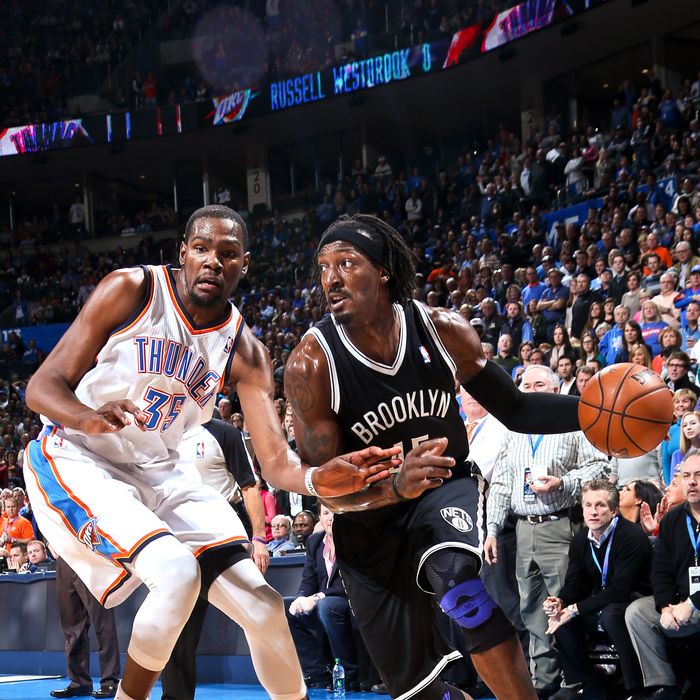 The Nets Power Rankings, written by the excellent Devin Kharpertian from the Brooklyn Game, run every Thursday. Enjoy.
Happy New Year! Along with power rankings, today we're going to learn the middle names of every Nets player.
1. Brook Robert Lopez. No player has experienced a post-Avery resurgence like the man in the middle, who in four games since Johnson's departure has averaged 30.6 points and 10.1 rebounds per 36 minutes on 61.7 percent shooting. Against Charlotte and Cleveland, Lopez banged inside, knocking down little chip shots over the powerless Bismack Biyombos and Tyler Zellers of the world. Against Oklahoma City, Lopez blended a perfect balance of inside and outside scoring, showing off his soft touch at the rim and out to eighteen feet en route to his third game shooting over 64 percent with at least 25 points in the week. Even more encouraging is Lopez's rebounding; it's nowhere near his ability to score, but his rebound rate of 14.8 percent is the highest it has been since his rookie year and much closer to "average NBA center" than "average NBA shooting guard."
Lopez now leads NBA centers in PER by a comfortable margin — the difference between Lopez's PER and the second-best center (Javale McGee, weirdly enough) is bigger than the difference between McGee and the twelfth-best center (Dwight Howard, hilariously enough). And though PER may just be an offensive statistic, Lopez has done his work on the other side, too: The Nets have allowed just 92.8 points per 100 possessions with Lopez on the court in the Carlesimo era, an excellent number and by far the best on the team. The way he's played lately, it's safe to say Lopez has finally come into his own. Now please, please, please stay healthy.
2. Joe Marcus Johnson. Johnson gets this spot almost solely for his performance against the Oklahoma City Thunder on Wednesday night, out-Durant'ing Kevin Durant to the tune of 33 efficient points in every way possible. Johnson was instrumental to their cakewalk victories over Charlotte and Cleveland, too, but he was crucial in the Nets earning easily their best victory of the season. Johnson hit shots in rhythm and looked like the scorer the Nets need him to be. He won't score 33 every time out, but I'm hoping this is a trend and not a blip.
3. Deron Michael Williams. Dealing with criticisms that he's a coach killer and helped usher Avery out of town (for the record, I don't think this is true directly, though his comments on Avery's system certainly didn't help the perception), Williams has experienced a minor rebirth in the P.J. era, hitting jumpers with just a fraction more consistency and pushing the tempo more than ever this season. Williams took advantage of a jumpy Oklahoma City defense, attacking the lane and creating open spaces for teammates like he had on just a few occasions this season. Like with Johnson, let's hope he continues trending away from his wrist and mental issues and back into the top point guard conversation.
4. Gerald Jermaine Wallace. Fun fact about Gerald Wallace: His shooting has been horrid this week, he hasn't made a three-pointer, he's looked tentative about actually putting the ball up … and the team's absolutely killed it with him on the floor. Take away his awful shooting for a moment and consider everything else Wallace has brought: lockdown defense on both ends of the floor, a point forward that the Nets can rely on to give Williams and Johnson some relaxation, an ability to tweak and mess with lineups, a pick-and-roll buddy that can go both inside and out, and a kinetic hellscape on defense that never stops moving. Wallace is shooting 21 percent from the field this week, and the team is a plus-21.7 with him on the floor, and trust me when I say it makes perfect sense.
5. Keith Ramon Bogans. The Bogo Stick is on the floor to function in two roles: defend shooting guards and hit open three-pointers. Check and check. You know what you're getting with Johnson and Williams, but when Bogans is hitting his corner threes, it makes the floor seem so much spacier.
6. Kris Nathan Humphries. He didn't have the best week but had three unforgettable moments against Oklahoma City: sending P.J. Carlesimo into conniptions by nearly throwing the ball away pointlessly at the end of the first half, shushing a heckler by bringing his finger to his lips after hitting two free throws, and grossing out this female fan.
Humphries also wins the award for the best post-Avery player quote: "I'm not here to talk about the past."
7. Andray (appears not to have a middle name) Blatche. He's growing up. It's happening. It's not just a brief foray into awesomeness. He won't end the season with a top-ten PER, but he's becoming a slightly smarter basketball player every game. Don't get me wrong — watching him face up is still the Greatest Show in Sports, because you have literally no idea how the play's going to end, and he's still enjoying the occasional air-ball three-pointer — but he's night and day from the player the Wizards saw in Washington. In one play against Oklahoma City, Blatche had a fool's gold opportunity to try to get a layup that wouldn't have worked, and he instead immediately fired a pass to Joe Johnson for an open three. A split second later and it would've been a wasted possession. He's doing these things now, and it's terrifying and ridiculous and absurd and a breath of fresh air from a backup center.
8. Charles Akeem "C.J." Watson, Jr. Watson is the antithesis of Blatche — he's, in a good way, a boring player. He'll wreak havoc in opposing backcourts once or twice per game trying to snare a sneaky inbounds steal, he'll take open threes and hit some of them, he'll fake defenders out of their shoes and step into midrange jumpers, he'll occasionally pass the ball around (though I wouldn't call him pass-first), and he'll stretch the time out until Deron Williams can come back in. He didn't have a great shooting week and sat against the Thunder to nurse a bruised right knee, but he's a smart player who does smart things.
9. MarShon Scitif Brooks. Brooks would rank higher if he didn't sit out most of the Oklahoma City blowout game, which the team looked great in without him on the floor. There's no questioning his offensive talent, and he's beginning to produce at an acceptable level in his short bursts on the floor. He is good enough to warrant more minutrees, if he can harness the talent and not make silly mistakes. He is also willing to complain openly about poor room service.
10. Reginald Jamaal Evans. Reggie has looked for his shot a bit more this week, choosing to go back up with offensive rebounds and trying to find little spaces to put layups up in. It hasn't really worked out too well. Most notably, he took a midrange jumper against San Antonio for no readily apparent reason. But, as is the case with Reggie, he ain't tryin' to score, and what he does do he does well: 15.2 rebounds per 36 minutes this week.
11. Tyshawn Jamar Taylor. Well, you can't deny he's aggressive in garbage time. With Watson out, he had a chance to show what he can do with a few more minutes, and had a forgettable impact.
12. Jerry Darnell Stackhouse. How the mighty have fallen.
13. Tornike (middle name unclear, if any) Shengelia. I would love to see Shengelia get more playing time — he seems comfortable at the NBA level, even with a broken jumper. But I'm not the one in practices.
14. Mirza (middle name unclear, if any) Teletovic. Three years, $9.68 million. I'll leave it at that.