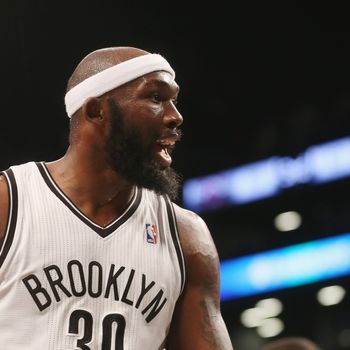 The Nets Power Rankings, written by the excellent Devin Kharpertian from the Brooklyn Game, run every Thursday. Enjoy.
1. Deron Williams. Though the Nets have had a full roster's worth of upticks in the post–Avery Johnson era, perhaps no player has gone from troubled to triumphant more quickly than Williams. In seven games since P.J. Carlesimo took over for Johnson, Williams has looked like a new shooter, averaging 45 percent both from the field and outside the arc and missing just one free throw in 27 attempts. Williams's assist numbers are slightly down, but he had arguably his best game against the toughest competition — a nineteen-point, thirteen-assist, five-steal effort in a blowout of the Oklahoma City Thunder. There's no denying that Williams looks looser and happier than ever in Brooklyn these days. Can he keep it up?
2. Brook Lopez. First and foremost: If these were the "shit-eating grin" rankings, Lopez would rank first, now and forever. On the floor, Lopez continues his boringly efficient tear through stat sheets — even though he admittedly has no idea what his own numbers are — and the "All-Star" question is finally coming to a head. Lopez leads NBA centers in PER by a comfortable margin and has played much more adept pick-and-roll defense and help defense than ever before; with Lopez on the court, the Nets give up 101.9 points per 100 possessions, a number on its own that would rank a respectable twelfth in the NBA. Even his oft-maligned rebounding has come closer to "league average for a center" numbers — he now has a higher rebound rate than Javale McGee, Chris Bosh, Nene, and Marc Gasol.
3. Joe Johnson. Johnson continues to pile three-pointers and minutes in Brooklyn, averaging a team-high 38.2 minutes per game this season and hitting 2.3 three-pointers per game at a 41 percent clip in the past week. The concern: Johnson has now played 1,337 minutes this season, fifth-most in the NBA. His minutes have come mostly because he fits in with everyone; Johnson effortlessly switches roles mid-game between spot-up shooter in the starting lineup and primary facilitator/offensive creator with the bench mob. Oh: And he did this.
4. Gerald Wallace. Nobody on the Nets loves winning and hates losing as much as Gerald Wallace, so you'd better believe he's enjoying this week. Wallace keeps it simple — he's driving the lane looking to create for others (amazingly, he has a higher assist percentage than Deron Williams in the past week) and occasionally shooting from the outside, but otherwise lets those around him cook.
5. Reggie Evans. The only reason Reggie Evans didn't break the Nets' all-time game rebounding record of 27 on Tuesday night is because P.J. Carlesimo sat him for the last fourteen minutes of the blowout win over Philadelphia. Consider this: Evans's rebounding percentage on that night — he had 23 in 27 minutes, for the record — was 50.6 percent, meaning he grabbed more than half of all available rebounds when he was on the floor. For either team. When Evans left the game, he was out-rebounding the 76ers 23–20, and that includes the minutes he wasn't playing. There is nothing particularly fundamental about the way Evans gets rebounds. Says Evans, "Just go get it." And get it he does.
6. Mirza Teletovic. Well, this is new. Teletovic was buried on the bench for the first few months of the season after his short stints on the floor ended with nothing but missed shots and shrinking leads. But under P.J. Carlesimo, Teletovic has looked like a new shooter, in the sense that he's finally hitting shots. After hitting two threes in just one game all year, the 27-year-old Teletovic has hit two threes in each of his last three games and punctuated a blowout over the Sacramento Kings with a fast-break dunk and Air Jordan leg kick unlike anything we've seen all season from him. He's still not getting many minutes — in a rotation with Lopez, Blatche, Evans, Humphries, and Wallace, it's tight for a big man — but if he continues hitting at this clip, it'll be hard to keep him off the floor.
7. MarShon Brooks. Like Teletovic, Brooks is starting to look more like a human being that's paid to play professional basketball again, most notably in the "hitting absurd shots" department, causing Nets announcer Ian Eagle to proclaim that Brooks has "a lot of swag." Brooks has no idea if this recent improvement will bring him more minutes — and he made that quite clear — but he's making the most of it, and it's so fun to watch him play when he's having fun.
8. C.J. Watson. Watson continues his role as the boring backup shooting guard who hits open shots and ebbs on and off the ball with Joe Johnson in the game. Watson sat one game despite being listed as active with a knee injury, but plays in control and doesn't run guerrilla offense without warning. One exciting sign: After averaging 3.0 turnovers per 36 in Chicago, Watson has cut that number to just 1.3 per 36 this year in Brooklyn.
9. Keith Bogans. Bogans has taken over Jerry Stackhouse's role as the corner threat that spaces the floor around the team's good players. And it's working: Bogans plays much better in the starting lineup, and the team's best players all play better with him on the floor. Had a poor individual week, but as a Nets fan, you should feel comfortable with the Nets putting Bogans in the starting lineup and Wallace at the 4 to throw a wrench at opposing teams.
10. Tornike Shengelia. I don't care that he's an awful outside shooter and that I'm incredibly biased: This type of quick-reasoning and spatial understanding was just awesome to see from your twelfth man. Call me crazy, call me biased, call me maybe, but there's a hint — just a hint — of Gerald Wallace in how he plays.
11. Tyshawn Taylor. For a third point guard in garbage time? Sure.
12. Jerry Stackhouse. It seems like Stackhouse is slowly evolving from "insane plus-minus beast" to "assistant coach/player" — he only played in one game this week and has needed some extra recovery time after the Nets' grueling schedule over the past few weeks.
13. Kris Humphries. In a week where the Nets went 3–0 and laughed their way through their last two opponents, Humphries only played in one game and looked awful in it. Humphries has dealt with a mild abdominal strain and an ankle injury in the last couple of weeks — not to mention an ex/current wife who's having a baby with Kanye West — but P.J. Carlesimo gave him a brief stint to play against Philadelphia, and Hump didn't show any reason why he should.
14. Andray Blatche. As a human being with thoughts and emotions, it's hard to put Blatche anywhere but at the bottom of this list. Despite his still-steady play as the Nets' backup center — he's now averaging 11.3 points and 6.1 rebounds on 50 percent shooting in just over twenty minutes per game and scored twenty efficient points Tuesday against Philadelphia — Blatche's ranking comes from exclusively off-court issues. Blatche is mired in a messy controversy that alleges a woman was sexually assaulted by two members of Blatche's entourage in his hotel suite when the team traveled to Philadelphia. According to reports, Blatche's cell phone had compromising pictures of the woman, and the woman told ABC Local that Blatche entered the room during the assault. Even though Blatche is not directly involved — the woman, who believes she was drugged, says that Blatche did not assault her — this is not a good sign for Blatche, a troubled big man who dealt with his share of legal issues in Washington and finally seemed to be turning the proverbial corner in Brooklyn.