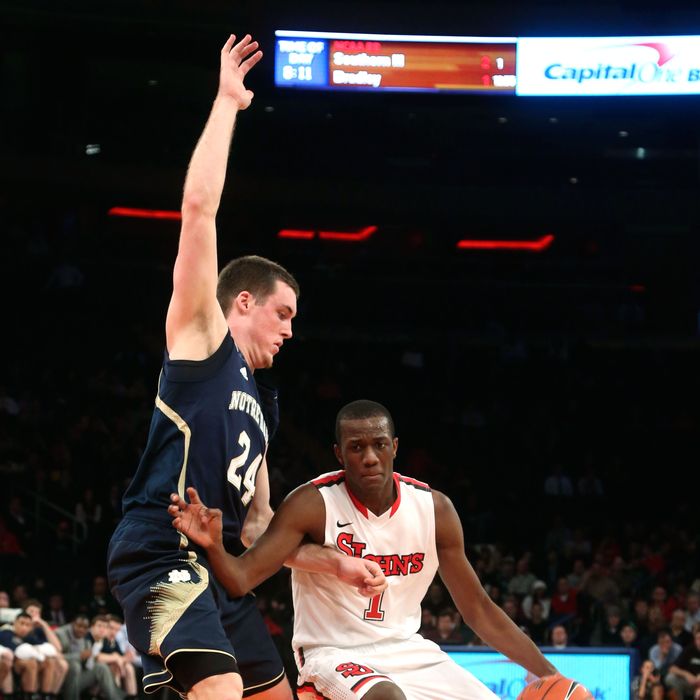 As you might know, we're a bit obsessed with the local college hoops scene. It's the middle of January, and we haven't checked in on the teams all season. So let us not waste another second.
We're gonna look at each team's rank in Ken Pomeroy's fantastic ratings, their record, where they're standing, and the TeamRanking odds that they will make the NCAA Tournament. So, let's get to it.
No. 107: St. John's Red Storm
Record: 10–7, 2–3 in Big East.
NCAA Tournament Odds: 4.6 percent
The Red Storm had a terrific win, 67–63 win over No. 20 Notre Dame last night, but don't get carried away: St. John's still has a ways to go. Early losses to Murray State, San Francisco, and UNC Asheville likely doomed any NCAA chances Steve Lavin's boys had; they'll basically need to charge through the Big East, growing up faster than you could possibly expect. It's great seeing Lavin back on the court, but the turnover and roster issues St. John's has had since he came to town will need to get settled before the Red Storm can make a great leap forward. Of course, they may be doing it in a conference that isn't the Big East by then.
No. 157: Columbia Lions
Record: 8–6, 0–0 in the Ivy League.
NCAA Tournament Odds: 11.4 percent
The Ivy League schedule doesn't get going until Saturday against Cornell, but the Lions might have a better chance than many realize to win the league's automatic berth by winning the league. KenPom has them as the third-best team in the Ivy, behind Harvard and Princeton (both of whom have already won a conference game), and they had a super-nice win over Villanova back in November. They haven't made the tournament since 1968 (when they finished third). This year's as good a shot as any.
No. 188: St. Francis Terriers
Record: 7–8, 3–1 in the NEC.
NCAA Tournament Odds: 12.1 percent
We love us some St. Francis basketball, and they're looking good, 3-1 in the conference and coming off a convincing win at Wagner. They should be favored in their next three games, too. This team has never made the NCAA Tournament, but it's starting to look like they're gonna host some NEC tourney games. From there, anything can happen.
No. 203: Wagner Seahawks
Record: 9–6, 3–1 in the NEC.
NCAA Tournament Odds: 22.9 percent
In their first year under coach Bashir Mason — who took over when Dan Hurley left for Rhode Island after resurrecting the program — the Seahawks are hanging in, off to an excellent start in the Northeast Conference. They pulled out wins in their first three conference games before losing at home to St. Francis over the weekend. The team's pretty good, but we still highly recommend avoiding Wagner home games.
No. 239: Long Island Blackbirds
Record: 6–10, 1–3 in the NEC.
NCAA Tournament Odds: 6.2 percent
The Blackbirds have made the last two NCAA Tournaments, but it's not going well this year. Their NCAA-high home-court winning streak was snapped, and they started their Northeast Conference slate with three straight losses. That said, they rebounded against Mount St. Mary's after losing six in a row, and that conference is always so tight that anything can happen. It'll be a while until you see Spike Lee at a game again, though.
No. 242: Manhattan Jaspers
Record: 5–11, 3–3 in the MAAC.
NCAA Basketball Odds: 3.7 percent
Considering they went 2-8 in the non-conference, hey, 3-3 in the MAAC ain't so bad. (Oh, one of those non-conference wins: Over Fordham.) KenPom has them losing eleven of their last twelve games, though.
No.243: Fordham Rams
Record: 5–11, 1–1 in the Atlantic-10.
NCAA Tournament Odds: 0.0 percent
The goals for Fordham are simply gradual improvements, with slow nods at competitiveness in the Atlantic-10 Conference, a league that's way out of their weight class. So far: not terrible! A home win over Duquense was followed by a tough home loss against Massachusetts, a good team that the Rams almost came back against. They want to finish in the top twelve of the A-10 so they can play at least one game at Barclays Center (where they are undefeated!) in the conference tournament. That's gonna be tough: They probably need four more conference wins, at least. But it's a goal. If that happens, it's like making the real tournament for anybody else. Progress?