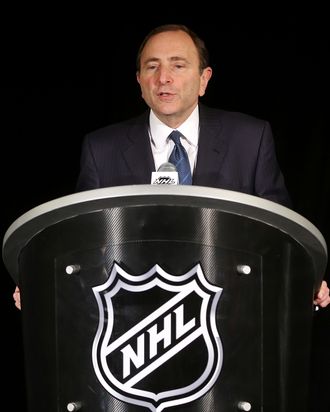 Gary Bettman, last month.
A day after renewed optimism that the NHL and the players union were on their way to a new collective bargaining agreement, talks soured again yesterday, and the players began to vote on reauthorizing a disclaimer of interest which would dissolve the union and open the door for antitrust lawsuits. (They'd already authorized it once, but it had to happen within a certain time frame, and Donald Fehr allowed the deadline to pass earlier this week.) It only makes sense that the players would vote again on this: Fehr might as well be able to use every arrow in his quiver, though both he and Bettman know that taking this to court would effectively end hopes for a season.
Meanwhile, a report in the Winnipeg Free Press cites a source that says that if a deal isn't done by next Thursday, Bettman is prepared to cancel the season. Of course, that Bettman could pull the plug late next week shouldn't come as a surprise, though the deadline had generally been understood to be the following day, Friday, January 11. After all, we've long known the consequences of failing to get a deal done by next week.
It seems pretty obvious at this point that this will go down to the wire. If there had been any urgency to preserve something more than the minimum number of games, a deal would have gotten done a week ago or a month ago or four months ago. But it didn't: All along, both sides have been content with playing a shortened season, which is insane and only appears acceptable because it's better than what happened in 2005. Now that we've passed the deadline to play a 52-game season — or slightly more than the minimum — there are just two options remaining: a 48-game season, or no season at all, again.
It's been reported that the season, if there is one, would begin on January 19. And so, as has been pointed out elsewhere, other than longer training camps and maybe a shred of additional goodwill, there's nothing to gain by settling today as opposed to settling next week, at the last possible minute. Which means we're about to witness a weeklong game of chicken.
Keep that in mind over the next four or five days, when both sides will try whatever they can to squeeze more out of the other side. They've got a week left to do whatever they can before it's too late, and there will presumably be progress and setbacks as the deadline approaches. And it's possible that no one will blink and there won't be a season. But we still don't think that will be the case.
Again, look at the big picture. In 2004–05, the league needed to totally overhaul the way it did business. It needed to go from the mayhem of an open market in which Bobby Holik could earn $9 million a year to a hard salary cap. Bettman, rightly, was willing to wait as long as he needed to in order to get such a system in place. Things are different this time. The two sides aren't digging in over major philosophical differences: They're haggling over things like whether the salary cap should be $60 million or $65 million in 2013–14 or how much variance should be allowed in a player's contract from year to year or what the maximum length of contracts should be. These are not worth canceling a season over. We'd like to think both Bettman and Fehr know this.
This is to say nothing about the hit the league's reputation would take if it cancels a full season for the second time in less than a decade. The diehards might still return, but the league will be a punch line to casual fans and nonfans — exactly the type of people it should be trying to win over. The league's come a long way since the last lockout, and it's already done plenty of damage to its credibility with this lockout so far. But it can't afford to have to totally repair its image, again, following yet another canceled season. We'd like to think both Bettman and Fehr know this, too.
Something else to keep in mind: During the 2004–05 lockout, the owners were united and eventually got a deal that pleased them. But the owners whose teams make money would very much like to avoid another lost season. Via SportsNet:
There are two competing groups of owners howling in Bettman's ear at the moment. On one side are those that actually make money or otherwise feel the need to get the season up and running — the big-market Canadian teams and the major U.S. clubs such as the Rangers, Flyers and Blackhawks, as well as Pittsburgh and perhaps Minnesota.

They are joined in the 'just get a deal done already' chorus by sponsors and broadcast rights holders.

On the other are the floundering U.S. owners — Anaheim, Columbus, Florida, Tampa Bay and the like.

They see this next CBA as being key to their ability to survive, if not thrive — and they have the ear of a commissioner who feels he's given too much to the players' already.
Say what you want about the guy, but Jim Dolan surely wants this lockout to end as much as we do. Hearing the voices of owners who want a deal done doesn't mean Bettman will make more concessions, but it doesn't hurt. (One imagines that the NBC Sports Network — which has had major ratings issues — has let Bettman know how important it is that the NHL return, as well.)
So yeah, there is a week or so left to save the season. The game of chicken is on.