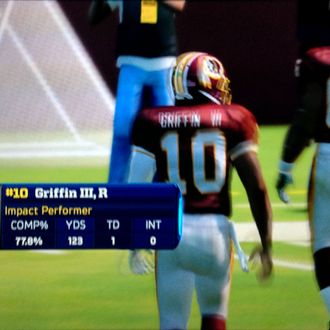 As is tradition around these parts, we sat down with our PlayStation 3 and our Madden 13 and watched every wild-card playoff game this weekend. (We are so alone.) So how'd it go? Your final scores:

Cincinnati 32, Houston 27
Green Bay 21, Minnesota 14
Baltimore 38, Indianapolis 20
Washington 13, Seattle 10
Hey, our PlayStation picked the Giants to win the Super Bowl last year, so it would not lie to us. Also, digital RGIII is almost as fun to watch as the real thing. Also, we mentioned we are so alone, right?