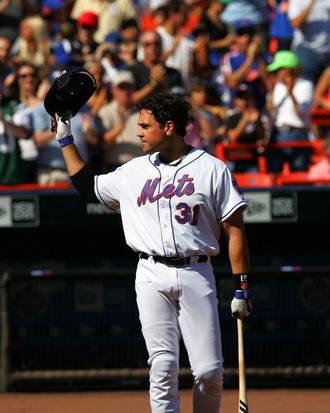 So yesterday, Will wrote about Hall of Fame voters' baffling snub of Mike Piazza. Piazza's numbers, of course, are more than Hall worthy, but suspicion that Piazza took performance-enhancing drugs was apparently enough to keep the catcher under the 75 percent threshold. Bill Madden's justification in the Daily News for leaving Piazza off his ballot seemed pretty representative: "I will never vote for any player known to have used steroids (Bonds, Clemens). I feel I need more time and more information before I cast my vote for Piazza." In other words, he doesn't knowPiazza took steroids, but he he's got his suspicions, and … well, that's where it gets sort of murky. Players like Piazza are, unfortunately, suspected of being guilty until proven innocent, except that it's impossible to be proven innocent on something like this. Piazza can't prove he never took steroids in the same way we can't prove we've never eaten an ostrich burger. And so someone who's willing to vote for Piazza eventually — just not now, because they don't think we know enough yet — is basically just waiting a while to see if any allegations pop up.
Which brings us to Murray Chass. As you'll recall, Chass once blogged about how Piazza had backne, which he believed was enough evidence to basically accuse him of using steroids. (The oft-forgetten part of that post is how Chass bemoaned the fact that his former editors at the Times refused to let him run that story in the paper. Actual, insane quote: "I always took the veto to stem from the Times ultra conservative ways, but I also wondered if it maybe was the baseball editor, a big Mets' fan, protecting the Mets." It's definitely either that, or the fact that they're sane, responsible journalists.)
In any case, Chass followed up his crusade against Piazza with another bloggy blog post last June that found it mighty coincidental that Piazza had a book coming out in 2013 that wouldn't be released until after the Hall of Fame voting for this year had wrapped up. Never mind the fact that the book's release coincides with the start of spring training, which is a pretty reasonable time to release a baseball book, because Chass smelled a conspiracy!
The only question relevant to pre-publication is does Piazza write about steroids and if so, what does he write? No one is giving away that information. But sometime last year a Piazza associate said he would cover his entire career, whatever that means.

It seemed unlikely that the former catcher would admit to steroid use and jeopardize, even for an $800,000 advance, his chances of being elected to the Hall of Fame. The publisher, however, will not issue the book until after the Hall of Fame results are known.
And also, this:
Maybe Simon & Schuster has innocently planned the Piazza publication for soon after the announcement for marketing purposes, but it might just as easily have agreed to a post-election publication to insure that the book would not keep Piazza out of the Hall.

If, on the other hand, the book includes a steroids admission, all I can say is shame on Piazza and his publisher. With that possibility in mind, though, the voters would be wise to withhold their votes from Piazza until a future election. He will have 14 more chances.
So we direct Chass's attention to this Newsday interview with the co-author of Piazza's book. From the paper:
Veteran scribe Lonnie Wheeler made it sound as if Piazza will continue to deny he ever used PEDs. That cloud of suspicion might have kept Piazza out of baseball's Hall of Fame in voting announced Wednesday.

Wheeler said he didn't want to upstage his publisher's upcoming media tour by giving away too many details about "Long Shot," which will be released Feb. 12. But asked if Piazza continues to deny PED use in the book, Wheeler said: "Anybody who's looking for Mike's answer to PED questions will find it there … I believe he's clean."
We haven't seen the book, which comes out on February 12, but Wheeler suggests there that the book doesn't contain a bombshell admission of PED use. So now can Piazza be elected? Or will some voters want to keep waiting until they're more sure than they are now?