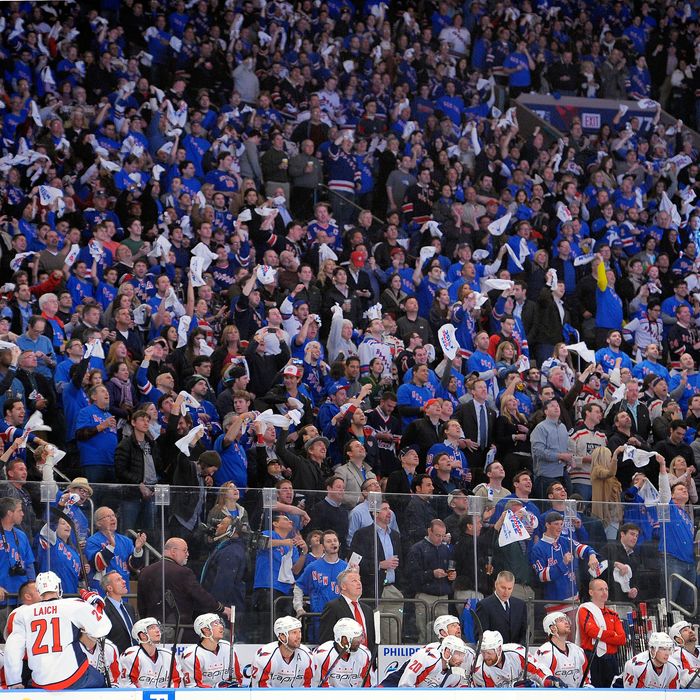 Rangers fans during the playoffs last season.
The NHL published a full-page apology to fans in newspapers today, thanking them for their patience and saying that the league is "committed to earning back your trust and support the same way it's earned on the ice: with hard work and unwavering dedication." It's a relatively empty gesture, as far as these things go, but it's telling that the league is still in apology mode with opening night just two days away. It knows there are certain types of fans it's in danger of losing, and the league desperately doesn't want to be seen as anti-fan after a lockout in which the league's supporters were the undisputed losers.
Contrast that with the tone and content of an e-mail Rangers owner Jim Dolan sent to a fan this week (the validity of which, by the way, was confirmed by a team spokesperson to Newsday). Here, first, is the e-mail the fan, Joseph Hellman, wrote to Dolan:
"With all due respect," Hellman wrote, "I think the way the New York Rangers organization has responded to the NHL lockout is terrible. In other cities, there have been open practices, sales at team stores, fan rally's, deals on tickets, etc. The Rangers have done nothing for fans to show a hint of remorse over taking away our game for four months … "

"I've always thought the Rangers were one of the classiest organizations, not just in hockey, but in all of pro sports. This slap in the face to your loyal fans is inexcusable. I won't complain about ticket prices. I understand attending games is a luxury. I would, however, sincerely appreciate some explanation as to why there's been no outreach to fans in the wake of the ridiculous lockout."
The line about accepting that attending games is a luxury is profoundly sad, but we'll let that go for now. Here's Dolan's response:
"Joseph: There are several reasons for this. Most importantly, we have little time to get ready and all of our focus is bringing our fans a championship. Please be patient, and we will return to our fan engagement tactics soon. As far as remorse goes, no one wanted to play hockey more than the NY Rangers."
Believe as much as you'd like about that e-mail, like whether the team couldn't possibly have done more because it's so focused on bringing its fans a championship. (What exactly that means, we're not sure.) It sort of doesn't matter, though, because there's something else to be learned here. The Rangers don't really feel the need to make any big gestures to win back their diehard fans right now because they frankly don't have to. Would it be great if they slashed ticket prices? Of course. But go try to buy a ticket to opening night on the secondary market, and you'll see there's plenty of demand, even with tickets at full price. Dolan's e-mail doesn't beg the fan to stick with the Rangers; it doesn't have to.
If anything, Dolan is putting himself in the same boat as the fan, and he's not bullshitting when he says no one wanted to play hockey more than the Rangers. Not only does the team have the potential to be among the league's best, but Dolan knows that it's profitable, too. That isn't true across the NHL, and in many cities, the sport is still in its infancy, relatively speaking. (There are no third-generation Blue Jackets fans.) The league, representing both its strong franchises and its struggling ones, needs to make a show of being sorry, and must make an effort to, at the very least, maintain its existing fan base. That's not as big a priority for the Rangers, who can still count on their core supporters to care even after a work stoppage. (We are sort of curious to see what these "fan engagement tactics" are, though.)
This isn't to say the Rangers are the talk of the town right now; there's plenty of room to grow its fan base by winning over new fans, or further engaging the casual ones. But while the league has to consider fans across the continent, the Rangers know their situation was pretty desirable before the lockout and remains pretty desirable now. The NHL needs to do damage control, but the Rangers can go about their business, more or less as usual.