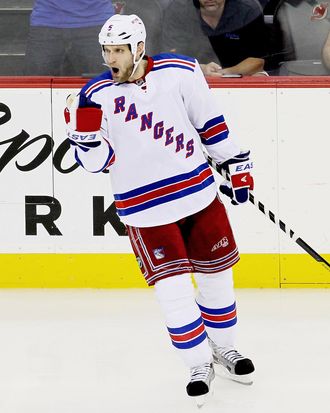 This season's NHL schedule was originally released back in June, but thanks to the lockout, that slate of games has been meaningless for some time. (It was always sort of amusing when the league would announce they'd canceled games through a certain date, as if they'd pick up the original schedule in, like, mid-December if they settled.) In any case, the owners and players reached a tentative agreement to end the lockout in the early morning hours of January 6 — but the league wouldn't release the schedule until the new CBA was ratified by both sides. The league was expected to release the schedule early on Saturday, once the players officially ratified the new deal … but then came another delay, as the two sides worked on a memorandum of understanding. Then finally, after the lockout officially ended at 10:40 p.m. Saturday night, the 2013 schedule was unveiled in its abbreviated, tightly packed glory.
So, what does the Rangers schedule look like?
• As expected, they'll open the season on Saturday night in Boston, then host Pittsburgh in their Madison Square Garden opener the following night.
• Overall, the Rangers will play 48 games in 99 days and play games on back-to-back days six times. (Two sets of back-to-back games come in the first week of the season.) Via the Daily News, half of the fourteen weeks in the regular season will see the Rangers play four times.
• The Rangers will play two divisional opponents (the Flyers and Penguins) five times and two divisional opponents (the Devils and Islanders) four times. They'll play the other ten Eastern Conference teams three times each. As expected, there will be no inter-conference games this season.
• The Rangers will play 14 of their first 21 games at home, but 11 of their final 17 on the road.
• The Rangers and Devils will play for the first time since last year's Eastern Conference Finals on February 5 in Newark, but the Devils won't visit Madison Square Garden until April 21. They'll be back at the Garden again for the season finale for both teams on April 27.