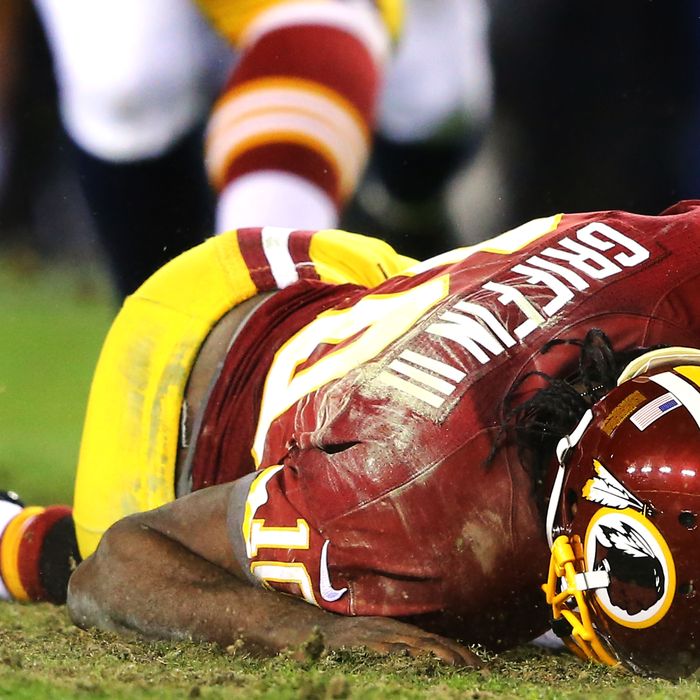 Just more than a month ago, when writing about yet another Giants loss, Joe lamented that, for the first time in almost a decade, the Redskins were relevant and an issue for the Giants again. The reason for this, of course, was the emergence of superstar rookie quarterback Robert Griffin III, one of those players who makes you want to drop all your issues with football and frustration with the sports' ruling class and totalitarianism and just celebrate how much fun the game can be. But the assumption that the Redskins were "back" was founded upon the notion that Griffin would continue to lead the Redskins for the next ten years. Yesterday's playoff game made one wonder if he'll lead them for even one more.
The Redskins lost to the Seahawks 24–14, despite jumping out to a 14–0 lead in the first quarter. The main reason for this was Griffin — more specifically, a knee injury that has been bothering him for a few weeks now, which flared up again in the first half and finally gave out in the fourth quarter, leading to a fumble and Redskins fans going silent and terrified. It was like when Derek Jeter got hurt in the playoffs, except worse. Derek Jeter has already won his championships, after all; Griffin's were all supposed to come.
Instead, there's just this terrifying GIF.
It's not known yet how injured Griffin will be, whether it's something that will keep him out of parts of next year. He walked off the field on his own power, which is a good sign, but Redskins coach Mike Shanahan has been pushing Griffin so hard that you won't be able to escape the "did the 'Skins ruin RGIII?" "debates" for the next six months. (Josh Levin of Slate has an excellent take on the whole mess this morning.) The point is that Griffin's injury, and the Redskins' relentless flogging of the rookie (hiding concussions, pushing him back out on his balky knee, probably shaking him right when he's about to fall asleep), is a reminder that the bright future, particularly in the NFL, can go up in smoke in half a second. This is why the Redskins can't have nice things.
Anyway, the other playoff games this weekend went as planned, with the home teams winning, and all told, it was kind of a boring football weekend. That won't be an issue next week. Here's your TV schedule:
Saturday
Baltimore Ravens at Denver Broncos, 4:30 p.m., CBS
Green Bay Packers at San Francisco 49ers, 8 p.m., FOX
Sunday
Seattle Seahawks at Atlanta Falcons, 1 p.m., FOX
Houston Texans at New England Patriots, 4:30 p.m., CBS
The best football weekend of the year, coming up, if you ask us. 'Tis a shame RGIII won't get to be a part of it.