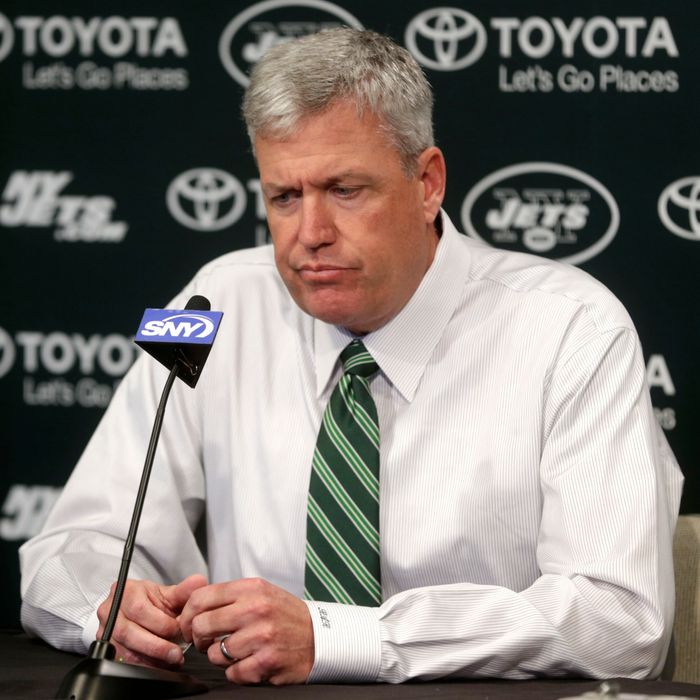 Remember how Rex Ryan took a vacation last week before going through with his post-season press conference, and how that somehow briefly became a bit of a Thing? Well, he faced the press today along with Woody Johnson to talk about the season that was, and about the future of the franchise. Some highlights:
• Johnson said that the delay in holding the press conference was his doing, not Ryan's.
• Tony Sparano is officially out as offensive coordinator, so the Jets will need to find his replacement in addition to naming a new defensive coordinator. Ben Kotwica will replace the retired Mike Westhoff as special teams coordinator.
• Ryan stressed that he wants a physical, aggressive attack in all three phases of the game, and wants to find an offensive coordinator who shares that belief. He said he wants an "all-weather" offense, and said that the ground-and-pound attack he introduced in his first season with the team was implemented because it fit that particular group.
• Can he implement such an offense with Mark Sanchez with quarterback? He wouldn't comment on the quarterback's status, saying only that they'll see what happens once a new coordinator was hired.
• He also wouldn't comment about Tim Tebow's status. It appears that nothing will happen officially until after the new offensive coordinator is hired.
• Ryan and Johnson were asked if there could be a competition for the quarterback job next year. Johnson's answer: "Well I mean every year … I think pretty much every year there's competition among players." (We'll note that there was not a competition at quarterback last year, as Sanchez was declared the starter after Tebow was acquired in March.) Ryan, by the way, said that money won't determine who gets playing time.
• Ryan was asked about wanting to play in the Super Bowl at MetLife Stadium next year, but he made no predictions, saying only that they had a lot to improve on, and had to take little positive steps. (He did add that every coach wants to go to the Super Bowl, but, you know, duh.)
• Actual Woody Johnson quote, about sticking with Ryan as a coach: "My confidence in him as a coach, you know, obviously, gives me the confidence to keep him as the coach." A smile appeared on his face as he said it, so we assume he realized he was in the middle of a hell of a sentence. (Johnson later said that he was "totally happy" with Ryan as head coach.)
• And yes, someone asked Ryan about the tattoo of his wife wearing a Mark Sanchez jersey. The tattoo, if you're wondering, is real, and he's had it for three years, though Ryan joked if Sanchez doesn't play better, the number on the jersey is changing.