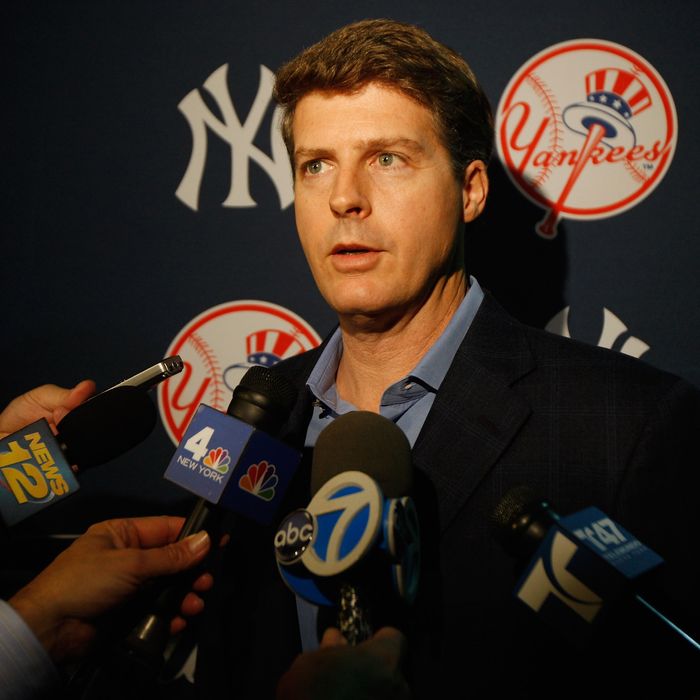 Hal Steinbrenner and the Yankees have plenty of incentive to cut payroll below $189 million by the time 2014 rolls around: Dropping below $189 million for the one season will save New York from massive luxury tax ramifications. After that, New York could technically get right back to blowing money at people without penalty. Steinbrenner, though, claims he's striving for a long-term change in approach, not just a blip of relative quasi-austerity to avoid penalty.
Steinbrenner took a rare opportunity to answer questions during owners' meetings in Arizona and had the following things to say:
Question: Are you absolutely committed to getting the payroll under $189 million by next year, or could that change based on how the team performs in 2013?
Steinbrenner: I've been resolute that that is our goal. And that is our goal. But I've also said, including at spring training a year ago, that in order to achieve that goal, these young players have to step up and get the job done. How many World Series winning teams the last 10 years had a payroll over 189? One. You don't have to have a $200 million payroll to do that.
That one team was the '09 Yankees, of course, but he's serious about this, and he has his reasons:
Question: Is cutting payroll something you need to do to remain profitable or is this strictly about eliminating wasteful spending?
Steinbrenner: It's about, to me, being fiscally responsible. I know everybody looks at our attendance and our revenues and all that. But you also have to look at our expenses — $100 million a year in revenue sharing; we pay for every dollar of the debt service on the bonds that build the stadium, which doesn't cost the taxpayers anything.
Steinbrenner mostly brushes aside other related issues — he dismisses the low playoff attendance and professes an aversion to contract extensions — and there's a built-in cop-out as well: "Is our goal 189 next year? Yes. But only if I'm convinced that the team I see we put together is a championship-caliber team." The upshot, though, is that Steinbrenner genuinely intends to curb the rampant spending long associated with Yankees management. Whether he actually ends up constructing a roster that is both "championship-caliber" and due less than $189 million remains to be seen, but plenty of other teams have been able to do that, so why not?