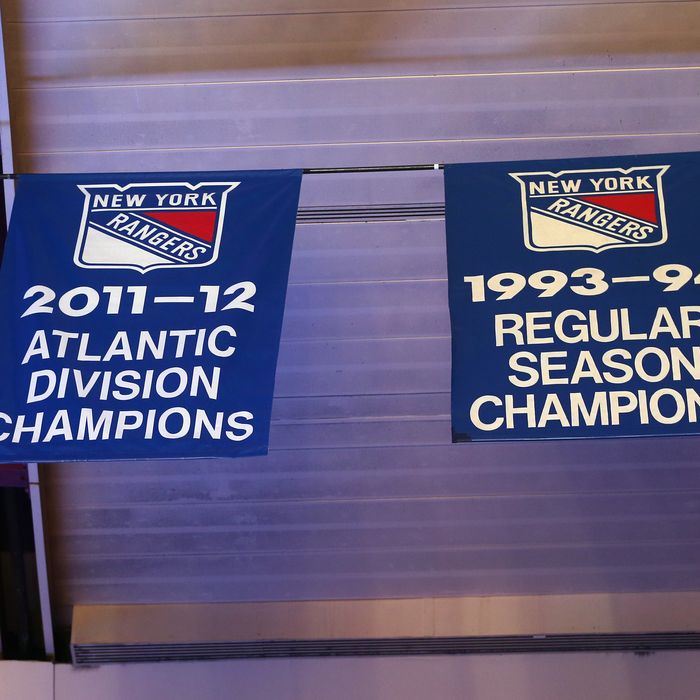 It had been a long time since the Rangers were able to hang a new banner.
Over the past couple of years, we've written a lot in this space about the Rangers' window to win a Stanley Cup. Nineteen months ago — at the end of a 2010–11 season in which they were bounced in the first round of the playoffs — it was hard to gauge exactly how close they were to truly competing. That window became a bit clearer when they signed Brad Richards in the summer of 2011: The Rangers were going for it by adding an expensive free agent to a core that included several homegrown players. Last year's team went on to exceed expectations — it finished with the top seed in the East and reached the Conference Finals for the first time in fifteen years — and this summer, it added perhaps the final major piece of the puzzle by trading for Rick Nash, a winger with a pair of 40-goals seasons under his belt. The Rangers' window to win — not just a playoff round or two, but the Stanley Cup — is open, and it won't be open forever. Which is why losing an entire season, right now, would have been a disaster for the Rangers.
The Rangers, to some, are the team to beat in the NHL right now. Indeed, with the season set to start within the next couple of weeks, it won't be hard to find folks picking them to win it all. It's their best team, on paper, since the one that won the Cup in 1994. And it's a well-constructed team for the salary-cap era, with a mix of young players and a handful of more expensive veterans. In theory, this team should gave a couple of real cracks at a championship.
The Stanley Cup Playoffs, of course, are unpredictable. The Rangers might have a better chance to win than any other team, but if forced to pick the Rangers or the field to win the Cup, we'd surely pick the field. Too much can go wrong over the course of a season and a postseason. It's why winning the Stanley Cup is so damn hard, no matter how good a team looks on paper. The Rangers have spent a decade preparing for this moment, when they will finally enter a season (and hopefully a couple of consecutive seasons) with real reason to believe they can win the Stanley Cup, if everything breaks right. That's a big "if," though, which is why a canceled season would have been especially unfortunate for a team like the Rangers that's finally built itself into a bona fide contender but whose window to win won't be open forever. If things don't break right one year, maybe they will the next — but the Rangers will only get so many chances with this particular group, and a lost season would have meant one fewer chance.
NHL hockey is just about back. Rangers fans, especially, should rejoice.