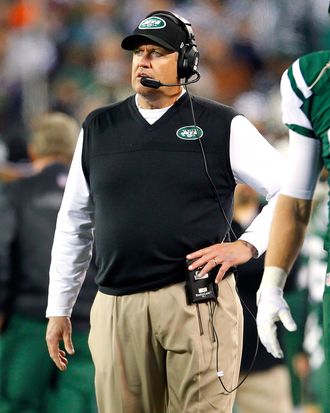 Around the time we learned Rex Ryan had bolted the Jets' postseason muck for the Bahamas, I saw a bunch of jokes about New York tabloids sending reporters down there to bother him. I had a laugh or three because that would be a truly silly thing to happen. Obviously, it ended up happening.
Yes, Rex Ryan has a tattoo on his arm of a lady wearing a Jets No. 6 jersey. That is Mark Sanchez's number. It was also Doug Brien's number. The arm lady kind of looks like his wife. Why do we know this? Because a goddamned professional reporter and photographer flew to Paradise Island, Bahamas, to spy on Ryan while he sunbathed and paged through a book. They then approached Ryan — I imagine them stepping out from behind a palm tree — to ask him questions, at which point Ryan exclaimed, "Oh shit!" and hustled away like any reasonable person would. Look at the things that were written about this:
On the coach's right arm were two tats — one featuring a shamrock and the names of his wife and children, Payton and Seth; and one showing a sexy Michelle wearing a Sanchez uniform top and eying the viewer with bedroom eyes.
You just read a sentence containing the words sexy and bedroom eyes in reference to a cartoon figure needled onto the arm of a shirtless vacationing man who just finished coaching a 6–10 football season. What does this all MEAN, though? Thankfully, we have a column analyzing the tattoo and its effect on the Jets universe:
Okay, make all the jokes you want, but the issue now is how this plays out in the Jets locker room. How does Sanchez feel about his coach having a tattoo with his jersey being worn by the coach's wife, who is wearing nothing else, permanently drawn on his coach's arm?

This classic work of art could affect Ryan's credibility with his players. Will they tease him about it? Will they be jealous of Sanchez? Will they think of Sanchez as the teacher's pet? Couldn't Ryan have expressed his ever-lasting love for the Jets with just a generic green jersey without a number?

What was he thinking?
Honestly, if I were Rex Ryan and knew media were going to fret over such nonsense, I'd just up the ante. Get a tattoo of Calvin urinating on a muumuu-wearing Tim Tebow. If you're gonna have people following you around in a foreign country and spying on you while you lie in the sun, might as well have some fun with it. Jeez.