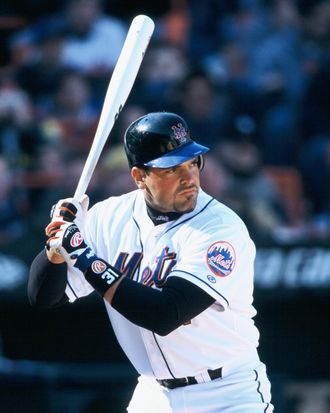 As you might have learned by looking at the big, blank space on the front page of yesterday's New York Times Sports section, the BBWAA didn't elect anybody to the Hall of Fame this year. But don't fret, Mets fans: Mike Piazza, kept out this time around because of suspicion he took performance-enhancing drugs, should get in soon enough. (Voters, take note: The co-author of his coming book believes he's clean.) But what happened this week that didn't involve the phrase "muchie peachie"?
The NHL and NHLPA reached a tentative agreement to end the NHL lockout. (Rangers fans, especially, should rejoice.) The schedule won't be released until the NHLPA ratifies the agreement, but in the meantime, we looked at the possible return of the World Cup of Hockey and what the Rangers might do with Wade Redden.
The Celtics beat the Knicks on Monday, and CARMELO-K.G.-HONEYNUT-BUS-FIGHT-GATE happened. Without the suspended Anthony in the lineup, the Knicks lost in Indianapolis last night.
The Nets beat the Sixers on the day Andray Blatche was questioned by Philadelphia police as a witness during an investigation into an alleged rape. (The Philadelphia police commissioner said Tuesday that preliminary findings of the investigation show that Blatche wasn't involved.)
Carmelo Anthony topped our Knicks Power Rankings, and Deron Williams topped our Nets Power Rankings.
Hal Steinbrenner said that he's serious about cutting payroll.
The NFC East champion Redskins lost their playoff opener, and Robert Griffin III injured his knee.
Alabama crushed Notre Dame in the BCS Championship Game.
A-Rod's doctor said that A-Rod the third baseman was really, really hurt during the postseason.
And Rex Ryan finally had his postseason press conference.
That's it for us. Have a great weekend.