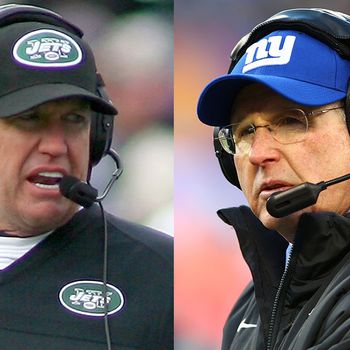 Rex Ryan and Tom Coughlin.
We already knew that last Sunday's Jets game would be their final one of the season (so long, Mr. Tannenbaum), but the Giants still had a chance to make the playoffs, if they won and got some help. And though they did their part against the Eagles, they were eliminated from postseason contention minutes later when the Bears beat the Lions. (It's been a frustrating few weeks for Giants fans.) But what happened this week that didn't involve Rex Ryan and his tattoos?
The Knicks lost to Portland, then pounded the Spurs.
The Nets lost to San Antonio on New Year's Eve, then pulled off their biggest win of the year on Wednesday in Oklahoma City.
We checked in on the NHL lockout as the deadline to save the season approaches. Speaking of the NHL, would the league really add four more playoff teams?
Carmelo Anthony topped our Knicks Power Rankings, while Brook Lopez topped our Nets Power Rankings.
We previewed the NFL's Wild Card weekend, and simulated the games on Will's PlayStation 3.
And we watched some more hockey videos.
That's it for  us. Have a great weekend.