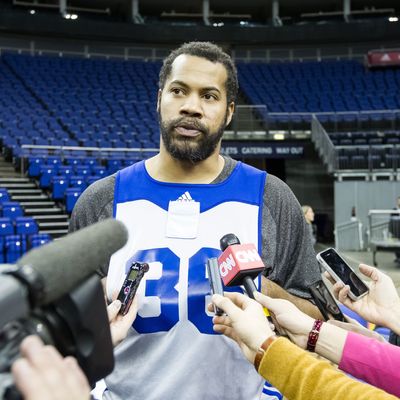 I should begin by noting that today is mostly a day of celebration and promise for the Knicks, injury-wise. Iman Shumpert is set to debut in London tonight (three o'clock EST), and Raymond Felton will hopefully be back within a few games. Barring other injuries — which you can never really bar, but still — those returns will replenish New York's backcourt in full, and that's great.
The frontcourt, however, will remain depleted for the foreseeable future. Marcus Camby's plantar fasciitis could be a long-term thing, and Rasheed Wallace's foot injury … man, we have no idea what the term is on that one. Wallace's problem was originally deemed a "sore foot" and "day-to-day," but you know where this is going. Wallace hasn't played since mid-December while the injury has been identified as a flare-up of an old issue and labeled as either a "stress reaction" or an outright "stress fracture," depending on who you ask. There have been rumors of the Knicks pursuing Kenyon Martin or some other replacement big man, though Mike Woodson continues to dismiss them. Sheed himself claimed to be "good money" yesterday, but nobody has any idea when he'll be back. Per usual, the situation is fraught with uncertainty and doublespeak. In this sporting environment, we can't even be sure he EXISTS, right?
Anyway, the most recent pang of Sheed-lessness fear came yesterday, when Ian Begley's source suggested Wallace might actually be done for the season, which, for a 38-year-old, might mean sliding back into retirement. Such an outcome would lose the Knicks one of their best interior defenders and deprive the NBA as a whole of the "Ball don't lie!" resurgence they've so enjoyed. Serendipitous and unexpected as Sheed's contributions this season have been, he'd be a pretty meaningful loss.
The Knicks, as is their wont, started downplaying those rumors at today's shootaround. At the very least, it seems like Wallace could get himself ready for the final stretch/playoff run of springtime, but that's only if he's committed to rehabilitating that foot and staying in decent shape. At 38, that might not be the case. We shall see, but at the very least, don't expect to see Rasheed Wallace on the floor any time soon.