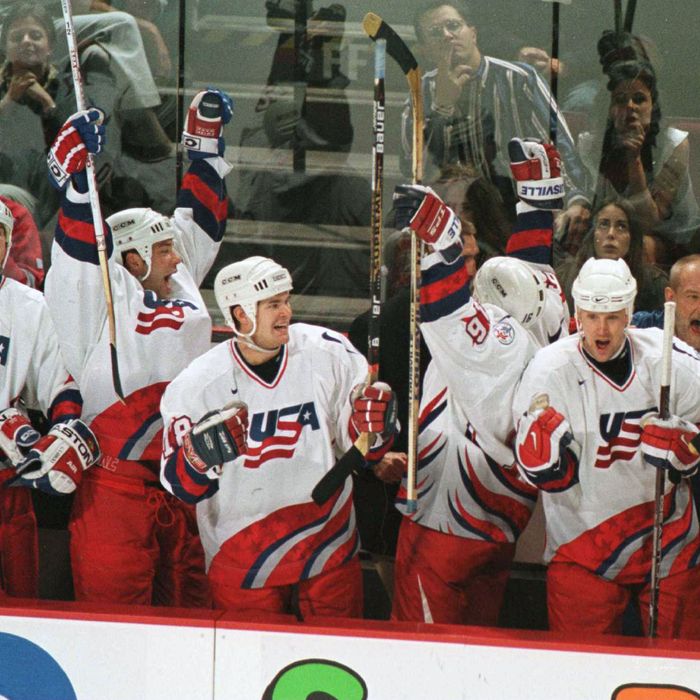 Team USA at the 1996 World Cup of Hockey.
The collective-bargaining agreement between the NHL and the NHLPA that should be finalized within the next few days doesn't include anything about whether the league will send its players to the Olympics in 2014 and beyond. That'll be determined during a separate discussion, and there's also been talk about bringing back the World Cup of Hockey, an event that was first staged in 1996, then held again in 2004. Pierre LeBrun wrote yesterday that fans should bet on it returning. But is another major international tournament too much of a good thing?
The World Cup is a joint venture between the NHL and NHLPA, and its basics are similar to those of the Olympics: Each country sends its best players (including pros), and a champion is crowned. It's a more interesting tournament than, say, the annual World Championships, which only include NHLers whose teams aren't active in the postseason, and we have fond memories of the inaugural 1996 tourney. Then again, as a hockey-loving New Yorker, we would: The United States team — captained by Brian Leetch — won it all, and Mike Richter was named tournament MVP. But part of the appeal that year was the novelty of it: NHL players had yet to take part in the Olympics, as they would for the first time in 1998. (Indeed, we have fewer fond memories of the 2004 tournament, but that likely has a lot to do with its timing: It took place right before the last lockout, which was a bummer of a time for hockey fans.)
We've written before about why hockey is the perfect Olympic sport, and a big reason, to be sure, is that it gives the sport the type of audience it can't get with a Sunday afternoon game between the Flyers and Bruins. But it's also a rare enough thing that while the casual fans are learning what icing is, it feels like a Big Effing Deal to the diehards. It's two weeks of hockey heaven: The best players in the world show up and really care about winning, and because the NHL breaks for the Games, they have the undivided attention of fans.
And so we wonder if the return of the World Cup might dilute that a bit: Maybe players won't be so willing to attend one of these big events every two years. Maybe fans will even tire of them a bit. The sport should be very concerned with putting its best foot forward during the Olympics, when the world is watching, but could that tournament lose something if there's another major international event midway between each Winter Games? Or to put it another way, could all this amount to too much of a good thing?
Certainly, European soccer fans are capable of obsessing over both the World Cup and the European Championships, with one of those tournaments taking place every two years. Of course, this isn't a perfect comparison, since there wouldn't be much difference between the two hockey tournaments in question, except that only one would have the cachet (and potential for widespread American appeal) of the Olympics.
The World Cup certainly isn't a bad idea, and there's no doubt we'd watch if one took place in 2016. (Also, after the last few months, it's hard to argue with something that gives fans more hockey.) And maybe having one of these big events every two years won't seem all that frequent as they actually play out. Word is this time that the World Cup could be played in February instead of before the NHL season, which should help generate interest. Hell, it's possible we're needlessly worried and that the World Cup will add to the appeal of the Olympics, as fans are exposed to more international  hockey and grow more accustomed to rooting for their country. But Olympic hockey is damn near perfect right now. Hopefully, if the World Cup returns, that won't change.