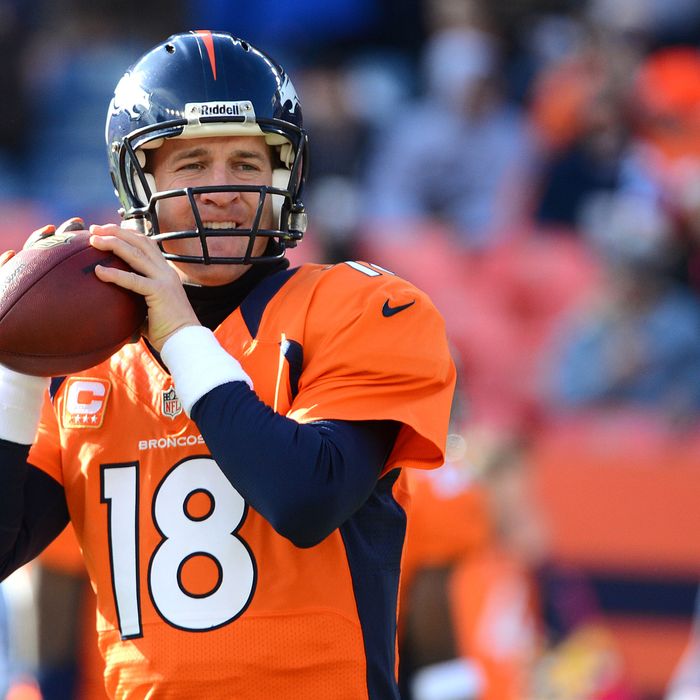 Still not adjusted to this uniform.
The best weekend of the NFL calendar is here. (We'd argue it's the second-best sports weekend of the year, after the first weekend of the NCAA Tournament.) On Sunday night, we'll be down to the final four teams left. So let's do some predictin'. (Last week: 3–1.)
SUNDAY
Baltimore Ravens at Denver Broncos, 4:30 p.m., CBS
What Peyton Manning has done for the Broncos (and of course for himself) this season is so amazing that it feels underappreciated even while everyone's talking about it. Suffice it to say: Denver's all right with not having Tebow anymore. (Good thing John Fox never got that tattoo.) Manning has dominated the Ravens in his career, winning nine straight against them, and all told, the Ravens didn't play all that great against an undermanned Colts team last week. The only question here is whether Ray Lewis does his dumb little dance again, for the last time. Broncos 31, Ravens 14.
Green Bay Packers at San Francisco 49ers, 8 p.m., FOX
It feels like these two teams have been playing in the playoffs for two decades now. They couldn't be more different, though: The Packers want Aaron Rodgers to throw all over the place all night, and the 49ers want to run and smash your face, not necessarily in that order. Rodgers is on a nice roll right now, and he'll need to keep that going: He's going to be the focus of an unceasing cavalcade of huge men trying to murder him. The temptation is to say he'll put up enough offense to win; he is the signature star of this game, and maybe this whole weekend. But the 49ers are physical and mean and due for one of those games where everyone on the other team is bloody afterward. 49ers 20, Packers 10.
SUNDAY
Seattle Seahawks at Atlanta Falcons, 1 p.m., FOX
This is the fashionable "upset" pick — though the road Seahawks are only 2.5 point underdogs — because Matt Ryan still hasn't won a playoff game and because the Seahawks have looked so fantastic for about a month now. But their offense was a little wobbly last week, and despite some late lag by the Falcons in Weeks 15 through 17, this was the best team in the NFL for most of the season. The Falcons need John Abraham to be healthy to slow down the Seahawks, because Russell Wilson looks less like a rookie, frankly, than Ryan has looked at times this year, especially at the Georgia Dome. Still: We think the Falcons finally get over the hump this year. If they lose this one, no one will ever believe in the Falcons again. Falcons 24, Seahawks 23.
Houston Texans at New England Patriots, 4:30 p.m., CBS
The NFC matchups are a lot more compelling this week than the AFC ones, but that'll fix itself next weekend, when we get yet another Brady-Manning matchup for the Super Bowl. It feels ordained, at this point. The Texans' collapse down the stretch is the reason this game is in Foxboro, but we're not sure Houston wins this game wherever it's played. The Patriots just have a ton more paths to victory than the Texans do; Houston basically need to control the clock and for Tom Brady to throw a ton of interceptions. Whatever you think of the guy, that's awfully unlikely to happen. Patriots 35, Texans 20.