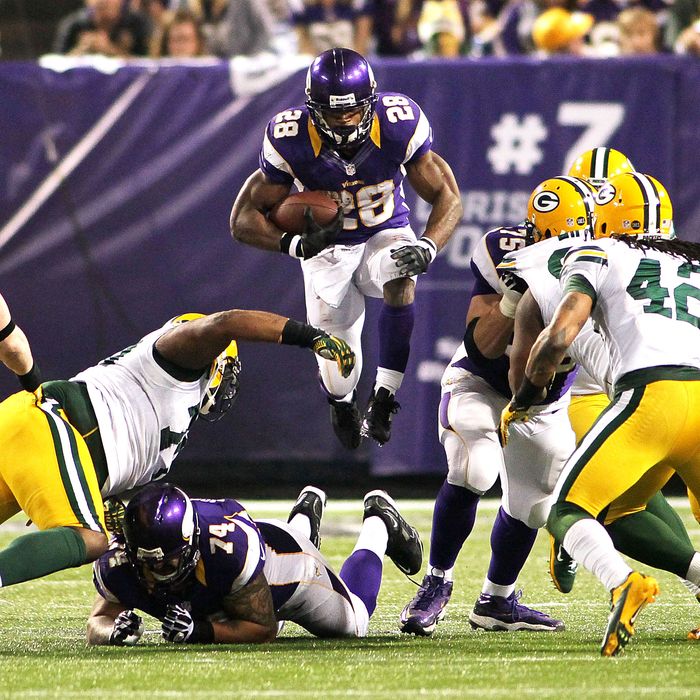 There are no New York teams in the NFL playoffs for the first time since 2003, but, believe it or not, they're gonna go ahead and play all of the wild-card games anyway. (We know, we're not sure why either.) So we thought we'd go ahead and preview them. The NFL playoffs are fun.
SATURDAY
Cincinnati Bengals at Houston Texans, 4:30 p.m., NBC
Unlike last year when these teams met in the playoffs, the Texans have their starting quarterback, Matt Schaub. In that game, the Texans won 31–10. So it should be even worse this year, right? Well, maybe. The Texans have been wobbly in recent weeks — that they don't have a bye this week is a major failure considering where they stood for most of this year — and the Bengals, if anything, are steady: Give the ball to BenJarvus Green-Ellis, let Andy Dalton hit A.J. Green, and try not to turn the ball over. We suspect it'll be a lot closer than last year's game; these Bengals are a lot better, and the Texans have a bit of the fear in them. Still, though: It's tough to see the collapse becoming total. Texans 24, Bengals 20.
Minnesota Vikings at Green Bay Packers, 8 p.m., NBC
Likely aware this is his last, best chance at a championship — and what does that tell you about the teams he has played for throughout his career? — Vikings running back Adrian Peterson has said he wants to return punts, block kicks, whatever it takes to get the Vikings to the next round. It might be enough simply for him to run; the Packers haven't been able to stop him all year, particularly last week in a loss in Minnesota, one that put the Vikings in the playoffs. Still, the Vikings need everything to go perfectly to have a chance — not only Petersen playing typically amazing, but no turnovers and no big plays allowed. That seems like asking a lot, particularly at Lambeau Field. If the Packers score early, they can sit on their lead, because Christian Ponder isn't good enough to lead a Minnesota comeback. Sorry, Purple Jesus. Packers 28, Vikings 10.
SUNDAY
Indianapolis Colts at Baltimore Ravens, 1 p.m., CBS
The possibility that this will be Ray Lewis's last game — if he even plays — has dominated the story line all week, but Lewis is relatively minor in the scheme of matters. The Colts can certainly be scored upon, but even though the Ravens looked like an offensive juggernaut against the Giants a few weeks ago, that shouldn't be much of an indicator of future results. That's one of the few times all season the Ravens looked like division champions. The Colts are coming off one of their most impressive wins of the year, over Houston, and even though it sorta seems like everybody on the team is a rookie, they're pulling it together at the right time. Call us crazy, but we think this is like weekend's one big upset. Colts 31, Ravens 24.
Seattle Seahawks at Washington Redskins, 4:30 p.m., FOX
The game everyone's most looking forward to. The hottest team in the NFL against one of the most storied franchises in league history, led by Robert Griffin III, the most exciting rookie quarterback in years. Of course, Seattle has an exciting rookie quarterback of its own in Russell Wilson, who guided the Seahawks to 150 points in three weeks before everybody sorta took Week 17 off. The key here might be RGIII's lingering injury issue; you could see him even still being a little tentative in the win over Dallas to send the 'Skins to the playoffs. This one will be up and down, crazy scoring, wild fun, but the Redskins will need Griffin to be perfect to be able to keep up. We're not sure he's 100 percent just yet. No matter what: Don't miss this one. Seahawks 42, Redskins 37.