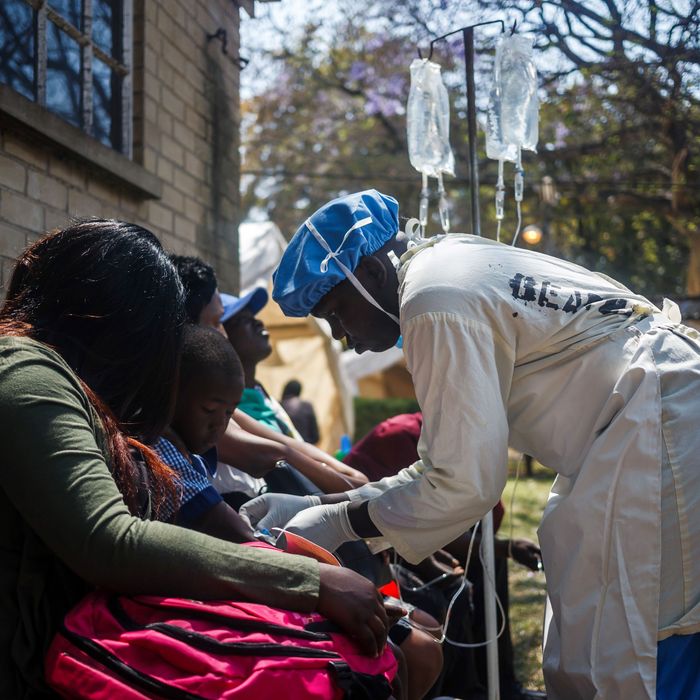 A nurse takes care of cholera patients in Harare, Zimbabwe.
Photo: Jekesai Njikizana/AFP/Getty Images
A lack of qualified health professionals, and lack of access to that limited pool, is a major issue in the developing world. The World Health Organization estimates that Africa averages 1.3 doctors and nurses per thousand people; the U.N.'s goal calls for 4.5 doctors per thousand people. A 2017 study estimated that by 2030, the demand will require 80 million health professionals, but that the supply will only reach 65 million — and the worst places hit in the future, as now, will be low- and middle-income countries.
The answer is too complex for technology in its common form — apps, services, or hardware don't quite fix it. Instead, solutions come through a combination of widespread funding for medical schools, training, and scholarships; infrastructure to transport patients and doctors; and national medical standards. But smaller technology projects can make dealing with the present — the awful, ineffective, underserved present — easier, by connecting people far away, offering information for prevention, and even consulting with artificial intelligence. Here are five start-ups working on those projects.
Ada
Ada, an app founded in Berlin by doctors and tech folks and backed by the Gates Foundation, is an artificial-intelligence diagnosing service. Think of it like WebMD, but useful. The app asks for your symptoms, then walks you through an ever-updating narrowing of possible causes. It's smarter than WebMD, taking into account your personal medical history and risk factors, and the artificial intelligence core, informed by doctors on staff, learns from successes and failures to become more reliable. It also creates a digital medical record, which can be a rarity in rural, low-income parts of the world. It's already available in five languages, with Swahili coming soon.
Mobile Triage
Wait times are a huge issue in emergency rooms, especially those that are understaffed and underfunded. An inability to see every patient quickly and thoroughly can lead to huge lines to see the doctor, and potentially lead to severely ill or injured patients not receiving the treatment they need when they need it. Mobile Triage is an app, already used in 63 countries, that uses a standardized triage color system that patients can operate themselves. A single iPad can walk patients through a triage very quickly, and go a long way toward helping patients be seen in an appropriate time frame.
mPedigree
The counterfeit medicine trade is worth over a billion dollars in Africa alone, and rising. Hundreds of thousands of deaths worldwide are attributed to fake drugs; after all, it's easy to create a fake pill from flour or chalk, and near impossible to tell the difference with the naked eye. A platform, started in 2007, aims to address that problem. It's called mPedigree, and it allows users to check the integrity of medicine by SMS texting a serial number placed on the medicine's packaging by the manufacturer.
The system has, amazingly, caught on. It's an industrywide standard in Nigeria and Ghana, and pilot programs are underway in India, Bangladesh, Kenya, and elsewhere. One of the technologies involved, designed to predict outbreaks of counterfeit drugs, showed a 65 percent reduction in counterfeits in Nigeria.
MediCapt
Sexual-assault rates are wildly underreported across the globe, but in rural, low-income areas, reporting becomes that much harder. There aren't enough law-enforcement officers in general, and especially few trained in evaluating sexual-assault cases. It can take time and money to travel to report or prosecute a crime, which victims may not have. Paper files and security are both in short supply. As a result, even when crimes are reported, many are dismissed for lack of evidence, according to Physicians for Human Rights. MediCapt is a digital sexual-assault-reporting tool that allows clinicians and medical professionals to document injuries and record evidence, which is then securely stored and transmitted, encrypted, to the cloud, where it can be used in court.*
IMPACT Diabetes
With nearly 73 million cases of diabetes in India, there are more diabetic Indians than there are people generally in Germany, South Africa, or Argentina. And with a chronic shortage of doctors in rural India, diabetic patients — who need frequent checkups and monitoring — can be at risk in ways that diabetics in other countries are not. IMPACT Diabetes is a program used to train female community health workers in the use of the IMPACT app, which is aimed at preventing diabetes in the first place. It allows those community health workers to take patient information to screen those at high risk for diabetes, and provide information, guidance, referrals to doctors, and follow-up visits by those community health workers to ensure that a preventive program is being followed.
* This article has been corrected to clarify that MediCapt is only available for use by clinicians and medical professionals.