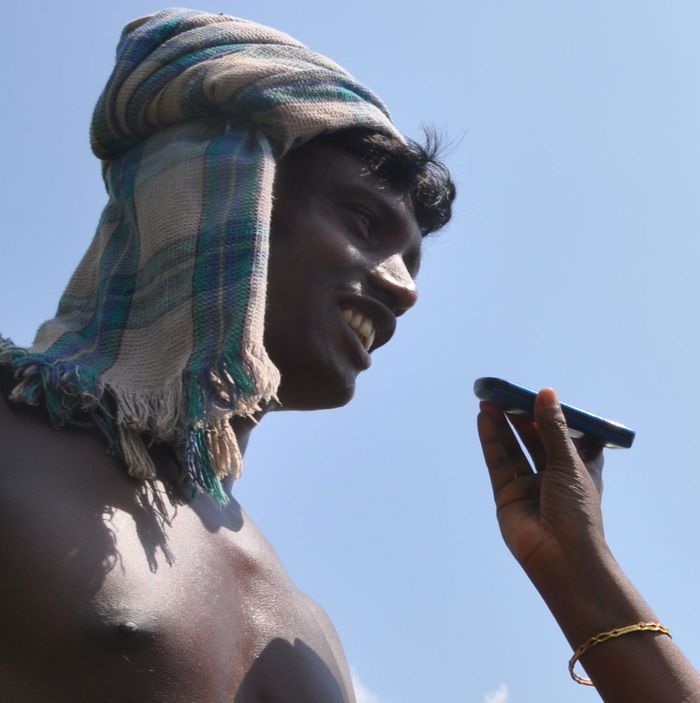 Photo: Purusottam Singh Thakur
India has the world's second-largest online population, with approximately 500 million users, a figure that represents less than 40 percent of its overall population of 1.3 billion.
That leaves a tremendous amount of potential growth — and helps explain why, a few years ago, Facebook fought so hard for its embattled Free Basic program, which teamed up with mobile-phone carriers to provide certain web services (including, of course, its own) for free. The plan was highly controversial across India and the world, and in the summer of 2016, India's internet regulatory authority struck it down.
But while the fight over the Indian internet was brewing, most of the debates took place in India's urban core. Meanwhile, in Central Gondwana, an eastern-central region often described as India's heartland, another social network was slowly growing — entirely offline.
That network is CGNet Swara, a voice portal for community stories that responded to India's comparatively low percentage of internet users by avoiding the internet entirely. Instead, CGNet Swara operates on a basic mobile call-in system, known as integrated voice response (IVR). Though the internet has made few inroads to Central Gondwana — 3 percent of households in rural India have internet access — mobile-phone service is more common, accessible to nearly a third of residents.
To connect, users dial, hang up, and wait for a callback (this last step saves them on mobile fees). Once they're connected to the system, they can press one to submit a story or press two to listen to the day's eight highlighted stories, which have been selected, fact-checked, and published by a small team of local editors.
Though Swara founder Shubhrashu Choudhary playfully refers to the system as "Voicebook," riffing on Facebook's name, Swara operates much more like a curated, oral Twitter feed.
Since Swara was launched in 2010, locals have often used the platform to share unresolved grievances, hoping to publicly shame officials into action or to find others, among listeners, who could help with the problem.
In the eight years since its launch, the platform has logged over a million calls and published more than 10,000 reports. These have included everything from reporting cholera outbreaks and resolving payment disputes to sharing news about village affairs. The network also features poetry and folk songs.
Choudhary created Swara with the help of an American computer scientist, Bill Thies, who is a researcher at Microsoft Research. But he realized its need much earlier, when he had returned to his childhood home as a journalist working for the BBC in the '90s.
Gondwana is a large, disparate region. It encompasses six states and numerous ethnicities and spoken languages. It's also home to a long-simmering Maoist insurgency that has killed more than 10,000 people since its first armed uprising in 1967. The insurgency was fed, in part, by a number of long-ignored local grievances. This included a lack of basic services and amenities, such as educational opportunities, medical care, and land ownership. This was exacerbated by language differences in the region; most of Gondwana's residents speak local languages, including Gondi (after which the region is named), rather than India's official language, Hindi.
As a result, many of the residents' biggest issues were ignored by authorities and Indian  media alike.
Choudhary says that this lack of tools available to locals motivated his creation of Swara. To him, creating a local forum was imperative for democracy. "If you speak to 99 percent of the people, 'Why have they taken up guns?' They told me, 'This is pen, this is our mic … we're trying to speak.'"
Choudhary saw the dot-com boom and how the internet was changing democracy around the world, and, in 2004, he created an online discussion group, CGNet, to bring together community members dedicated to improving the region. The forum was growing, but the widespread social changes wrought by the internet elsewhere had yet to make their way to Gondwana — perhaps because the internet itself had yet to come to Gondwana. As Choudhary recalled, at the time of Swara's founding, less than one percent of households in the region had internet access.
He realized that for CGNet to truly become a platform that represented the people, he needed to move it offline. So, in 2010, Choudhary teamed up with Thies to build the offline "flat communication platform, where everybody can tell stories — just like everyone can vote."
Choudhary was — and remains — hopeful. "If we can democratize communication, maybe we will contribute in bringing peace here."
CGNet Swara was originally created to fill a particular need: offering an internet-like form of communication in a context with limited connectivity. But internet access may be about to drastically increase in Chhattisgarh, one of the states of Gondwana where Swara is particularly active.
In November, Chhattisgarh will hold state-level elections, and its chief minister has launched a scheme to give every family a smartphone and a six-month data plan.
Will the voice-based Swara still be relevant? Choudhary thinks so. Though the core of Swara takes place offline, every report is also published online as well. And ultimately, Swara is more about providing an inclusive, representative forum — the experience of the internet — than the fact that it is offline.