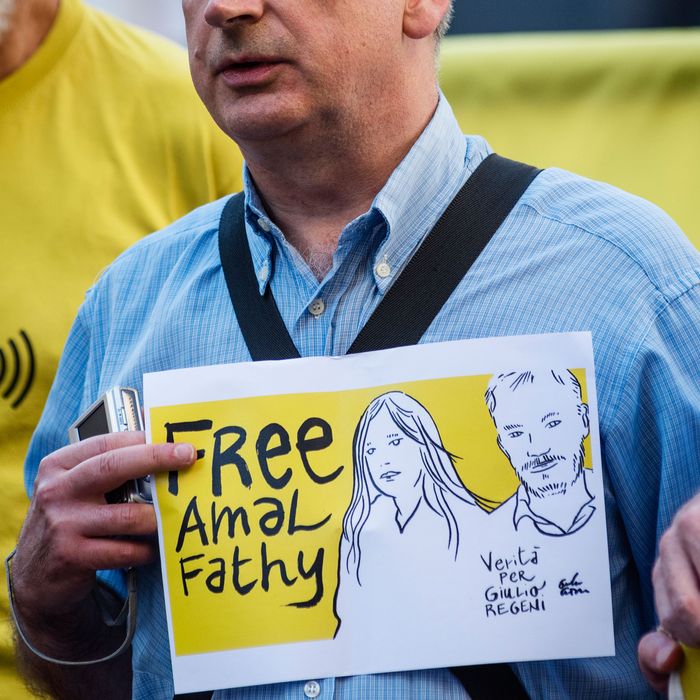 Photo: Michele Spatari/NurPhoto via Getty Images
After Egyptian actress Amal Fathy walked out of a Cairo bank this May, she logged on to Facebook. Fathy posted a video where she claimed that the police officers monitoring the bank had sexually harassed her.
"Even the police officer who was guarding the bank, he was standing and touching himself," she said in the video. "He was making filthy movements and talking to me harshly." Fathy also criticized the Egyptian government for failing to adequately address harassment in the country.
Two days later, Egyptian police raided Fathy's home. She, along with her husband and their 3-year-old son, was led out from her home and into a cell for "spreading false news."
Five months after her initial arrest, Fathy has become the latest in a growing list of Egyptian dissidents prosecuted under the government's "fake news" laws. The actress turned activist faces two years in prison and a fine of $562 for speaking out on sexual harassment and criticizing the government.
"This is an outrageous case of injustice, where the survivor is sentenced while the abuser remains at large," Najia Bounaim, Amnesty International's North Africa campaigns director, said in a statement. "It is currently more dangerous to criticise the government in Egypt than at any time in the country's recent history. Egyptians living under President al-Sisi are treated as criminals simply for peacefully expressing their opinions."
That climate Bounaim describes is due to a series of cybercrime laws passed this summer meant to target so-called "fake news." In reality, the laws give the government increased power to shut down websites offering opinions critical of the government. In addition to doling out jail sentences and fines for critical views, Egypt's laws go even further by insisting that everyday citizens are media companies. Under the Egyptian legislation, social-media accounts and blogs with over 5,000 followers are officially considered media companies and are subject to stricter censorship requirements. By treating anyone with a blog and modest following the same as a larger media company, the Egyptian government is effectively quashing criticism from any citizen possessing cultural sway.
Using "fake news" as a stand-in for censorship, the Egyptian government is also weaponizing legitimate concerns of misinformation toward speech it finds unfavorable to state leaders. It sounds dishearteningly familiar.
"The term false news or misinformation has only been popularized in this region after Trump started using it all the time," says Wafa Ben-Hassine, who leads Middle East and North Africa policy for Access Now, a digital-rights nonprofit.
"I think it is becoming increasingly clear that the government uses all sorts of premises to go after anybody who says something that they don't approve of or they deem offensive or objectionable," Ben-Hassine said over the phone. "Whether they go after someone under the guise of misinformation or posing a threat to the security of the nation or inciting hatred among races, these are all sorts of different premises to go after objectionable speech."
Fathy's sentencing comes on the heels of a similar incident involving Lebanese tourist Mona el-Mazbouh. Like Fathy, Mazbouh uploaded a video to Facebook in which she detailed grievances with the Egyptian government and reported a similar case of harassment. Egyptian authorities initially sentenced Mazbouh to 11 years in prison before eventually opting to deport her and issue a fine. While these "fake news" laws threaten dissidents from all identities, they've mainly been used to target women.
Feminist author Mona Eltahawy commented on this trend on Twitter, saying, "The sentencing of Amal Fathy aims to terrorize women out of public space and is a green light to men that they can assault women with impunity."
Days before Fathy's sentence, 17 independent experts for the United Nations Human Rights Council openly criticized the Egyptian government for using "anti-terrorism laws" to target civilian dissidents. The memo, first reported by the New York Times, highlighted Fathy's case in particular.
"We are gravely concerned at the human rights defenders' prolonged periods of detention, reportedly arising from their peaceful and legitimate defense of human rights," the statement read. "The systematic targeting of human rights defenders is yet another indication that the Egyptian Government is operating a zero-tolerance approach to dissent, which is often suppressed under the pretext of countering terrorism."