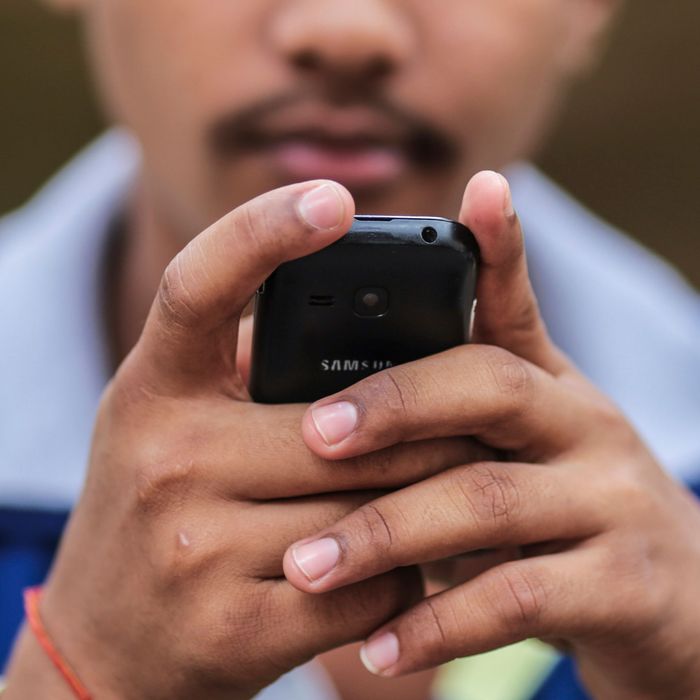 Photo: Dhiraj Singh/Bloomberg via Getty Images
In the year 2012, a generation ago in digital technology, the person who generated the most internet searches in India was not a cricketer or a Bollywood star. Nor was it a politician or a religious figure. None of them was close. The person most Indians were curious about that year — as measured by the total number of Google searches — was Canadian-Indian actress Karenjit Kaur Vohra, a.k.a. Sunny Leone, a former porn star and Penthouse "Pet of the Year."
It wasn't the case only in 2012. As hundreds of millions of Indians continued to discover the internet through 2013, 2014, 2015, 2016, and even 2017, Sunny Leone remained the most-searched-for person in India. People simply couldn't get enough. (Prime Minister Narendra Modi made it to No. 2 in 2014, the year he was elected, but Leone remained the clear favorite.)
Prudish, conservative, family-values India … and a porn star? Leone was no longer even performing; she had stopped around 2010 and started her own production company with her husband and manager, Daniel Weber. In 2011, she came to India as a guest on the reality TV show Bigg Boss, a local version of the Big Brother franchise. Leone's appearance was predictably controversial (by design, of course: It was good for the ratings). Although most Indians hadn't heard of her, it didn't take long for word to spread: "A porn star — from America — here in India?" At the time, parliamentarian Anurag Thakur complained to the Ministry of Information and Broadcasting, arguing that Leone's presence on a nationally telecast program would "have a negative impact on the mind-set of children." Thakur added: "When children see these porn stars on TV and then do a Google search, it shows a vulgar site. It will have a bad impact in the long run."
There were no laws, however, to stop Leone from appearing on TV. While the production of pornography was officially illegal in India, Leone could justifiably argue she was no longer involved in the industry. She was trying to pivot to general entertainment. And in that sense, she was already on the path to stardom: Her stint on Bigg Boss brought her the first trappings of national fame. The 2011 season launch, of which she was a part, remains the highest rated in the show's history. Seeing her on Bigg Boss, Bollywood director Mahesh Bhatt offered Leone a role in one of his films. Soon a spate of mainstream media opportunities presented themselves. The 2014 music video "Baby Doll," for example, became a national hit with more than 120 million views on YouTube. (The lyrics were saltier than the usual Indian fare: Yo soniyo [lovely], she put up a show / Unless I'm impressed, baby I gotta go / I won't mind tell you that I take you floor / But tonight no bites 'cause the wife will know.)
Leone's video played within the rules of Indian entertainment. She could pose sexy but not unclothed. Indian censors would never allow a movie with nudity to air in mainstream cinema (and Leone was keen to transition to mainstream stardom). But Anurag Thakur turned out to be right on one thing: India couldn't police the web. A simple search for Leone invariably brought up thousands of links to her old adult videos. Leone's own website — SunnyLeone.com, one of the first results on Google — sold a subscription to her X-rated videos and photographs for $9.99 per month. One didn't need to pay, however. Just as YouTube is revolutionizing the global consumption of video, the world of pornography has websites like YouPorn, RedTube, and XTube, each of which is owned by a larger umbrella empire known as Pornhub. (According to the tracking agency Alexa, Pornhub.com was the world's 38th-most visited site in 2017 — well ahead of the 104th-ranked BBC.co.uk and the 127th ranked NYTimes.com).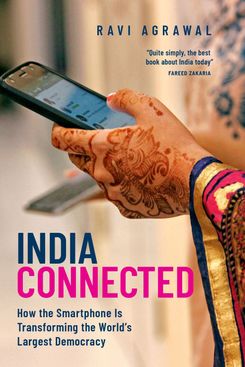 Pornhub releases an annual report showing exactly how its users consume pornography. The treasure trove of data has been called the Kinsey Report of our era, a real-time look at how people are thinking about sex. The data are full of quirky cultural insights, sorted by country, search terms, and kinky desires. The numbers are mind-boggling: There were 28.5 billion visits to the network in 2017, with 110 gigabytes of data transferred every second. Over the course of the year, 595,482 hours of video were uploaded, which would have taken one person 68 years to view, uninterrupted.
Pornhub's 2017 report revealed India to be a crucial market. It was the world's third-biggest consumer of pornography, behind only the United States and the United Kingdom. (Given that India's internet user base is projected to more than double within a decade, it's fair to expect India will soon become the world's No. 1 consumer of adult videos online.) Somewhat surprisingly perhaps, 30 percent of visitors from India were female, marking the fourth-highest proportion in the world, behind only the Philippines (36 percent), Brazil, and South Africa. Eighty-six percent of India's traffic came from mobile users — the highest on record — bearing out the theory that most viewers of porn were watching it on smaller screens and in private. The average age of a Pornhub user was 35; in India the average fell to just 30, matching its younger demographics.
There was more. Indians seemed to stop looking at porn on religious holidays: According to the 2016 report, there was a 17 percent drop in traffic from India on the Hindu holiday of Diwali, and a 15 percent drop the day Ramadan began.
Here is Pornhub's 2016 entry on India:
"Most countries take great pride in their nationality, but India takes it to a whole other level as made evident by their top searches on Pornhub. The majority of searches (top, relative, and gaining) include 'Indian.' "
The top searches:
1. Indian

2. Indian wife

3. Indian college

4. Indian bhabhi (bhabhi, older brother's wife)

5. Indian bhabhi devar (devar, husband's younger brother)

6. Indian actress

7. Indian teacher

8. Indian aunty
According to the Pornhub report, Leone was the most-watched porn star among viewers from India even though she hadn't made a new adult video in years. The back catalogue of her work was there for all to see, easily accessible, searchable, and free. Ever since she became known to Indians in 2011, Leone had been the most-watched and most-searched-for performer on the Pornhub network. As more Indians were getting online, predominantly on smartphones, they were discovering modern-day pornography by the millions. Sunny Leone was often the gateway drug to this new world of sex.
A top-ranking Indian telecom executive, who insisted on remaining unnamed, told me that more than half his network's bandwidth was being consumed by users downloading and streaming adult content (and evidently, a fair bit of it was of Sunny Leone). "This is India's dirty secret. Everyone's watching this stuff on the internet, but no one will admit to it. We are known as a conservative society, but the minute Indians are online, most of them seem to turn to pornography."
There were seemingly no boundaries to where porn could be consumed. In 2016, after Google installed a free Wi-Fi service at the city of Patna's railway station, it emerged that the location was a top national source for visits to pornographic websites. In 2012, three Indian politicians in the state of Kerala were forced to step down after they were caught on camera watching adult videos on their phones during a session of Parliament.
Meanwhile, Leone herself continued to transition into a mainstream public figure in India. She was the face of movies, started a line of erotic fiction, endorsed products, and performed at people's weddings. In August of 2017, for example, when Leone visited the city of Kochi to inaugurate a phone store, the actress herself was stunned by how many fans came to see her. "My car literally in a sea of love in Kochi, Kerala," she tweeted to her 2.4 million followers. Alongside the tweet, Leone shared a video of herself surrounded by what must have been nearly ten thousand fans screaming out, "We love Sunny, we love Sunny."
It was an unlikely outcome. Even in her hometown of Sarnia in Canada, Leone had struggled to find acceptance, as she described in a visit to her childhood home in the 2016 documentary Mostly Sunny. "The Indian community in Sarnia doesn't want anything to do with me because of my choices in life," she is heard to say, after a scene shows an older Indian woman refusing to talk about Leone. "One-point-two billion people in India can get past it, but the people in Sarnia cannot." Leone went on to describe how India had accepted her with open arms. "[People in Sarnia] want nothing to do with me, but all of India would die to be a part of my family."
Leone was indeed popular in India, but in fact she didn't have an easy ride there either. In 2015, a Mumbai housewife reportedly filed a police case against Leone "for distribution of obscene content" on the internet. In 2016, another police case was filed against her and other actors for a scene from the movie Mastizaade, in which the actors discussed condoms while they were in a Hindu temple.
Perhaps the most difficult moment for Leone came during a national TV interview in January 2016. She was doing the rounds to promote a new movie. On the CNN-News18 talk show The Hot Seat, the journalist Bhupendra Chaubey introduced the actress as "contentious, controversial," before going on to declare she was "completely antithetical to what we perceive as an Indian woman."
As Chaubey began the interview, he appeared to be trying to turn the program into a confessional. He was dressed in his usual Indian formal wear: a white kurta shirt, with an unbuttoned blue Nehru jacket on top. Leone was wearing a sheer flesh-colored dress, embroidered with flowers. As the two faced each other on camera, it seemed the stage had been set: Chaubey was the pious Indian and Leone the racy outsider.
"Tell me one thing that you regret," began Chaubey. "One thing you believe went wrong for you."
Leone responded by saying she regretted not being able to get home in time when her mother passed away. Sensing that Chaubey was looking for a different answer, she went on to say she didn't have any professional regrets. "I've made mistakes," she said, "but I learned from my wrong decisions."
Chaubey seized on this excitedly. "What kind of mistakes?"
Leone described how she struggled to adapt to Bollywood. "It's a different world," she said. "There's so much chaos … I get frazzled."
Chaubey sensed his moment to shift toward the reason he was interviewing Leone. "Do you get upset? You know, there's so much written about you. I hope you know you're the most-Googled person in India. You have overtaken even the prime minister of India. So there's something about Sunny Leone that generates a lot of curiosity," he said, a smirk on his face.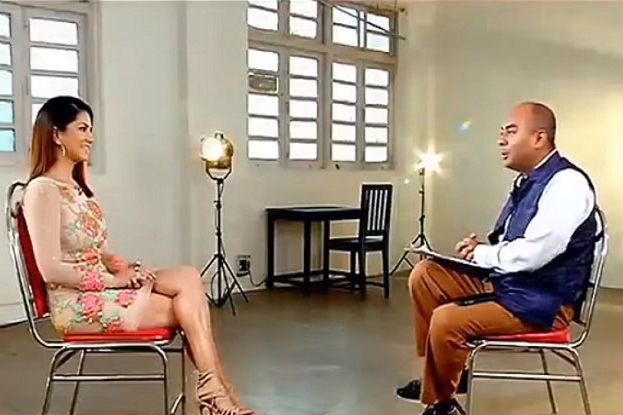 Leone didn't take the bait.
Chaubey then went on to point out that famous Bollywood actors were reluctant to work with her. "There is a lot of resistance … inhibitions … about you. How do you deal with that?"
"I don't care about anyone else's inhibitions," responded Leone.
"But will your past … your past as a porn queen … continue to haunt you?" pressed Chaubey. He had finally said it: the P-word, five whole minutes into the interview. "Will it continue to hold you back?"
"I'm not held back," snapped Leone, beginning to sound defensive.
"But is your past, literally and figuratively, in every way, a thing of the past?" pushed Chaubey again. "I began this interview asking you if there was one thing you regret, and you spoke about your mother. But let me say that if I was to turn the clock back, would you still do what you did?"
"One hundred percent," responded Leone. (This was roughly in line with what she had told previous interviewers, that she had enjoyed her career as a porn star and was thankful for it but was now looking to transition into being a mainstream actress.)
This wasn't the answer Chaubey seemed to be expecting. "So you would still do the kind of shoots, the kind of work that you used to do, before you came here …" His voice trailed off.
"Everything that I have done in my life has led me into this seat," said Leone. "So it's a chain reaction that happens. Everything is a stepping-stone to something bigger or better."
"Pardon me if I'm being in any way offensive," Chaubey persisted. "How many people would think in terms of growing up to be a porn star?"
"No one," said Leone firmly. The slightest glint of a tear seemed to appear in her eye, but she composed herself.
"And yet you became [a porn star]," pronounced Chaubey.
A while later, there was this: "You know, there's a lot of chatter, people say, 'You see a Sunny Leone film, you'll get morally corrupted.' I'm wondering whether I'm being morally corrupted because I'm, well, I'm interviewing you."
"Well, I can leave if you want," responded Sunny.
"No, not at all, not at all," came the response.
The interview lit up social media that night. On Twitter and Facebook, users called it "insulting" and "demeaning." The Bollywood star Aamir Khan weighed in too. "I felt bad when I saw the interview, and the types of questions," he said in a press conference that week. "She's a human being, she's a woman, and I respect her. I'd be happy to work with her."
The tables seemed to have turned. If the great Aamir Khan respected her, then so could India.
When I called to set up a meeting with Sunny Leone, her publicists seemed reluctant. I could imagine why. They didn't want another TV interview like The Hot Seat. I told her team I wasn't interested in passing judgment; I simply wanted to learn Leone's thoughts on India's smartphone internet boom and its impacts on pornography. Her team was intrigued. We arranged to meet at a Mumbai hotel.
I arrived an hour early. We were meeting at the JW Marriott near Mumbai's Juhu Beach. Leone lived nearby. In preparation, I had asked around a bit: What would it be like to interview Leone? Journalist friends and others in the entertainment industry told me to expect someone who was warm, smart, and kind.
Leone's PR team had cordoned off a private sitting area on the lobby floor of the hotel. She arrived on time with two others: her publicist and her husband. The group was dressed casually.
We sat down to talk. I began by asking about her movie One Night Stand, which was just out at the time. As the title suggests, it is about a married man who gets drunk and ends up in bed with another woman, played by Sunny Leone. Months later, the protagonist learns that Leone's character is his new boss's wife. But in a twist to standard Bollywood fare, no romance ensues. Instead, the protagonist spirals and his marriage dissolves, while Leone's character tries to salvage hers.
"You know, it's always okay for the guy to be a womanizer, but a woman can't want a man. It's so one-sided," Leone told me. "And that's not just in Indian cinema, it's everywhere. That's what we wanted to address and tackle."
We chatted about her role for a while before I asked Leone about the young Indian consumer — a target audience that she seemed to understand better than most other entertainers.
"Young Indians want to be successful. That's what drives them. If you have an idea or a dream here, it is actually possible. If you stay on it and you have integrity, you have the ability to do whatever you want here. I'm walking proof of that. It's the Indian Dream."
The phrase suggested that social mobility was there for anyone who strove and worked hard. The question was whether smartphones or technology played a role in its realization.
"India is changing every second," she said. "With the internet, suddenly everything is accessible here. Everything is at your fingertips in a way that really wasn't possible before. So much good stuff is available to young people. Thank the Lord that this country is a democracy and they haven't censored the internet here."
But they have, I reminded her. In 2015, India's Ministry of Communications issued an order banning 857 pornographic sites. The decree was in response to a petition filed by an intellectual property rights lawyer in the country's Supreme Court. Reflecting views undoubtedly held by many in India, the petition read: "Nothing can more efficiently destroy a person, fizzle their mind, evaporate their future, eliminate their potential, or destroy society like pornography … It is worse than Hitler, worse than AIDS, cancer or any other epidemic. It is more catastrophic than nuclear holocaust, and it must be stopped." The prohibition turned out to be short-lived, in part because of a backlash from free speech advocates, but also because the government realized it was impossible to prevent new sites from popping up and circumventing the ban.
Even so, New Delhi had a history of trying to censor the web. As far back as 2009, the government tried to ban the popular X-rated comic Savita Bhabhi. The protagonist, Savita, was the stuff of teen fantasy: a shapely housewife who was only too happy to have rip-roaring sex with men who weren't her husband. Each issue would have Savita in outlandish pornographic trysts, with the neighborhood boys playing cricket, her doctor, her house help, her bra salesman, or in any other scenarios one could conjure up. In the early days of the internet in India, new issues of Savita Bhabhi would instantly go viral.
Leone was familiar with the bans and had had her own brushes with the Indian authorities. "Visiting the police stations here is scary," she said, referring to when that housewife had filed a case of public indecency against her. "People protested, burnt my pictures, they said I was corrupting the youth or something like that. I mean, what does that even mean? I didn't invent sex, you know? But I still feel blessed to be here. I thought I was going to be in India for just two weeks, to film Bigg Boss. And then all these amazing things came to me."
I had to ask her about pornography and whether some of it was damaging, especially for children.
"I think it's every parent's responsibility to put blockers on their child's phone. You need to monitor what your children are seeing. I do not want kids watching porn," she said firmly.
But what if the parents aren't tech-savvy, or even literate? Many children are the first users of that kind of technology in India, particularly among the middle and lower-middle classes.
"Look, you don't need to be literate or have a degree to have basic parental common sense," she said. "That's universal. Those feelings of protectiveness come naturally. And parents have to learn."
Leone could sense I didn't find her answer satisfactory. In my mind, there was no way a poor family in rural India would know how to install blocks on their smartphones.
"I have trouble thinking the typical viewer is not a smart intellectual person," said Leone. "Our consumers are smart. That's why we have so many films like Dangal that have a beautiful, intelligent message."
Leone had shifted the argument to a more general one about quality content in India. Dangal was 2016's Bollywood superhit, with the protagonist — played by Aamir Khan — training his three daughters to become successful professional wrestlers. I didn't disagree with Leone's argument — Indian viewers indeed deserved more credit, and better content — but that was very different from access to pornography. I pressed the issue again. Hadn't easy access to smartphones and the internet in India opened Pandora's box, in a sense?
"Maybe. Sunny Leone wouldn't exist without the internet, I guess. I call myself a product of social media," she said. "That's where everything started for me, with the phone. The ability to click photos, to take videos, to share them, to connect with people — that's what makes the world go round. People like to think porn is something dirty, but it can be sexy, too, and empowering."
Our time was up. Leone had another appointment. She had been charming, warm, and friendly — as promised — but I was left disappointed with her insights on the impact of porn or smartphones in India. I assumed it was because she simply didn't want to talk about pornography. She had moved on. Sunny Leone was a brand, a business — and a hugely successful one at that. Even now, there were millions of Indians who were watching her simply as an actress, with little idea about her previous career. Leone was looking to the future.
The question remains, however, whether India is equipped to deal with a smartphone-driven explosion in the viewing of pornography.
India's problem may be a lack of sex education, says Ira Trivedi, the author of India in Love. "Porn is becoming more and more violent," she told me. "Young Indians aren't sensitized to these kinds of images the way a young American teen might be. In the West, women can largely wear what they want, and boys see and understand that from a young age. In India, we have been more repressed. Our perception of women and people from lower castes is inherently a power-based dynamic. So you can imagine, whatever the negative impacts of pornography in the West, it is likely worse here. We simply don't know the extent of it."
While adult content of all forms has always existed in India, access has historically been limited. Playboy magazine, for example, has long been available in India. When Prime Minister Jawaharlal Nehru was interviewed by Playboy in 1963, there was a nationwide rush to procure copies. But it remained too expensive for the average Indian. Knockoffs like Debonair were cheaper but, like Playboy, mostly limited to an English-speaking elite. Either way, it was hardly easy for an Indian reader to comfortably access adult content. "Young Indians don't usually have any personal viewing space," said Trivedi. "Our conception of privacy is very different from the American notion of privacy. Even if a teenager here gets his hands on an adult magazine like Playboy, where does he keep it? He'll get caught instantly. But with content on a phone, you can hide it, save it, and watch it again and again with no one really knowing."
Adult films also have a history in India, but again, with limited access. "Blue films," with rudimentary depictions of sex, were often screened in Indian cinema halls in the 1970s. In the 1980s in Tamil Nadu and Kerala, "bit cinema" had a moment: Theater owners would insert bits of pornography in their movies to titillate hungry viewers. "But all of that was pretty much for a tiny segment of the moviegoing population," said Trivedi. Sex in modern India was mostly hush-hush. The barrier was access. At corner stores across India, one could access porn as long as one had a laptop to store it. In Mumbai, the words dal gosht — a lamb curry in a lentil sauce — were code for a CD or flash drive full of local porn, uploaded (or side-loaded) onto a computer for a small fee. But laptops were expensive. "In the 1990s and 2000s, very few Indians had laptops or personal computers. Even today, the average Indian college student doesn't have his own laptop," Trivedi pointed out. "What's changed in the last few years is access. All of a sudden, with a cheap smartphone and free Wi-Fi, Indians have a free pass to a world of porn."
One thing most experts seem to agree on is that India's past reveals a nation that once had a much healthier relationship with sex. This is best highlighted by the Kama Sutra, the well-known guidebook that was written more than 1,600 years ago. The poet Kalidasa's Raghuvamsa, written around the fifth century, described sex without any shyness. The eighth-century Assamese temple of Kamakhya Devi — the goddess of sex — is a shrine to sexual appetite and continues to attract millions of tourists every year. The temple of Khajuraho in Madhya Pradesh and the caves of Ajanta and Ellora in Maharashtra each depict sexual encounters and positions in graphic detail. Even during the Mughal Empire, a period of Muslim rule that began in the early 16th century and lasted for 300 years, miniatures depicted sexual positions. "But once India began to attract foreign influences, the curtains fell," said the Indian sexologist Prakash Kothari. "Propriety was first on the agenda. Sex came last."
In India in Love, Trivedi argues that British rule and Victorian mores brought to the surface an ascetic side of Indian culture, "especially when the British discovered the high-priest of prudish values — Manu." The Laws of Manu, a set of Sanskrit teachings from around the third century BCE, was adopted by the British as a primary Hindu text, propagating "many negative assumptions about lower castes and women that sharply restricted their freedom, regulated their behaviour, and blocked their access to social and political power."
Twenty-first-century India seems once again to be shifting to a new direction, toward more openness. "Urbanization and access to technology is pushing against the Victorian-Indian mind-set," Trivedi told me. "We are now witnessing the first major generation of young Indian women who are moving from small towns to the big cities to study and find jobs. This is already having an impact on how Indian society deals with love, sex, and relationships."
Kothari points out that the sooner India returns to an era of confronting sex openly, the better. "I've had patients come to me saying they believe they can cure a sexually transmitted infection by sleeping with a virgin. That's the state of Indian sex ed. Even our medical colleges don't have courses on sexuality. With smartphones, the era of cyber Kama Sutra is already upon us, and in a mass way. Why keep living in the past?"
Excerpted from India Connected: How the Smartphone Is Transforming the World's Largest Democracy by Ravi Agrawal, published by Oxford University Press. Copyright © 2018