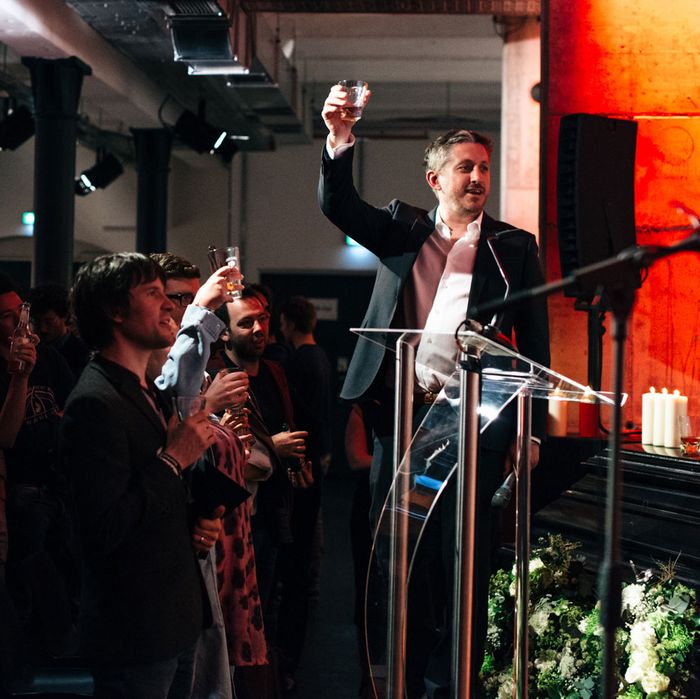 Happy Halloween, this coffin is full of metaphors.
Photo: Courtesy of Tech Open Air
On a July evening in 2016 at Factory Berlin, a sleek work space for technology entrepreneurs in the German capital, aspiring founders gathered in a darkened auditorium to pay their respects before a casket adorned with green-and-white wreaths.
They had come to mourn their dead start-ups.
The "Irish Startup Wake," co-hosted by visiting entrepreneurs from Startup Dublin and complete with a condolence book, whiskey, and ham sandwiches, was part of an ongoing series of efforts by various groups within Berlin's tech community to promote a healthy embrace of failure in the city's entrepreneurial ecosystem — an attitude that founders and investors say is contrary to how Germans traditionally tend to be wired.
While the prevalence of chatter around ventures-gone-south in Silicon Valley now borders on cliché, Berlin founders whose companies tank say their reputations can suffer within the burgeoning local tech scene, damping their appetite for tackling thorny problems. Moreover, German investors traditionally have tended to be somewhat risk-averse — preferring midsize ventures with a clear path to profitability over big, messy ideas — and past botched enterprises typically have stood out as red flags in pitch meetings.
Some Berlin business leaders worry that this conservative mind-set is hindering potential growth. "In Germany, failing is a stigma," Lukas Kampfmann, Factory Berlin's co-founder (who's since left the company for a new venture), told me. The notion "is hugely problematic, since it discourages people from starting a company."
In years past, some Berlin tech founders dealt with this fear of failure by mitigating risk — often simply imitating successful American start-ups. This model has proved successful for companies like Rocket Internet, seen as the progenitor of Berlin's start-up scene, which launched in 2007. Rocket is known to have relied heavily on building and spinning off near facsimiles of successful foreign ventures, including U.S. food-delivery and ride-sharing apps. Many, like its Seamless copy Delivery Hero — now a public company valued last year at more than $5 billion — were inherently safe bets for Rocket, which itself has reportedly raised roughly $2.2 billion in venture capital to date.
But this careful formula has done little to persuade investors that Berlin's ecosystem fosters the sort of invention or risk-taking that might spawn the city's next generation of unicorns. (Eight Berlin start-ups have cleared the billion-dollar threshold; that's compared with London's 36, and roughly 128 from Silicon Valley.) Some more recent Rocket efforts — like its Uber knockoff, Tripda, or its Airbnb copy, Wimdu — have fizzled.
More Berlin entrepreneurs are realizing that imitation is no longer a dependable business model. To be sure, the occasional Berlin start-up has already found commercial success outside of this duplicative comfort zone. N26, a branchless retail-banking mobile platform, almost passes for a risky venture in a nation enamored of cash payments. It recently raised a $160 million Series C funding round from international investors.
And so, rather than continuing to emulate Silicon Valley's products, a new crop of Berlin-based founders and investors — a significant portion of whom hail from overseas — lately has begun to instead adopt its credos touting personal resilience in the hope of eventually mirroring its results. In a talk at Columbia University last year, Microsoft co-founder Bill Gates summed up the mind-set as "willingness to take risk; the idea that if you have the failure, it's not a mark of shame — it's 'Hey, what's your next start-up gonna be?'"
It might not come naturally, but Berlin is working on it. In addition to the wake, Factory Berlin also began hosting "FuckUp Nights," a global event series where founders convene to chat about where they went wrong, and how to move forward.
And in an effort to normalize entrepreneurial missteps inherent in risk-taking, Berlin's Humboldt University invited three Berlin-based founders with failed companies in their past to share their experiences with a packed auditorium.
One was Max von Waldenfels, whose Berlin delivery start-up Food Express folded in 2016. The experience, he said, was painful. But he felt that local attitudes had begun to soften. "Things are changing," he said. For instance, once-wary local venture capitalists might now offer a founder a second chance "if you can show that you learned your lesson," he explained. He's since launched health-software and printing-services companies in Berlin.
Venture-capital veterans like Bo Ilsoe of NGP Capital, who has overseen the firm's investments in several Berlin start-ups, see promise in a younger generation of Berlin entrepreneurs. Due both to conscious efforts and the growing influence of the city's foreign transplants, he told me, these up-and-comers seem less shackled to the notion of failure as anathema. Ilsoe, who is Danish, pointed to the healthy early fundraising efforts of Berlin-based travel platforms GetYourGuide (in which NGP invested) and GoEuro, which count Swiss and Indian émigrés, respectively, among their founding teams. "That infusion of blood of foreign talent completely changes the mix," he said.
Ilsoe believes that the moment is ripe for Berlin founders who've played it safe in the realms of, say, e-commerce or media to undertake more complex challenges, perhaps in artificial intelligence.
"I think you will have more experienced entrepreneurs coming out, who have made money. They have a higher appetite to take on some risk," he told me. "Maybe they'll want to build bigger companies — not selling at the first, second offer. And maybe they'll have some bolder ideas."