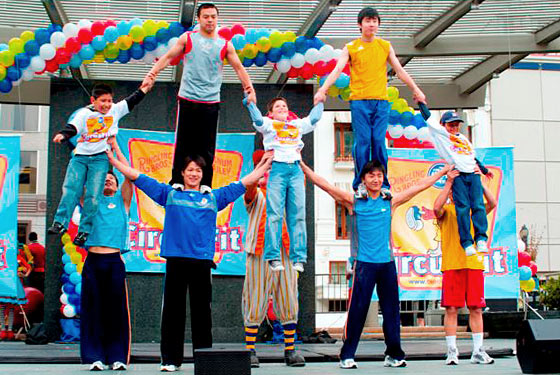 Clowning around can actually have health benefits: That's the (underlying) theme of the CircusFit program on February 24 at the Children's Museum of Manhattan. A troupe of retired clowns, acrobats, and other performers from the national youth-fitness offshoot of Ringling Bros. and Barnum & Bailey leads the workshop, which is part of the museum's Healthy Living series. "It's about getting inspired and being creative with your kid to do fun things that are healthy," explains deputy director of education Leslie Bushara. The circus performers will put on a skit about the importance of being fit and keeping hydrated, and then they'll ask families to join them in stretching, strength building, marching, and jumping. "These are things families can do at home; it's not just the experience at the museum. It should be a highly interactive performance." The acrobats will likely do some awe-inspiring moves but won't instruct kids to follow this lead. As anyone who has ever visited the Children's Museum well knows, it can get pretty crowded, but the museum can accommodate 130 families per performance (there are two shows, at 2 and 3 p.m.). But if the space is filled up before you and yours get in, or if your tots get bitten by the circus bug and are clamoring for more, there's another clown performing around town. Her name is Julie Pasqual, she's part of the Big Apple Circus Clown Care unit, and she'll be telling folktales with puppets and stilts at various New York Public Library branches all week. No sad-face makeup here.
CircusFit: 2/24, 2 and 3 p.m. Children's Museum of Manhattan, 212 W. 83rd St., nr. Broadway (212-721-1234 or cmom.org); tickets, free with admission, at the visitor-information desk at 12:30 p.m.
Julie Pasqual: 2/22, 2/23, and 2/27, times vary. The New York Public Library, go to Website for branch information (212-930-0800 or nypl.org); free.