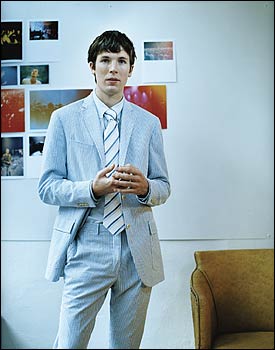 3 of 5
Ryan McGinley, artist/photographer.
After wrapping up last year's solo exhibit at P.S.1/MoMA, the intimate imagist is now working on a book about Morrissey.

Ryan wears a Polo by Ralph Lauren seersucker suit, $323, and shirt, $125, at Ralph Lauren (212-606-2100). MICHAEL Michael Kors silk stripe tie, $49.50 at Macy's Herald Square (212-695-4400).