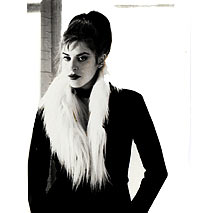 Nothing is more ephemeral than fashion. Right?Wrong. With patience and a good eye, fashion can be an investment. A black crocodile Birkin bag, for example, sold for $64,800 at auction in 2005. The key is knowing which designs in your wardrobe will appreciate over time and which are destined to fetch $5 at Andy's Chee-Pees.
One very well-dressed woman agreed to see what her fashion collection would bring on the cold, hard auction block. Sandra Hamburg, an artist, photographer, and one-half of the ironic rap band Mother Inc., is a true mixer who loves no-name thigh-high boots as much as the black Gaultier fur-trimmed jacket that set her back $700 in 1991. She's also fortunate enough to have had a stylish, label-loving mother who passed down vintage sixties Yves Saint Laurent and Pucci in good condition. So the five floor-to-ceiling closets in Hamburg's floor-through apartment-cum-closet in Greenpoint are bulging with unique pieces.
Clair Watson, director of couture at Doyle New York auction house, assessed Hamburg's collection recently. While Hamburg bounced her 3-month-old daughter, Nico, on her hip, Watson—who sees some 100 closets a year—dug in with a combination of clinical appraisal and personal enthusiasm. "Sandra's clothes are about ideas," said Watson. "She doesn't have to wear the latest fashion or spend a lot, and yet she presents a strong identity as a creative person."
After two and a half hours of sifting though dresses, jumpsuits, coats, sweaters, shoes, bags, and belts, a few lessons emerged. First, anything bought new immediately drops in value, usually by two thirds. Second, labels matter—but what matters more is getting an instantly recognizable piece from the height of a designer's creative powers, like a fifties sculptural evening gown by Balenciaga. Third, designers age like wine. Early-career pieces by Christian Lacroix, John Galliano, and Jean Paul Gaultier are especially valuable at the moment, whereas Tom Ford is still too recent and too easy to find. Fourth, current trends have an impact: Thanks to the return to prominence of sixties styles, Hamburg's taste is exactly what collectors want right now. Fifth, it's better to spend time rummaging through sales and thrift shops—Hamburg's favorites include Beacon's Closet and, in Miami, Sasparilla—than to pay the jacked-up prices of retail. And last, take care of your clothes: Stains, alteration, and perspiration drive values downward.
Hamburg turned out to be one of the rare women who could probably make money on her wardrobe. What follows over the page is a cross section of her collection, accompanied by comments from Watson. The original price paid is listed—often at thrift stores and sales, which is why so many of Hamburg's buys seem like bargains—followed by Watson's estimate of auction value.
PAULETTE BURAND ORGANDY DRESS
Year: 1969
Paid: $75
Value: $75
Clair Watson's appraisal: "That graphic is great, but it isn't well made and the label is obscure. This is a quick fashion piece."
PRADA TAN LEATHER SKIRT
Year: Mid-nineties
Paid: $400 on sale
Value: $300
Watson: "There's a lotof respect for Miuccia. She's like Gaultier—there are people looking out for older pieces. This is too new, and it's ready-to-wear."
CASADEI ROMAN SANDALS
Year: 2001
Paid: $300
Value: $100
Watson: "This is not a label that one looks for at auction. But it evokes Capri in the Dolce Vita days."
APRÈS-SKI CARDIGAN DRESS
Year: Seventies
Paid: $80
Value: $100
Watson: "It's Gucci revisited, isn't it? It's an idea piece, but it's not good quality and there's no label."
GUCCI WOOL TROUSER SUIT
Year: 2001
Paid: Unknown
Value: $300
Watson: "Tom Ford's impact on fashion was all about sexuality, and this just isn't a good example of that."
SONIA RYKIEL LEATHER BAG
Year: 2001
Paid: Gift
Value: $200
Watson: "This bag had a lot of press when it came out, and it was the first of its type—the studded bag, revisited. It might fetch even more at auction."
RAINCHEETAH WITH SILK STITCHING
Year: Sixties
Paid: $40
Value: $300–$400
Watson: "This kind of style with this kind of color always does well at auction. The shape is so Marc Jacobs. I love it!"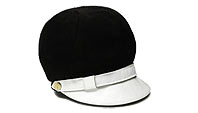 YVES SAINT LAURENT MOLESKIN HELMET
Year: Mid-to-late sixties
Paid: $60
Value: $200
Watson: "Saint Laurent wasn't known for this design, but it's in rare condition for something of that period."
CHARLES JOURDAN RAFFIA PLATFORM SHOES
Year: Seventies
Paid: Inherited from mother
Value: $300
Watson: "A wonderful mix of inspirations. Jourdan is a great name from that era. These pieces will gain in value."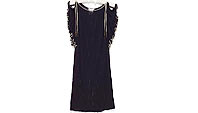 CHLOÉ SILK KNIT SHEATH
Year: Circa 2002
Paid: Unknown
Value: $200
Watson: "I love this sleazy stuff. But nobody really cares yet that Stella McCartney was the designer."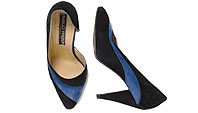 MAUD FRIZON SUEDE PUMPS
Year: Eighties
Paid: Inherited from mother
Value: $100
Watson: "Maud Frizon shoes are collectible, but these are not the extravagant style that we know and love."
JEAN PAUL GAULTIER JERSEY BLAZER
Year: 1991
Paid: $700
Value: $700
Watson: "It's a label that holds its own very well. Gaultier has proven himself time and again. He wasn't just a moment."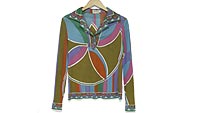 PUCCI CHEMISE
Year: Early to mid-sixties
Paid: Inherited from mother
Value: $200
Watson: "These color waves are amazing. They're very strong and unusual. It's a real Capri statement."
COURRÈGES ANKLE BOOTS
Year: Mid-sixties
Paid: $50
Value: $900
Watson: "They're original, hard-to-find, and in good condition. And they're an important shoe: Courrèges was the originator of this style."
VENETIAN MASK
Year:2001
Paid:$150
Value: $150–$200
Watson: "This has no provenance, so it's hard to value. And it's made of rhinestones."
PUCCI SILK JERSEY GOWN
Year:Late sixties
Paid: $30
Value: $500
Watson: "You'll pay $600 for this at retail. I can't get that much at auction for this kind of Pucci. I need couture, velvets, beads."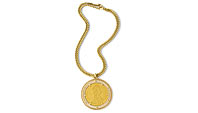 GOLD-COIN PENDANT
Year: 1912
Paid: Inherited from mother
Value: $150
Watson: "This is from the Austro-Hungarian Empire. The Archduke Franz Joseph is on it, and that adds to the value."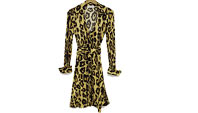 DIANE VON FURSTENBERG WRAP DRESS
Year: Early seventies
Paid: $250
Value: $300
Watson: "These were mass-produced, so they don't appreciate. And it's been altered, which brings down the price."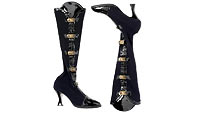 CHANTAL THOMASS STRETCH BOOTS
Year: Early nineties
Paid:$500
Value:$200
Watson: "I want a pair right now! These will never go out of fashion. They are a real Chelsea-boy boot."
FENDI SATIN GOWN
Year:Fall 2005
Paid: Gift
Value: $200–$300
Watson: "Fendi has label recognition, it's quality material, and it has an iconic touch with the leather plait."
OTTOMAN EMPIRE SERBIAN VEST
Year: Late nineteenth century
Paid: Inherited from mother
Value: $500
Watson: "Part of the national costume and very rare. This is in great condition."
JEAN PAUL GAULTIER CORSET BLAZER
Year: Mid-eighties
Paid: Inherited from mother
Value: $900–$1,200
Watson: "Holy cow, you got that from your mother? It's a great, standout item to have in your wardrobe."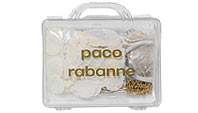 PACO RABANNE KIT DRESS
Year:Mid-eighties
Paid: $120
Value:$700
Watson: "These have fetched that much at auction. An original from the sixties would be $2,000 to $3,000."
UNGARO LEATHER BOMBER JACKET
Year:Seventies
Paid:$20
Value:$400
Watson: "Fabulous! It's leather, so there's inherent value, and it's a great label. Sandra got a good deal."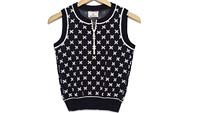 COURRÈGES NAVY KNIT VEST
Year:Mid-seventies
Paid: Inherited from mother
Value:$75
Watson: "It's not iconic Courrèges, and it's a knit."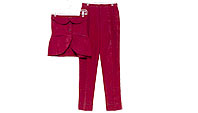 ROMEO GIGLI MOIRÉ BUSTIER AND PLEATED TROUSER
Year:Mid-eighties
Paid:Inherited from mother
Value:$300
Watson: "This is a high period for Gigli, and he's very undervalued."
MISSONI KNIT BAG
Year: 2001
Paid: $300
Value:$150
Watson: "It's contemporary, it's simple. Not much time went into conceiving or manufacturing this bag."
TODD OLDHAM "BARBED WIRE" SHOES
Year:Spring 1998
Paid:"On permanent loan"
Value: $500
Watson: "These should be in a museum—in fact, they are in FIT. The iconic imagery and metaphor is fantastic."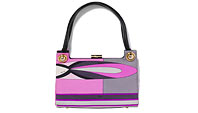 PUCCI HANDBAG
Year: Late sixties
Paid:$30
Value: $400
Watson: "This price is proven at auction. The demand for sixties Pucci is not stopping."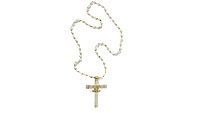 CHANEL RESIN CROSS
Year: Unknown
Paid:$50
Value: $200
Watson: "This looks like junk—there's no heft to it. I can't tell if it's real Chanel; the value assumes that it is."
GO-GO BOOTS
Year: Mid-sixties
Paid: Gift
Value: $200
Watson: "It's a timely style, and it's very rare to find these in good condition. These are like Biba!"
TAN SUEDE MAXI COAT
Year: Early seventies
Paid: $40
Value: $300
Watson: "The fabric is suede, and it's in good condition, so there's an inherent quality. And it's classic maxi. That sixties style is about to come back."
YVES SAINT LAURENT SUEDE BELT
Year: 1977
Paid: Inherited from mother
Value: $100
Watson: "A classic. You know it's YSL right away from the Russian-peasant look. Those colors are particularly his."
PACO RABANNE LEATHER SHEATH
Year: 2000
Paid: Unknown
Value: $300
Watson: "It's not the sixties Paco that shattered fashion. This is part of the rebranding."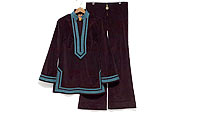 TORY BURCH TUNIC AND HIPSTER FLAIRS
Year: Fall 2005
Paid: $400
Value: $200
Watson: "A collector's market hasn't developed yet for Tory. But a lot of people who collect vintage and couture enjoy what she does."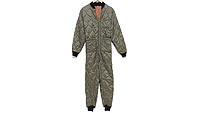 QUILTED JUMPSUIT
Year: Unknown
Paid: $20
Value: $75
Watson: "Jumpsuits are about to come back."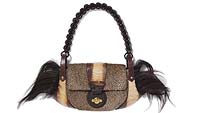 FENDI BAG
Year: Fall 2004
Paid: Gift
Value: $400
Watson: "It has expensive materials—fur and leather."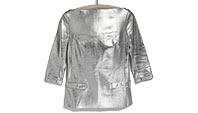 PACO RABANNE LEATHER TUNIC
Year: 2000
Paid: Unknown
Value: $300–$400
Watson: "This is a forever-and-a-day piece. It has heft, and metallic is so in right now."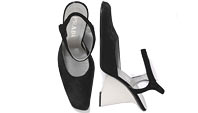 PRADA PONYSKIN SHOES
Year: Mid-nineties
Paid: $400
Value: $300
Watson: "These are from Prada's futuristic moment—this is considered a great period."
TULEH JUMPSUIT
Year: Spring 2005
Paid: Specially made for Sandra
Value: $100
Watson: "The brand and the piece itself are so new that it hasn't had time to add value."
PUCCI STOCKING BOOTS
Year: 2004
Paid: $200
Value: $200
Watson: "If they were original Puccis from the sixties, they would be worth $400 to $500. I could imagine a museum wanting those."
VINTAGE TRILBY
Year: Early seventies
Paid:$50
Value: $50–$75
Watson: "This will be great for spring. Accessories at auction are only just beginning. They must be extraordinary to sell."