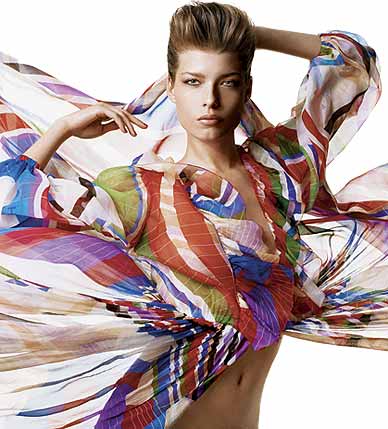 Two topics will reliably bring general conversation to an awkward halt: fashion and money. We're fascinated by them, if reality shows are still an accurate gauge (on your TiVo: Project Runway, followed by The Apprentice). We're not supposed to publicly discuss our desires, though, lest we appear superficial or unattractively avaricious. Fashion is particularly tricky; unlike an opulent weekend home or a members-only poker game, it's a very public indulgence. But in New York, with its rapidly rising population of both millionaires and the pricey, beautiful stores that beguile them, the two are inextricable. Thousand-dollar jackets and $3,800 pairs of bright white chunky sandals and handbags that cost more than a vacation wouldn't flourish in a vacuum, after all, and here, there's a waiting list. But this spring's not all about brazen opulence (although those pearl necklaces for $100,000 are really quite nice). There are discreet little suits and sweet gauzy dresses that will satisfy old money, and some stylish bargains for (almost) no money. Finally, fashion you can bank on.
Karl Lagerfeld, Boy Prince of Fashion
Charismatic enough to inspire hysterics in even the most jaded fashionistas, he's one of the industry's last true megastars. What's on the mind of the man who's always in the middle of a stylish mob.
The Outrageous Price of Fashion
As clothing prices zoom higher and higher ($33,000 gowns?), the reasonable person wonders whether fashion is worth it. But there is nothing reasonable about fashion—which is why the answer is yes.
Keeping Up Appearances
When all she's got left is the gown on her back.
Everything Old Is New Again
Reviving the fabrics of yesteryear.
Well Heeled
Shoes—to the extreme!
Closet Analysis
What a wardrobe is worth.
Sum Total
How to look stylish for $100, $1,000, $20,000, and $100,000.
A Modern Fable
From the kitchen to the limo.
Money Bags
Intense accessories.
Junior Executive
Ivanka Trump, suited up.
On The Cover
Model Louise Pedersen