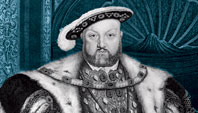 1528
King Henry VIII builds a tennis court at Hampton Court Palace and commissions suits—most likely "tall stockings, short blist'red breeches," as in Shakespeare's Henry VIII—for the ensuing matches.
1867
The "croquet sandal," featuring a laced canvas top with a rubber sole, makes its debut. The original sneaker offers players a solution to unsightly grass stains.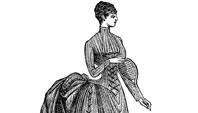 1886
Women dress in aristocratic style—ground-grazing skirts with voluminous bustles, corsets, high necklines, and floppy hats. The game is rechristened "pat ball" as women gingerly tap the ball over the net.
1919
Suzanne Lenglen wins Wimbledon in a knee-length dress with three-quarter sleeves and a widely imitated bandeau. (Women reportedly walk out, calling the display "shocking.")
1920
Big Bill Tilden ushers in the golden age of tennis sporting a preppy array of cable knits and V-neck sweaters.
1927
René Lacoste earns the nickname "the Crocodile" after he makes a pre-match bet over a crocodile-skin suitcase. He later has a croc emblem embroidered onto his shirts and blazers.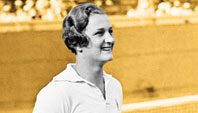 1933
Helen Jacobs breaks out Bermuda shorts at Forest Hills. The Prince of Wales later weighs in: "They are … quite the most practical costume for the game, and I don't think the wearers lose anything in looks."
1949
"Gorgeous" Gussy Moran scandalizes Wimbledon by revealing lace-trimmed panties beneath her skirt. Photographers lie flat on the ground in order to shoot her knickers.
1968
Arthur Ashe wins the first U.S. Open sporting an ahead-of-its-time hipster ensemble: short shorts and bookish black-rimmed glasses.
1970
Television viewers complain that they can't tell the players apart in their all-white suits. For the first time, the U.S. Open permits pastel.
1974
While playing for the Philadelphia Freedoms, "Battle of the Sexes" champ Billie Jean King gives admirer Elton John a uniform. In turn, John writes "Philadelphia Freedom" for her.
1976
Sweatband-wearing Swedish heartthrob Björn Borg takes the first of five consecutive Wimbledons. Later, he founds a clothing line known for its boldly patterned underwear.
1981
An unusually festive John McEnroe wins his first Wimbledon singles title on the Fourth of July wearing a blue-and-white striped polo shirt, matching tube socks, and a red sweatband.
1985
Leggy blonde Anne White takes the court at Wimbledon in a curve-hugging white unitard, distracting her opponent, Pam Shriver. Though the attire satisfies requirements, officials request that she dress more traditionally the following day.
1987
Chris Evert halts play at the U.S. Open when she loses her diamond-studded wristlet on the court. Jewelers like Tiffany & Co. and Bulgari promptly create their own versions of the "tennis bracelet."
1990
Andre Agassi plays the French Open in hot pink. The tournament's director says he might institute a white-clothing rule. Agassi calls him a "bozo" and segues, briefly, into a lime-green phase.
1991
In a hotly anticipated moment, Agassi removes his warm-up suit at Wimbledon to reveal an all-white ensemble, with white Lycra shorts peeking out from under white denim; the crowd erupts in applause.
2002
U.S. Open champ Serena Williams plays in a shiny, skintight black bodysuit: the infamous "catsuit."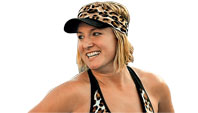 2004
Bethanie Mattek arrives at the U.S. Open poured into a formfitting leopard-print ensemble. She loses, but continues to dress for future Opens as though attending a Halloween party.
2007
Maria Sharapova fails to defend her U.S. Open title despite wearing a Nike dress encrusted with 600 Swarovski crystals, inspired by the Manhattan skyline.
July 2008
The riveting athletic rivalry between Roger Federer and Rafael Nadal again spills into the fashion domain at Wimbledon.
August 2008
Ninety-fourth-ranked Vince Spadea qualifies for the U.S. Open. The charismatic amateur rapper (sample lyric: "playing singles, mixed, and dubs, slugging passing shots and mugs") sells tees reading "Spadea Ain't Afraid of Ya."