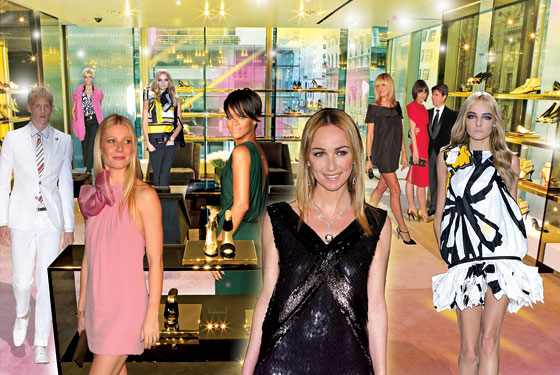 If there is one language all New Yorkers understand, it is the language of real estate, and so the announcement that the new Gucci store, which opened last week, is spread over three stories and 46,000 square feet on the corner of Fifth Avenue and 56th Street has caused a lot of jaws to drop. Gucci, which has been on various Fifth Avenue corners since the fifties, is bigger than ever. It's a great big glass, steel, bronze, marble, leather, velvet luxury explosion overseen by Frida Giannini, the brand's designer and creative director. "The Gucci customer is of course very demanding," she says. "They are expecting a lot from us."
Giannini has been with the brand a few years now, delivering ready-to-wear and accessories collections that are wearable, sleek, and selling quite well—last year, Gucci sold $2.2 billion worth of stuff—but this is her coming-out. There was a ribbon-cutting ceremony with landlord Donald Trump, and there was a massive Fashion Week party co-hosted by Madonna (at which $5.5 million was raised for Malawi and UNICEF).
In other words, Tom who?
Giannini is mining her own jet-setting life as inspiration for the new Gucci. "Now it is not accessible only to princes and VIP people," she says, in a heavily accented, sexily Italian voice. "Now it is for a man or a woman who is modern, who has a real life, and always with the feet on the ground. The customer of today has a stronger part of brain and personality, and is very sophisticated." And indeed, the new Gucci store is every bit as polished as the clothes: all smooth and shiny and Euro, with nods to Gucci's rich design past.
"I think in the nineties the brand was modern, modern, modern," says Gucci CEO Mark Lee, "but the Gucci of 2008 has re-embraced its Italian roots." There's a "heritage" department in this Gucci store (with merchandise exclusive to New York City, because, as Lee puts it, New York customers "think they're special and need special things"). The whole thing feels calibrated to attract not just New Yorkers but the international parade that floods that corner with their valuable euros and rubles and pounds.
Ask Giannini about the store and she emphasizes not so much the interior as the view out, through its great big plateglass windows. "We are in New York, we are on the most exciting and international street in the world. Why not look at it?"