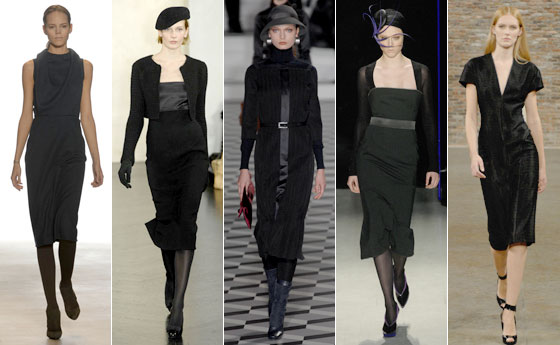 (1.) Your silhouette will slim down.
Fall's shapes are far narrower than spring's bubbles and trapezes. Marc Jacobs and Calvin Klein led the slim charge, with belted coats and tailored dresses respectively.
(2.) You'll channel the queen.
Tweed can be hard to pull off—it tends toward bulky, frumpy, and way too royal family. Thakoon handled it lightly on an elegant coat, while Ralph Lauren and Oscar de le Renta made it classic, not dowdy.
(3.) You'll supersize your sweaters.
Chunky knits were all over the runways. Bruce showed how cozy can still look sleek, while Diane von Furstenberg kept it loose and comfortable with a floppy-collared sweater coat. Our pick, however, is Malo's sweater: space age and warm at the same time.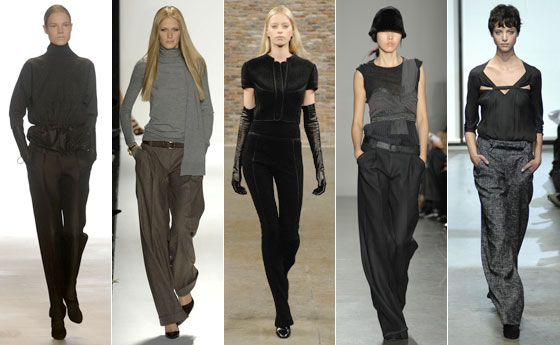 (4.) You'll get some new pants—finally!
After a year of dresses and leggings, pants are back, and in a big, big, big way. There were great slouchy menswear versions at Michael Kors and Proenza Schouler, slick stovepipes at Narciso Rodriguez, and sailor-esque pants at Zero Maria Cornejo.
(5.) You'll zip it good.
What is it with the eighties? This season it was zippers. Behnaz Sarafpour trimmed hers in neon yellow, while Derek Lam kept his basic black. At Thakoon, the zippers were for pockets only.
(6.) You'll keep your head warm.
Whether it's wide-brimmed (Marc Jacobs), pulled low (Proenza Schouler), or little more than a spray (Donna Karan), you'll be wearing a hat. Cover for warmth (Michael Kors's fur) or for modesty (Vera Wang's head scarf), but just cover with something.
(7.) You'll dare to clash.
In what has become a 5 x 10 classic, navy and black reigned supreme: a black belt on a navy dress at Derek Lam, royal blue on cardigans at Marc Jacobs and Thakoon.
(8.) You'll keep walking tall.
The platform trend remains, but it's subtler. The shapes are more traditional this season: pumps, sandals, and so on. Everyone from Donna Karan to Derek Lam amped up their shoes, with platforms beneath the toe box that function like lifts.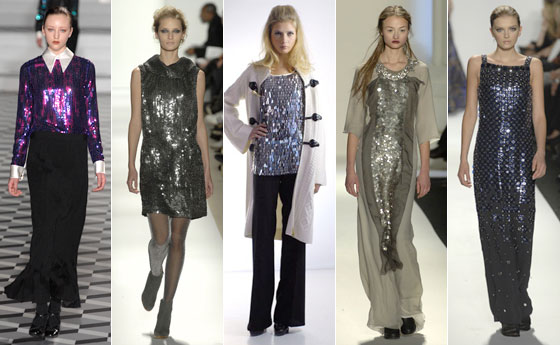 (9.) You'll be dazzling.
Sequins and paillettes were everywhere, and in a whole host of vibrant colors. They were silver and muted at Vera Wang, and Technicolor dreamy at Marc Jacobs. Tory Burch even showed how the look can work for day: beneath a toggled fisherman sweater paired with an easy pair of pants.
(10.) You'll fly away.
What's more fun on an evening gown than a mound of fluffy feathers? Not much, as dresses from Mizrahi, Malandrino, and Marchesa pointed out. Sari Gueron and Thakoon turned their cool, young eyes on the trend with pared-down takes.