For Men…
A.P.C.
$100; 131 Mercer St., nr. Prince St.; 212-966-9685
Non-geeky, yet still vaguely patriotic, Fourth of July wear.
Dunderdon
$79; 25 Howard St., nr. Crosby St.; 212-226-4040
Sweden's answer to the cargo, but ironed flat for more-formal wear.
Freemans Sporting Club
$268; 8 Rivington St., nr. Bowery; 212-673-3209
Great for casual Fridays if work allows it. Butt-flattering, too.
Gap
$39.50; 680 Fifth Ave., at 54th St.; 212-977-7023
Works pretty much anywhere: softball, errands, day trips, etc.
Woolrich Woolen Mills
$139 at Bergdorf Goodman, 754 Fifth Ave., nr. 57th St.; 212-753-7300
Dress them up with a nice polo for weekend social occasions.
Old Navy
$24.50; 150 W. 34th St., nr. Seventh Ave.; 212-594-0049
Lightweight and cheap, of course, but also pretty darn dapper.



When, and How, to Wear Them
Are they too short? Too casual? Can I wear them to the office? How baggy is too baggy? And footwear: Socks? Sandals? Sneakers? "Shorts are the single most intimidating item that a guy can shop for," says Michael Macko, until last week the men's fashion director at Saks Fifth Avenue. A few guidelines will help.
On Fit: "Treat your shorts the way you treat your pants," says Humberto Leon, owner of Opening Ceremony. "If you wear baggy pants, get baggy shorts." If you prefer fitted, it follows, pick a trimmer style. Then again, try not to be seduced by the loose looks on the model-clerks at Abercrombie. "Those guys are muscular, with big, beefy legs," says Macko. "But if you don't have muscular legs, your legs look like two little toothpicks."
On Length: "If you have any insecurities, go with a longer look, like just above the knee," says Leon. Longer than that and you enter "Euro-cute Capri-pant" territory, says Macko. And beware of the other extreme: "Maybe an inch or two above the knee, tops."
On Shirts: A dress shirt with rolled-up sleeves is fail-safe, says Leon. However, make sure the shirt is on the shorter side. "If you want to sit at a park, you want to be able to untuck your shirt."
On Footwear: Dress shoes, traditional wingtips, desert shoes: all okay with a tailored pair (not so much with the baggy styles). "A black pair of desert boots with a thin cotton black sock could be kind of nice," says Leon.
On Work Exceptions: If your company seems cool about it, venture on; if nobody else is doing it, don't. Think of work shorts as you would work jeans: neat, tailored, and worn with a short or long-sleeved dress shirt.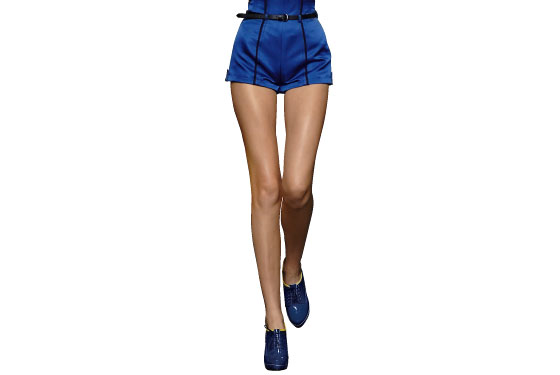 For Women …
Jackson, Johnston & Roe
$134 at TG170, 170 Ludlow St., nr. Stanton St.; 212-995-8660
Crisp and ultralightweight, from a new Brooklyn-based design trio. Save these for the dog days.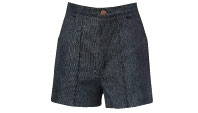 Lyell
$175; 173 Elizabeth St., nr. Spring St.; 212-966-8484
Tailored, high-waisted denim is formal enough for (some) offices.
Vintage Tracy Feith
$60 at Ina, 21 Prince St., nr. Elizabeth St.; 212-334-9048
This exact pair might be gone, but recycling is very popular these days.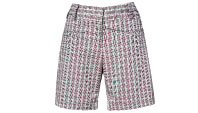 Steven Alan
$172; 229 Elizabeth St., nr. Prince St.; 212-242-2677
A slightly longer hem and fabric that looks better wrinkled makes these the designated favorites.
Liquid
$128 at Olive & Bette, 384 Bleecker St., at Perry St.; 212-206-0036
The daisy print and forties details are root-beer-float cheerful.
A.P.C.
$70; 131 Mercer St., nr. Prince St.; 212-966-9685
Petal pink, with subtle waist detail; good for the weekend, or at the beach over a bathing suit.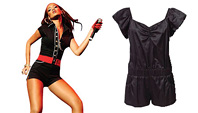 About Those Playsuits
Romper, playsuit, onesie—call it what you will, but the one-piece article of clothing that looks like a chopped-off jumpsuit (also freshly back in fashion) is this summer's version of last summer's baby-doll: a cute, slightly infantilizing uniform that shows leg. But unlike other trends (gladiator sandals), rompers are not universally flattering. Why the torrent?
1. Retro. The pinup fashions of the fifties are back, as evidenced by high-waisted two-piece swimsuits, skinny jeans and plaid shirts, and A-line dresses.
2. Rompers are playful, but edgy. Most of us haven't worn them since we drank juice boxes and had bedtimes. But follow-my-style celebs like Rihanna (pictured) and Chloë Sevigny are making them grown-up, and even possible as eveningwear.
3. Dresses are boring and this is "the summer of the romper," says Loeffler Randall designer Jessie Randall. They can be daytime or evening, weekend or (depending where you work) weekday. Plus, you don't have to worry about wind (or a subway vent) blowing up your skirt, and it makes sitting demurely at a picnic, well, possible.