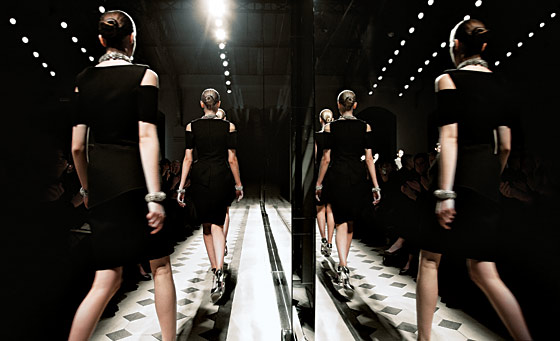 Nicolas Ghesquière's Balenciaga show is at the beginning of Paris Fashion Week, on a Tuesday morning, after everyone has arrived from Milan. There's usually a sense of optimism around Balenciaga, partly to do with timing (it's the homestretch) and partly because Ghesquière has, for years now, made some of the most exciting fashion on the planet.
Ghesquière makes new clothes. This sounds ridiculous, of course. Isn't that what every designer does? Well, no. Every designer comes out with new variations on the same pieces we see, season after season, altering shapes and colors, but essentially sticking to the old familiars. Ghesquière goes beyond that. His designs, though always respectful of the tailoring and elegance of the house's founder, Cristobal Balenciaga, take that spirit into the space age. Ghesquière embraces new technology and fabrics (a few seasons ago, he made scuba fabric a fashion item), and his clothes are pushed, cut, fused, and ultimately morphed into something you've never quite seen before. Tradition, yes, but futurism is in his DNA.
This time, he used his precision-tailoring skills to reinvent the little black dress, a piece of clothing so dulled by overuse that within the industry it's referred to by its initials: the LBD. Ghesquière LBDs, though, were razor sharp, shaped and seamed to follow, even emphasize, the female form. In a fall season filled with pants, his were the coolest: ultraskinny with latex insets, (mis)matched with molded jackets to make a new version of a suit, or paired with the gorgeous jewel-tone, twisted velvet tops that sent a palpable "must have" shiver through the crowd. The last, breathtaking group was a series of demurely cut dresses made from latex and infused with chinoiserie patterns. It was sci-fi, tradition, transgression, and commercially appealing—all at the same time. Ghesquière was the jolt of the season.