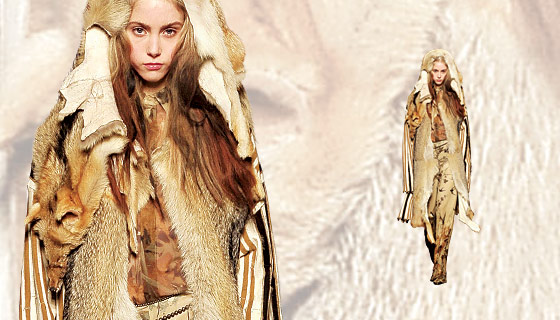 It's as if PETA never existed. The fall runways were packed with fur, starting with shearling coats and fox collars at Oscar de la Renta, gaining momentum with sable car coats at Michael Kors, and building to a crescendo at Jean Paul Gaultier where, to a soundtrack of lambs baaing, the French designer sent out fur jackets, capes, messenger bags, boots, and leggings (some with heads still attached). Even Catherine Deneuve in the front row seemed taken aback by all the pelts. Julie Gilhart, Barneys New York's fashion director and senior vice-president, is philosophical. "Gaultier's a superstar designer but I'd like to ask him why he was inspired to use so much fur. He drove the point too far," she says.
But he was hardly alone in showing a lot of pelts. So is fur back, or not? Normally voluble designers go silent when asked their stances on the topic. Their concerns are political, commercial, and conflicting: Even though their runway-show photos are available globally, designers who use fur say talking draws attention and ups the potential for messy protests. This season, BCBG and Hervé Léger's Max Azria put out a press release saying his company was henceforth "cruelty-free," but he wouldn't get on the phone to discuss it. Designers who've promised PETA in writing that they'll go fur-free, fear they'll be tagged as kooky animal-rights fanatics or hypocrites, since most still use animal skin of some kind, and it's hard to parse the difference between a coyote coat and a python bag. There are closet sympathizers who claim they're strong-armed by upper management to push fur in order to hike up prices, and because fur makers will help defray a runway show's cost if a couple of fox stoles get thrown over a cashmere dress. Stella McCartney is the only high-profile name whose fur- and leather-free position is firm; even her accessories are cloth, rubber, or something renewable. But her company is owned by Gucci Group, which feeds off the leather- and fur-laden luxury market.
The other truth is that fur "has always had the connotation of being something that is luxury in an extreme sense," adds Gilhart. In other words, you're not really a high-end designer unless your collection contains a chinchilla chubby or a fox-trimmed skirt. Same thing goes for consumers who crave the status of owning something exorbitantly priced from a bona fide high-end collection. But its sudden ubiquity strikes Gilhart as discordant. "The first thing that came to mind was, in a period of global warming, why do we need more outerwear?" she says of fall's furry runways. "Now it's important to have seasonless clothing. I also wondered if it's not addressing other markets that are just discovering fashion." In China and Russia, for example, status dressing hews to traditional ideas of glamour—like big, fluffy furs. And in New York, while the ankle-sweeping mink might not be as common as it once was, there's still a customer. Furrier Adrienne Landau's fox-trimmed blankets and coyote vests sell briskly at Saks Fifth Avenue, and she's all for some fresh ideas in the category. "I do like the sauvage thing," she says of the Gaultier show. "I don't like where it gets to look scary. It may be a little out there in today's world, but I like that he's doing interesting things with skins."
And what of PETA? It's still around, but stealthier. This February, during New York's Fashion Week, a young female PETA volunteer carrying a tray of soy lattes slipped past Donna Karan's assistant at the designer's Upper West Side home, then ambushed the designer in her living room, whipping out a portable DVD player and playing a graphic DVD of how animal skin is harvested. The unsettled designer had the protester ejected immediately, but PETA says Karan is now their main designer target. She has twice pledged—but never made good on her promise—to nix fur, according to Dan Mathews, PETA's senior vice-president (whose memoir, Committed, was released in March). Next season, he says threateningly, PETA will "go for the throat with Donna Karan. She's number one on our agenda right now." If Karan caves, she'll join Ralph Lauren and Calvin Klein in the group of American designers who don't do fur. Last year, Giorgio Armani dropped fur from his Privé couture line, but not from his other labels.
After the fur deluge this fall—even if PETA goes long and the temperature goes up—it's unlikely that next fall, runways will be entirely without pelts. Fur is expected, like cashmere sweaters and tweed jackets. Those who doubt can look at veteran furrier and social pillar Dennis Basso; to open his fall show, he sent out an alligator and sable coat. And it's his 25th anniversary.