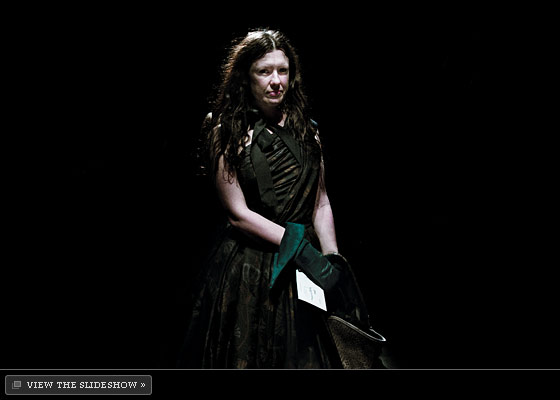 Along with how a handbag can possibly cost $1,800 and why someone tries to bring back flares every season, one of the great mysteries of the fashion business to outsiders is what a stylist actually does. Few, however, can doubt their importance; a good stylist can boost a designer from unknown to international recognition faster than a celebrity endorsement.
Put simply, a stylist is to a designer what the builder is to the architect, or a music producer to a songwriter: the person who turns the creative idea into a tangible reality. A designer may sketch the clothes and make airy pronouncements that this season is all about satanic wood nymphs, but a stylist puts the clothes together and makes the wood nymphs commercially desirable. Most are unknown, but a few have emerged from the designers' shadows, including Karl Templer, former editor-in-chief of Arena Homme Plus and, until this season, the main stylist at Calvin Klein; Venetia Scott, creative director of Marc Jacobs; Alexandra White, fashion director of W; and the first to be widely known, Joe McKenna, who is largely credited with helping to define the look of Jil Sander, among others.
And then there's Katie Grand, who is not just an influential stylist, but one of the industry's most crucial people, with a large presence both on the runways and in magazines. British-born Grand worked on some of Prada's most important collections, and currently works for Louis Vuitton; she does ad campaigns, consults at various companies, worked on cult publications The Face and Dazed & Confused, and founded Pop magazine. She is, in other words, the Kate Moss of the (relatively) real world: someone who makes clothes look better than the designers can, and who shows the rest of us how to wear them.
But even those who work closely with her find it difficult to say what Grand does specifically. Jacobs says adoringly that Grand is "passionate and focused, yet fun. We can be up until three in the morning, but she lifts that anxious atmosphere by sticking music on and we'll dance around the studio." A Prada spokeswoman said simply, "Grand brings out what Mrs. Prada wants."
Grand describes the process thus: For Louis Vuitton, for example, "I'll work with Marc's team in Paris while he's in New York finishing off the Marc Jacobs show. He'll have told me the idea of the collection. The clothes come in about three days before the show, so I'll put together some outfits, send photos to him, he'll send back comments, I'll redo them, and we'll do them together."
The exact degree to which a collection's look is shaped by the stylist as opposed to the designer is, unsurprisingly, a highly guarded and contentious secret. But few can doubt Grand's contribution to whatever brand she's working on. To be able to hop from a Prada to a Vuitton is another reason she's so valued. Many stylists only create one type of look; sleek preppiness or distressed boho, for example. Not Grand. Part of her creativity lies in being able to look at a collection and pull out, whether on the runway or in the ads, those aspects that will sell the clothes. For Prada, in the first part of this decade, she marketed a kind of chic frumpiness; for Vuitton now, it's bronzed, Dynasty-esque women. It's hard to think of more dissimilar styles. Which is not to say that her work is impersonal or anonymous. As she says, "I like a lot of products. When I do something, there's generally some gloves, and some bags, and some jewels, and a hat." Prada and Jacobs make the hats, bags, and jewels; Grand decides where and how to pile them on.
And these are, of course, what sells. They were a propelling force behind one particularly successful season when Grand was styling Miu Miu, Prada's secondary line. You may not have bought that tweed skirt and jacket, but you almost certainly still have some jewelled brooches from that era. That one ridiculously omnipresent trend was inspired by Miss Marple. A fictional elderly detective is not a natural fashion icon. But Grand liked the look, so she assumed that others would, too.
Gap-toothed and scruffy-haired, there is something rather childlike about Grand (endearingly, she insistently pronounces Vuitton as "Vitton"). Yet she is a driving force behind one of the biggest brands in the business. Marc Jacobs is Vuitton's designer, of course, but for seven years, Grand has helped refashion it from a preppy Parisian staple to something befitting those who hang out on yachts in Ibiza (or would like to). It's instinctive and collaborative, not calculated, she says. "I tend not to think about these things too deeply."
Many stylists and designers claim their ideas come from an amorphous Zeitgeist, as though their ears are attuned to a whisper on the wind that next season, the modern maritime look will be essential. Grand is more candid. "Really, it's about doing something different. Certainly Mrs. Prada and Marc always want to do the opposite of what they did last season. So for Vuitton (fall 2008), Marc and I said, 'Okay, we don't want it to be polite.' We felt that spring 2008 was very sweet and pretty, and we wanted to do something bolder and more aggressive, with strong shapes. And then we mentioned that we love the look of the clothes in Working Girl and it went from there."
All this is, by the way, just her side job. Grand, who grew up in Birmingham (pretty much the British equivalent of Detroit, but less cool), started off as fashion director of Dazed & Confused, after getting drunk with its co-founder, the photographer Rankin, at the opening party for his own exhibition. She was a key member of the fashion scene in nineties Britain, hanging out with future designers Luella Bartley, Giles Deacon, and Stuart Vevers. From there, she moved to The Face, and then started Pop, whose influence far exceeds its small readership, and whose covers can confer instant cool. Example: Victoria Beckham, whose Pop cover in spring-summer 2004 turned her from a footballer's shopaholic wife to a kitsch, desirable icon, and landed her in Jacobs's ad campaigns. To make the uncool cool, and the cool cooler; that's Grand's talent. And in an image-driven industry, it's hard to think of a more lucrative knack.