HATS ARE (ALMOST) THE NEW BAGS.
Suddenly, hats were on the accessory fast track. There were two camps: the romantic and decorative (Marni's pile of red petals) and the rakish tomboy (a straw fedora, worn here over a mirrored wig at Junya Watanabe).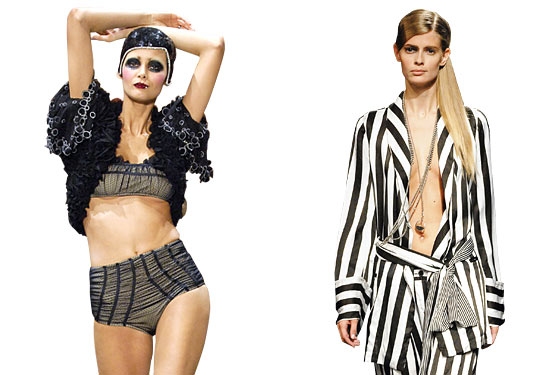 BOUDOIR SEES THE LIGHT OF DAY
The lingerie trend had two faces. The classic vampy pinup girl at John Galliano probably wouldn't work for the office. Ann Demeulemeester's borrowed-from-the-boys version, however, might.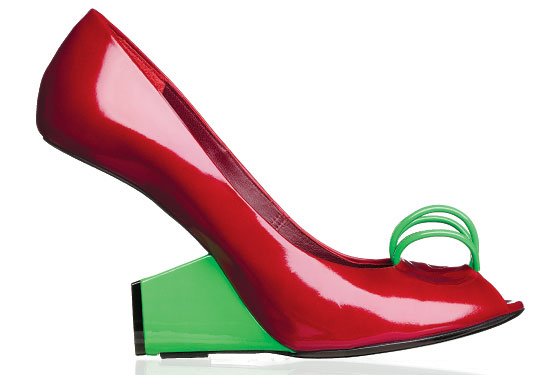 THE BASIC PUMP IS A DISTANT MEMORY
Footwear entered an entirely new zone of artful weirdness. At Prada, every pair was different, with layers of multicolored leather and elaborately carved heels. Marc Jacobs's pumps (pictured) were a visual disconnect: a little bit Dalí, a little bit Dada.
NO OUTFIT IS COMPLETE UNTIL BELTED
Spring's floaty reveries needed something to weigh them down. Alexander McQueen finished his hourglass shapes with bands of shiny red or gold, while Alessandro Dell'Acqua used satiny obis to contain his coats and dresses.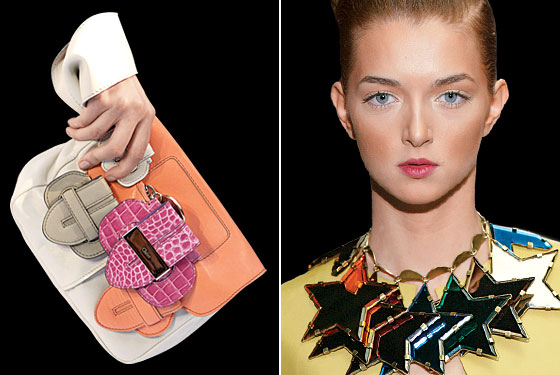 TINY CLUTCHES, BIG CHOKERS
If there is a new "It" bag, it's the clutch (like this chubby one from Chloé), held in the hand and barely big enough to contain the outfit-defining, brightly colored necklace (like this one, from YSL).
PUT THE ACCENT ON NEON
Unbearably bright suddenly became absolutely perfect. Neon green, yellow, pink, or orange (used sparingly) lit up the runways.