Is there another New York designer as brilliant and confounding, inspiring and frustrating, as Marc Jacobs—the ex–Upper West Side club kid with the morphing identities and seemingly endless capacity for genre-rocking flair?
It's old news to anyone who's followed Marc Jacobs that the designer routinely starts his shows late, even by fashion standards. They're typically scheduled for 9 p.m. on the Monday of New York Fashion Week, but rarely begin before ten. The waiting is not terribly comfortable—it's usually in the Lexington Avenue Armory, on metal bleacher seating, always very crowded, and sometimes distressingly hot. Still, twice a year, the highest of the fashion world sit and wait, watching the celebrities trickle in and the staff of Jacobs's stalwart show-production company, KCD, run up and down the sidelines, talking into their headsets with creased, tense brows.
But this show was especially late, even by Jacobs standards. Around 8:30 p.m., publicists began madly dialing guests as if they were part of a snow-day phone tree. "Please don't come till 10:30!" they begged. So the editors and retailers, who were having their traditional pre-show dinners at Dos Caminos or Les Halles or BLT Steak or Wakiya, waited and drank a little more.
The show didn't start until eleven, by which time any alcohol euphoria was long gone. And so began a newly hostile relationship between Jacobs and the press. "Marc Jacobs disappoints with a freak show," wrote Suzy Menkes in the International Herald Tribune. Women's Wear Daily reported that she'd said, at the show, "I would like to murder him with my bare hands and never see another Marc Jacobs show in my life."
"Marc Jacobs: Unfashionably Late," complained The Wall Street Journal. Robin Givhan of the Washington Post wrote of the neglect suffered by her dog while its owner sat 60 blocks south waiting, waiting, waiting.
And then there was the normally adoring Brid-get Foley, WWD's executive editor and a longtime champion of Jacobs's (she's written a mini-biography), who reported the widely circulated rumors that Jacobs spent those precious pre-show minutes at the bar or the restaurant of the Mercer—and, some implied, having a drink (he checked himself into rehab in March). "That is bullshit! That is bullshit!" Jacobs thundered in WWD. "Leave me alone and don't come to the show next time." And then he did the unspeakable. Marc Jacobs—our child of the Mudd Club—threatened to take his show to Paris.
It's not that waiting for a Marc Jacobs show is a total drag: There can be some excellent people-watching. But the fashion professionals had been sitting in a lot of tents already (as opposed to, say, the Parsons students who get invited) and were eager to get on with it and get home. There's always an eye on Anna too: If Wintour gets up and walks out, can we all? Jacobs had always been a favorite, but lately, some felt, he'd been behaving like a confused teenager with a disregard for his curfew and contempt for everyone else's time.
Jacobs's excuse, as delivered by the surprisingly mellow KCD staff, is always the same: The clothes, quite simply, aren't ready. Which was one thing when he was still struggling to stay in business, but since rocketing to international stardom after being hired by LVMH to design Louis Vuitton, Jacobs is one of our richest and best-staffed designers. How can he be so perpetually, so terminally late?
It's always seemed a bit like acting out. Jacobs shows late because he can, because everyone waits, because when it comes to the clothes, the clothes, the clothes, he always, if controversially, delivers. Tired and grumpy as that audience was, when the lights went down, necks craned and eyes lit up.
This spring's collection is a smashup of color and layers: a trip to the inside of a lady's wardrobe and right back out again. He played with notions of sex appeal and dress-up by placing silhouettes of lingerie, and sometimes the lingerie itself, outside the clothes. It was lovably mad, featuring kooky hair festooned with bicycle wheels and baby hats, cat's-eye glasses, and deranged shoes.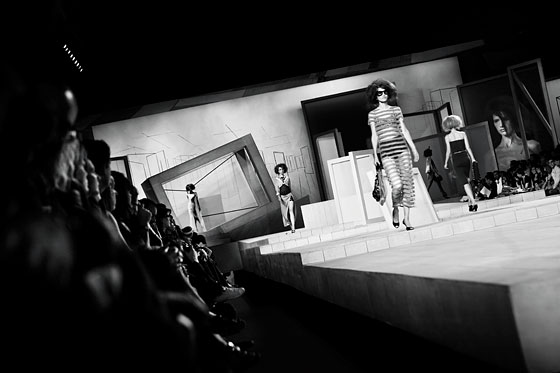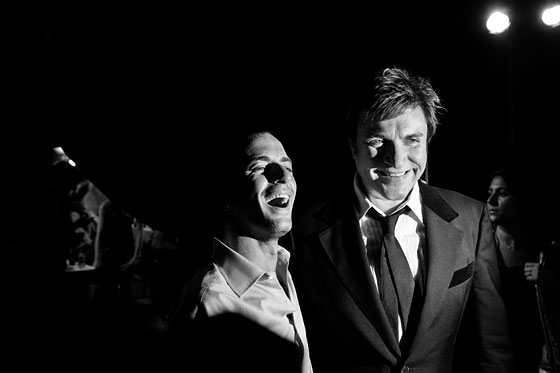 As a collection, however, it was divisive. There were no silhouettes that could be imitated (like fall's long, lean looks) or much that could actually be worn. But it raised interesting questions—about construction, about what constitutes sex appeal in our sexually overwrought culture. It was smart about clothes and about attraction, and it was funny and ironic. But it was also two hours late, and people's ability to appreciate a thought–provoking show tends to fade pretty rapidly at eleven on a weeknight.
Fast-forward a month later, to the Louis Vuitton show in Paris. Same crowd, different bleachers, same waiting. Typically, the proximity to corporate HQ has meant that Jacobs behaved, but not this time: Even though LVMH CEO Bernard Arnault sat in the front row, tapping his watch and furiously typing on his BlackBerry, Vuitton was more than an hour late.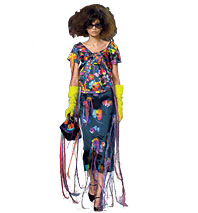 Whereas New York, for Jacobs, is about spirit and a secondary line (the commercially huge Marc by Marc Jacobs), Paris is about big, big business. Vuitton handbags make millions for the company. In Paris, late or not, the focus is less on the clothes (this season, it was a tongue-in-cheek nod to Richard Prince's pervy paperback nurses) than it is on those money-earning bags. So he started an hour late; as soon as those Prince homages came out, Arnault smiled. They were cool (Prince printed Henny Youngman jokes over the LV logo) and had "waiting list" all over them. It was another successful Jacobs-engineered merger of fashion, art, and pop culture, like the blockbuster bags he did with Takashi Murakami and Stephen Sprouse. Late, petulant, but he'd pulled it off again.
Part of the current Marc Jacobs mania centers on Jacobs the man, who has managed in the past year to completely remake his public persona. He's gone from being a greasy-haired, bespec'd perpetually single nerd to a diamond-studded, low-carb-eating, wheatgrass-glugging, posing-in-just-a-towel stranger, with a tattooed boyfriend named Jason Preston who gives all sorts of interviews to the press. (Preston's Friendster page says: "I love going out with the most fabulous people, I rarely saw [sic] that word. only the fab survive … I am the kind of guy you fall in love with because of my looks & then you get to know me and start to wonder what you ever did to deserve me. Fucked up, huh?")
As much as anyone is talking about the clothes or the bags or how anyone is going to walk in those shoes, people are talking about Marc the man. At the end of the Vuitton show, he skipped out front in a sleek suit and white shirt unbuttoned to Tom Ford level. In the old days, he'd have shuffled out, waved, gone back. At Vuitton, he mugged and stuck out his tongue, swinging an LV vanity case decorated with SpongeBob SquarePants.
All showbiz aside, the purity and genius in his work prevailed over the antics. This man, who revels in the subtexts of sex rather than its blunter, sluttier iterations, may be expressing his own sexuality differently these days. But when it comes to design, he's still quite complex. His collections comprise a body of work that shows a twenty-year-long thought process. He's still churning out hit bags for Vuitton.
And as for Suzy Menkes, well, they've made up; she arrived at the Vuitton show to find, on her seat, a hand-sketched T-shirt: a little present from a designer who, if not chastened, at least seems sorry. He is fashion's collective teenage son, and this, too, must be endured.