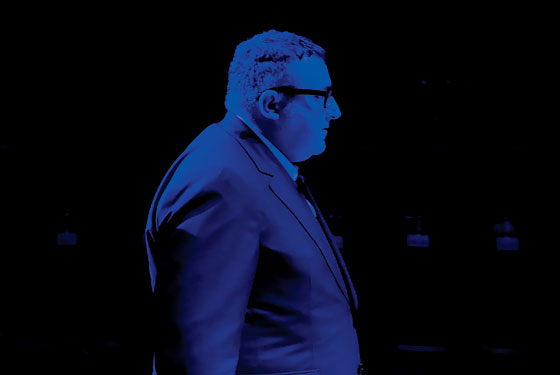 The genius of Alber Elbaz lies in his ability to dazzle fashion insiders and consumers alike—editors swoon over the technical mastery behind each drape and seam, while regular women (well, not so regular if you consider the average Lanvin price tag) appreciate the way his clothes make them feel. His spring collection, filled with innovative silhouettes cast in rich, jewel-toned duchesse satin and plenty of imaginative shoulder options (one-shouldered; Dynasty-size proportions), didn't disappoint.
Harriet Mays Powell sat down with Lanvin designer Alber Elbaz at the Hôtel de Crillon in Paris a few days before his spring 2009 show to talk about fashion, color, his own work, and how to dress in a recession

Harriet Mays Powell: Alber, I love your collections. The clothes are equally wonderful to photograph and to wear. I want to spend every last penny chez Lanvin.
Alber Elbaz: Chez Lanvin! It sounds like a good French restaurant, Chez Lanvin. A lot of wine.
HMP: How do you differentiate between making clothing that sells and what editors pick?
AE: We designers, we do today two collections. We do the pre-collection, and then we do the collection. When you do the pre-, you're always thinking about women, what they want, what they like. So you go ruffles, you go pink, you go flowers. Then when it comes to the show, you always go hard and tough, because you have to do a collection for the press. It's a show for women. The highest compliment is when I see a journalist, or a stylist, that has seen 200 shows, and she decided to put her money there. We are putting in a lot of effort in order to make a runway collection that, for me, is more experimental.
HMP: When we first met, you were at Geoffrey Beene, who was known for his precision and, really, as a designer of American couture. Are you involved in making sure that the people around you have the ability? That seems a slightly lost notion in some fashion arenas today, the idea that you really do know how to make a dress from a ribbon, as you did in the last collection, for example. That you can think about how you treat fabric and the technique of design itself.
AE: I don't think that you can write music if you don't know how to play an instrument. You have to know the basics, then you can go forward.
HMP: You are known for innovative fabrics, like the incredible flowing, lightweight polyester you used in the spring 2008 show, or the ribbon dresses. How did your interest develop in that direction?
AE: You know, my dream is to be a doctor. I'm almost working in a laboratory, because I'm trying new techniques, new directions and fabrics, new weaving. I'm trying to dip the dresses after they're done in stonewash, in water, in warm water. To press them in different ways, to steam them. We do all of this in France.
A woman told me that every time she wears Lanvin, men fall in love with her.
HMP: Is the turmoil in the financial world affecting the way you're thinking about [the spring 2009] collection?
AE: It's not an easy time. You have to be smart. Now is the time to hide the shine. It's either inexpensive—a T-shirt—or it's something that makes you want to own it, that gives you the desire. Even though we go through difficulty, it's an important time, because it makes you stronger. It's almost like being on a diet. Hard, but then the results are there.
I wanted to go out of fashion, to study medicine. I thought, you know, who needs fashion? How important is it if you wear a red dress and an orange jacket? It's not really. But it is important for that woman, she will find a nice fur coat and it will make her happy, she will have a better day. Our job is to give you comfort, to hug you with clothes. I always tell this story a woman told me, that every time she wears Lanvin, men fall in love with her.
HMP: What kind of women do you design for?
AE: I love personalities. I don't like just pretty girls. The moment I see a woman, my task is to find the piece that, when I put it on her, I will not see the clothes but I see her face. I don't want to see a dress with a woman. I just want to see a woman. And fit doesn't mean that it's fitting the body. It has to fit her mind. Being an overweight designer, I'm very aware of comfort. We don't only do clothes for 20-year-old girls. We can see the same piece worn by 20 and by 80. And I love that. I love to see old women. I love wrinkles. I love gray hair.
HMP: Is there one designer you've admired the most?
AE: Yeah. Geoffrey Beene. I worked there seven and a half years. Out of school, second job. I absolutely work his way. I mean, the fittings, the whole process, definitely Mr. Beene for everything, for everything, yeah. I remember I called him I think about a week before he died, he was in the hospital, and I told him, "Mr. Beene, I'm going to be tacky again." And he said, "What?" I said, "Thank you. Thank you for teaching me everything I know."
HMP: Was he pleased?
AE: I think so. We had a very close relationship.
HMP: Now, where do you go to relax after it is all over?
AE: I hate to relax. I hate vacations. The moment I'm on vacation, I get sick! I work seven days a week. I work Saturday, I work Sunday. I work at home. I work. I mean, it's kind of filling me up. And you know what, Harriet, sometimes on Saturday or on Sunday when I come to the office I walk by the park and I see all these people having lunch or brunch, or just walking around and eating a banana and stuff. And I ask myself, am I going through life just parallel to life, or is that life? And in the end, everyone creates his own. Whatever makes you happy.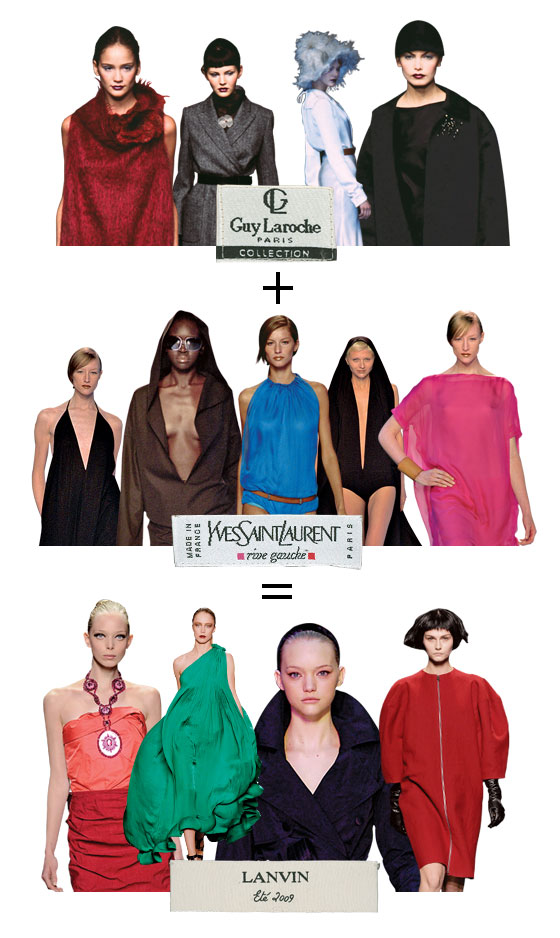 Guy Laroche, 1996 - Thinky Sportswear
His first design job after Beene was at Guy Laroche. Still under his mentor's influence, he produced cerebral, tailored sportswear.
Yves Saint Laurent, 1998 - Sex and Color
Then, during his (brief) tenure at Yves Saint Laurent, he got into the house's confident, body-conscious, skin-baring vibe.
Lanvin, 2001 - The Beautiful Fusion
In seven years at Lanvin, Elbaz has moved into his own realm, using sensuous fabrics and sexier cuts. Now he has his own signatures, like the trench, the external zipper, and the one-shoulder dress.