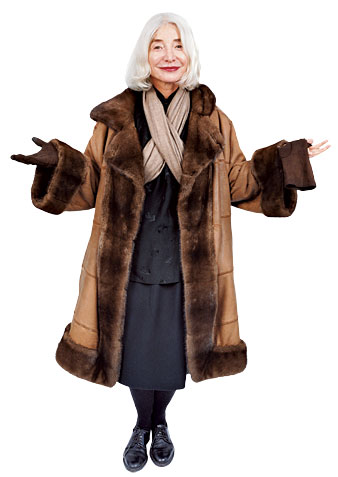 What does a fashion consultant do, exactly?
I give advice. I find ideas. I specialize in bags and shoes.
Which are the best shoes and bags?
It is the bag by Hermès, the one which is like a shopping bag—the round one. And flats by Marni. I adore Marni. The shape is good and the colors are very nice—pink, gray, burgundy.
How long have you lived in New York?
Nine years. But you see, I live half in New York, half in Paris because my husband is an American painter and I think that the scene is in New York. Paris is very beautiful, there are good restaurants, and life is very nice. New York is more exciting. I live on the Lower East Side.
How did you meet your husband?
In the south of France. At a bullfight. I found him sympathique, he found me sympathique, and we started to date. That is it.
How long has your hair been white?
I got them very young, and I never dyed them. When I was a child, I would see people with white hair and find them very beautiful, so I decided at the very beginning, when it began to turn to gray, that I would leave them. My friends pushed me so much to dye them, but I have not the patience. It is too much care. And besides, it happens that it suits me.
Is your style very French?
French women always have a little something that makes it. They have a touch. The Americans have less the touch; they follow too much what they learn in magazines.