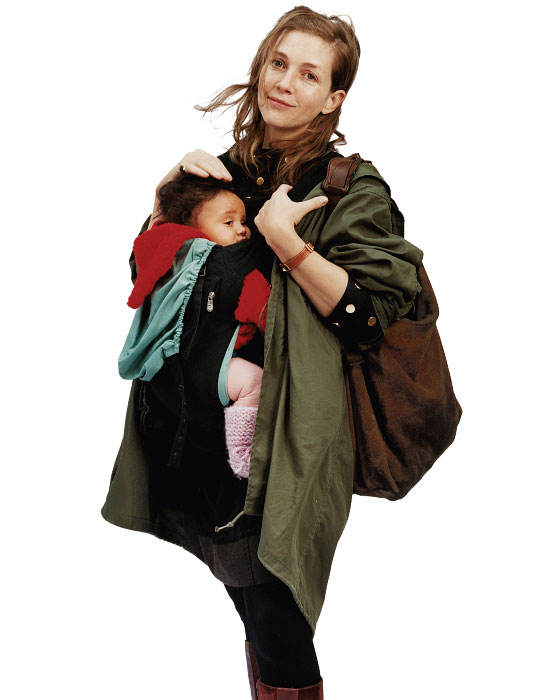 How old is Isadora?
She's 5½ months old. She's a great girl, much better than I expected. I was kind of dubious during the whole pregnancy thing, but I've been pleasantly surprised. I wasn't prepared for the joy explosion. The extreme cuteness is helpful.
Tell me about your look.
Disheveled aristocrat. I like to look at old movies and Slim Aarons photographs. I just wish I was sitting by that pool—not necessarily with those people, but they're who I emulate in my daily look. The disheveled part is that I don't think I could ever actually get the aristocratic thing down. I could never have been so clean. I would have been one of the peasant people.
What are you wearing today?
The big parka I got at Amarcord in Williamsburg; I think it's an old Italian military coat. I added the mink to the collar because it was sort of mangy before. I don't know where I got the skirt, but I added the ribbon because it was too short.
Do you doctor lots of your clothes?
I guess I do. I come from a sort of crafty family. We were always making things at home. I grew up in Northern California and in the Mojave Desert— my parents were hippies. They liked to keep it moving. We lived in the middle of nowhere, with no television or phone. My parents had a van, and to get our water we would drive in with an empty water bed, fill it up, ride home on it, and then empty it into the water tank.
Do you think of raising Isadora that way?
Right after she was born I said, let's get a van and drive across Europe. But my friends all pointed out that just because my parents were eccentric doesn't mean that I am. My parents are just much, much cooler than I'll ever be.
Do you think your daughter will think that of you?
She seems pretty cool— she may already be cooler than me.