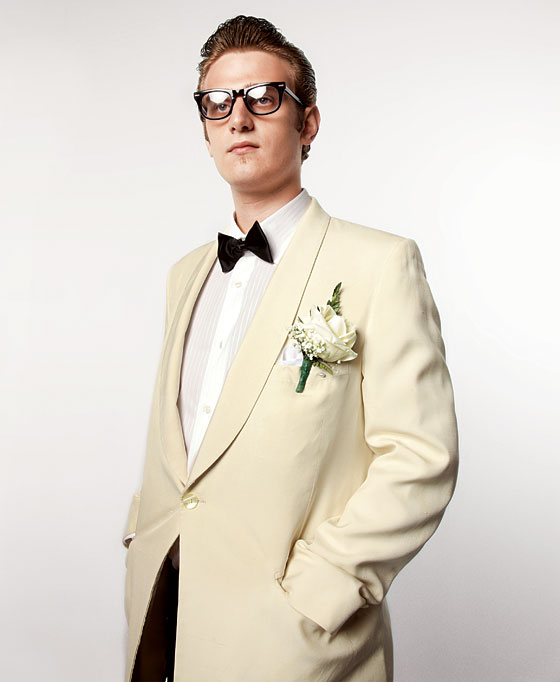 Jack Houlton-Vinyl, 18, the Beacon School
Nice tux!
It's modeled after Humphrey Bogart's in Casablanca.
And the glasses?
These are just my glasses that I wear every day. I got them because they look like Buddy Holly's. I'm pretty much into vintage everything.
Do your friends get all of these old showbiz references?
No, but most of the teachers do.
Jonathon Culver, 17, the Beacon School, and Annick Berlin-Murat, 16
You match so well!
Jonathon: I guessed and got it right. I finally saw a picture of her dress about three days ago.
And the blue drink?
That was just a happy accident. We didn't know there'd be matching drinks here.
Josie Kinsler,17, James Baldwin H.S., and Daniel Sutton, 22
You're both glowing in white.
Daniel: It's practice for our wedding! We're not engaged yet, but we will be at some point.
So I take it you're having a good time.
It's one of the best nights I've ever had.
Anastasiya Artemyeva, 17, Jacqueline Kennedy Onassis H.S., and Rayon Silks, 21
You must really like red.
Yeah, there are only a couple of people in red. But one girl has my same dress in another color. I got my dress before she did, and I showed it to everybody. I am so mad!
Noor Gharzeddine, 18, Katie Cohen, 18, and Christina Angione, 18, the Beacon School
You three look like Gossip Girls.
Katie: Really? That wasn't what we were going for, but I'm fine with that.
What's with all the short dresses?
Christina: I think it's like a city thing.
Francie Seidl Chodosh, 18, and Lucca Zeray, 17, the Beacon School
That's not a prom dress!
Francie: We just wanted to have fun with our outfits. I actually thought about wearing a dress, but we rode a tandem bike here, and I didn't want to wear a dress on a bike. Everyone said we won the Best Entrance award.
Richie Einhorn, 18, and Trevor Sandy, 18, the Beacon School
Cool look you got there.
Richie: Thank you! I actually went through my grandfather's closet and got this tailored to fit. My date told me to wear a skinny tie.
Your girlfriend is smart.
Oh, she's just a friend. I'm a junior, so she asked me.
Henry Liebman, 18, and Jessica Leopold, 18, the Beacon School
You guys are a cute couple.
Jessica: No, he's just my friend. We've known each other since the sixth grade, and we're just really good friends. The guy that I'm actually dating is off to the side.
Maybe Henry has a crush on you. He was staring at you pretty intensely.
I don't know.
Naomi Bullock, 18, the Beacon School
Your hairdo is fabulous.
I got it done at Astor Place Hairstylist, by a guy named Eliath. I found a picture of one of America's Next Top Models, and also one of Kanye when he had swirlies in his hair. And so my barber mixed it up.
Dominque Williams,18, Julia Harrison, 17, and Camara Binetou, 17, Jacqueline Kennedy Onassis H.S.
What's with the tiara?
Dominque: I just won prom queen! I was up against five other girls. I think I won because I'm not one to keep to myself. I'm pretty much a social butterfly.
Is there a prom king?
There are two. And since there are two, I couldn't dance with both, so I didn't dance with either.