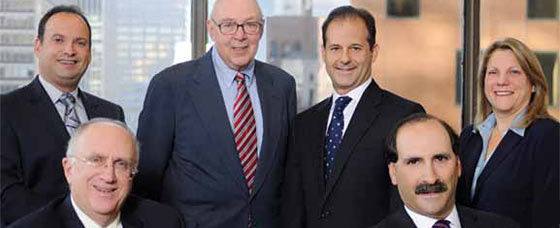 Some law firms will take on virtually any case that walks through the door, regardless of the circumstances, but Levy Phillips & Konigsberg, LLP is a different type of law firm. The Manhattan-based firm, which handles a wide variety of toxic tort, products liability, consumer fraud, medical malpractice and personal injury cases, is not a volume-based practice. "We don't deal in bulk," says partner Robert Komitor. "We're very selective in the cases we litigate," adds partner Stanley J. Levy. Such selectivity stems from the meticulous way members of the firm work up cases and develop whole areas of litigation.
The firm's reputation for tenacity and high level performance is reflected in the recent honor bestowed upon three Levy Phillips & Konigsberg attorneys in being chosen as among New York's Best Lawyers: partner Stanley J. Levy for personal injury, partner Robert Komitor for mass torts and Lizabeth Burell for maritime law.
The firm, which was founded more than two decades ago and has offices in New Jersey and the Hudson Valley in addition to its main office in Manhattan, has long been at the forefront in developing areas of mass torts and is one of the pioneers of asbestos litigation and semiconductor litigation. "We make sure that we keep up with what's going on, and we're well-versed in science," says Mr. Komitor, whose specialty is mass torts. "We have the ability to grapple with scientific and technological issues with success."
Success indeed: The firm, under the guidance of Mr. Levy and Mr. Komitor, as well as other partners Steven Phillips, Alan Konigsberg, Diane Paolicelli and Moshe Maimon, has won countless million-dollar-plus verdicts. Case in point: last November, the New York Supreme Court upheld a $22 million verdict against a maker of asbestos-containing gaskets and packaging, a case the New York Law Journal cited as one of the highest verdicts in New York in 2004.
But it's all in a day's work for Levy Phillips Konigsberg, which – unlike a lot of other firms – never hands off a case when it is appealed. "We handle our clients' cases from start to finish, and that includes the appeals process," says Mr. Levy. "It stems from our deep feeling of responsibility and care for our clients." That philosophy insures that the firm brings its unparalleled level of personal service and commitment to the table for every client.
800 Third Avenue, Thirteenth Floor
New York, New York 10022
ph: 212-605-6200 fax: 212-605-6290
lpklaw.com