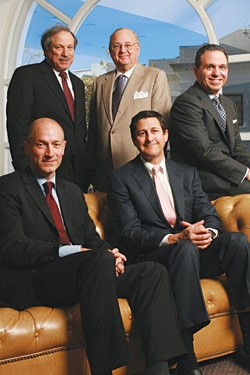 The name Silver Golub & Teitell gives defendants great concern. The 33-year-old Stamford-based firm succeeds by taking on cases that help not just the individual client, but have a broader impact for the public in Connecticut and beyond.
The firm has earned a reputation for excellence in complex litigation matters, including the representation of individuals who have suffered extreme physical or financial injuries due to fraud, medical malpractice and other instances of catastrophic negligence. Silver Golub & Teitell is not only known for obtaining some of the largest verdicts and settlements in Connecticut history, but it is also renowned for making the defendant corporations, governments and others accountable for their actions. In some cases the firm has been able to effect long lasting change, such as the removal of defective products from the market, forced compliance with safety procedures, compelled remediation of dangerous conditions, and stimulated enforcement of safety regulations. "We want to accomplish things for our clients and also for issues that we believe in," explains founding partner David Golub. That's a fitting statement for a firm whose motto is 'a long tradition of protecting people's rights.'
Protecting people's rights is what Silver Golub & Teitell does best. Some of the firm's most recent victories cover a diverse range of types of cases.
In a case of Insurance fraud, the firm obtained a $72.5 million settlement in a national class action lawsuit on behalf of 22,000 people who were defrauded of workers' compensation and personal injury fees, claiming that a large national insurance corporation fraudulently kept millions in fees that should have gone to the accident victims.
We want to accomplish things for our clients and also for issues that we believe in."
–David Golub
In another case, the firm was lead counsel for the state of Connecticut against the tobacco companies, obtaining a settlement for the state of $3.7 billion in a national lawsuit plus a $370 million bonus for being one of the lead states in the litigation. It also obtained a verdict of $8 million this year against R.J. Reynolds on behalf of a smoker who developed cancer, the first such verdict in New England against a tobacco company. Attorney Golub explained that the rationale for bringing individual lawsuits was "to show that smokers could bring and win these cases."
In a case of Public Safety, the firm obtained a settlement on behalf of a woman sexually assaulted in a parking garage of a hotel. The firm was able to garner evidence on lax security, broken security equipment and ineffective policies and procedures. Partner Ernie Teitell noted that "these cases affect how hotels, and other institutions that accommodate the public, will act in the future."
Silver Golub & Teitell also takes on medical malpractice cases. In a recent one, the firm obtained a $38.5 million jury verdict against a physician whose negligence during the birth of a baby caused severe physical and cognitive injuries. The verdict was the largest personal injury verdict in state history. "These cases are important not just for individual clients, but for all patients," said founding partner Richard Silver. Partner Angelo Ziotas points out that "policies and procedures change because we identify how the mistakes were made."
They even have had success against Financial Fraud. The firm secured a judgment of $35.8 million as lead counsel for 70 municipalities against the Connecticut Resources Recovery Authority to recover past overcharges imposed as a result of an illegal unsecured loan to the Enron Corporation. The agency had tried to make the municipalities pay for its improper investment. The firm is currently representing numerous Connecticut victims of the Bernard Madoff fraud.
Golub attributes much of the firm's success to the depth and talent of all 13 of its lawyers. "These cases are represented by everyone. This is what we do," Golub explains.
See Also:
• A Methodology of the Best Lawyers in America List
• 2011 Lawyers of the Year
• The New York Area's Lawyers of the Year
• Helping Future Lawyers' Dreams Come True
• The Keys to Success in Matrimonial Law
• A Long-Awaited Victory for an Injured Staten Island Man