The Veteran
David Weeks, who has been in Dumbo for ten years, offers one model for Brooklyn designers who want to turn start-ups into viable businesses. He's best known for his modernist lighting, much of which is available through Ralph Pucci. But "I never meant to be the lighting guy," says Weeks: He's also produced chairs for Habitat and has a new furniture line in the works. Weeks ran the playful, Droog-inspired Butter brand with Lindsey Adelman from 2000 to 2005, which featured many young Brooklyn designers alongside projects like a vending machine that dispensed design pieces.
Fire Up the Kiln
Big industrial kilns need space: Yet another reason so many designers flock to Brooklyn. Kiln Enamel platters (2001; $110 to $260 at Bark) are made by firing stained glass onto metal.





The flowers on KleinReid's Selfish Giant vase (2005; $6,500 at kleinreid.com) are painstakingly formed by hand.





John Pomp opened his own glass studio—One Sixty Glass—to more easily make these two-tone Beehive vases (2005; $180 at johnpomp.com).






Paper Chase
You need space to stamp the hand-carved linoleum blocks that create wallpaper, as Amy Mills of Paper Mills does (Little Havana pattern, 2005; to the trade through Roger Arlington, 212-752-5288).





Wook Kim's patterns look traditional but are digitally created with a quirky twist (Jacob pattern, 2005; $16 per square foot at Matter).





Zen and the Art of Woodwork
Eric Manigian studied Buddhism in Japan and brings that learning to pieces that take weeks to craft by hand (Bandwidth table, 2005; $17,000 at 718-855-9097). The key is "getting in tune with your tools," he says. "Woodworking evolves you as a sensitive human being."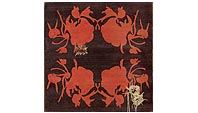 Magic-Carpet Ride
Amy Helfand's fantastical landscape-inspired rugs (2004; $100 per square foot at amyhelfand.com), created from her Brooklyn studio, are made in Nepal of Tibetan wool.





Azy Schecter designs rugs hand-tufted with New Zealand wool (2005; $60 per square foot at Kea Carpets & Kilims; 718-222-8087). Next: Piece and Harmony