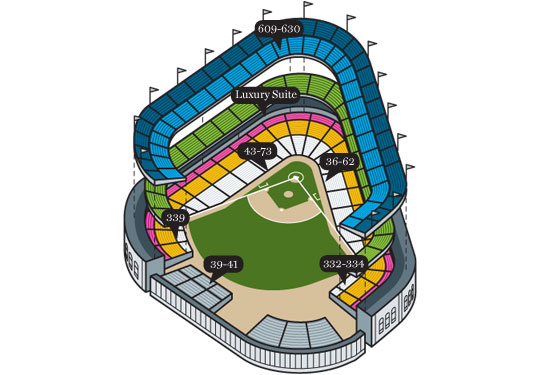 YANKEE STADIUM
Where to Go…
…To Catch a Foul Ball
Megafan Zack Hample, who has personally brought home 3,000-plus balls from major-league games, recommends monitoring the aisle behind field-level sections 43 to 73 (first-base side) and 36 to 62 (third-base side). For balls that fly straight over the backstop, try sections 609 to 630 on the upper deck.
…To Get a Souvenir
Stand in the front of sections 332 to 344 and 339 overlooking the outfield during batting practice, address players by their first name while wearing the cap of whatever team they play for, and say "Please" in their native language (usually English, Spanish, or Japanese).
…To Avoid the Mayhem
Box seats for a minor-league Staten Island Yankees game are $13.
…To Pay As Much As You Possibly Can
Luxury Suite 332: $8,000 for twenty seats and three passes for the players' parking lot. Add $2,500 if it's a Mets or Red Sox game or opening day, $1,000 for dinner, and $2,500 (Joe Pepitone, above) to $30,000 (Whitey Ford) for a former Yankee to watch the game with you, for a max cost of $41,500.
…To Catch a Home Run
According to Greg Rybarczyk of HittrackerOnline.com, 49 Yankee Stadium home runs landed in left-field seats last year; 106 landed in right. For the best shot at one, sit on the aisle between bleacher sections 39 and 41, the destination of 21 homers.
…To Check Your Bag
The Yankees are the only major-league team that doesn't allow anything larger than a handbag into their games, and they don't provide checking services. Instead, go to Stan's Sports World (850 River Ave., nr. 158th St.). Cost: $10.
SHEA STADIUM
Where to Go…
…To Score a Foul Ball
First- and third-base coaches will often pick up foul grounders and toss them into the front-row seats of sections 63 to 67 and 64 to 68. The front of loge sections 4 and 5 gets most of the balls that come over the backstop. If you can't get into those seats, stalk the aisle behind sections 76 to 142.
…For the Shortest Bathroom Line
Outside section 16 of the upper deck at Shea. Thanks to a special "families" bathroom, there are almost twice the number of toilets than elsewhere at Shea—but they're located outside the only sections of the stadium where beer isn't allowed.
…To Pay As Much As You Possibly Can
Diamond View Suite 11–12 behind third base: $7,000 for 30 tickets, four VIP parking passes, a personal appearance by Mr. Met, a scoreboard message of your choice, and a visit by a former Met to be your personal color man. Add $8,000 if it's a Subway Series, $1,500 for a surf-and-turf package plus waiter, $810 for a top-shelf open bar, and $20,000 if your Met alum is Tom Seaver, for a max cost of $37,310.
…To Catch a Home Run
Shea is set up such that only 56 out of 178 long balls last year came down in fan-accessible spaces; of those, 34 landed in the "picnic area," available only via group sales, beyond the left-field fence. Find yourself a group!
…To Get a Souvenir
Head to Row A of sections 179 and 180, which offers a prime position by the outfield for getting balls during warm-ups. Wear a glove so players don't feel they're endangering you by making a hard, accurate throw.
…To Watch Future Mets Play at the Beach
Head to Coney Island's KeySpan Park to see Mets minor-league ball club the Brooklyn Cyclones. Field-box seats cost about $14.