As recently as a few years ago, New Yorkers who made pottery were considered a very specific type of latter-day hippie, congregating at studios like the century-old Greenwich House Pottery and hawking their bowls at craft fairs. But with the dawn of Etsy, Instagram, and the ­Brooklyn Flea, a new generation of pattern-playing, texture-bending ceramicists have emerged, sharing studio spaces from Sunset Park to Greenpoint, selling their work to Steven Alan, and, in many cases, quitting their day jobs to take to the kiln full-time—and getting tweeted by Lena Dunham ("Just found a note to myself to 'tweet about the indie ceramics renaissance that is happening NOW' "). The art world is similarly clay-obsessed—see Dan McCarthy's face pots at Anton Kern Gallery and Shio Kusaka's vases at the Whitney Biennial—and vintage ceramics like those of Ken Price and Peter Voulkos have a newly invigorated market. What follows is a cross-section of the movement, including 17 power potters (from Helen Levi and her sleek pitchers to Isaac Nichols and his torso-shaped planters), where to shop their wares (or make your own), and a map of the stunningly intertwined Greenpoint–North Williamsburg scene.
A Who's Who of the City's Mug-Makers and Serving-Spoon Glazers
Brooke Winfrey
31, Instagram: @btwceramics
Soon after Winfrey joined Etsy in 2011, Steven Alan sniffed out her color-blocked porcelain work. Lately, in addition to teaching at Choplet in Williamsburg, Winfrey has been collaborating with Brooklyn-­based Coil + Drift on vases that resemble a ruffled skirt. From $35 at coilanddrift.com, Steven Alan Home.
Helen Levi
26, @helen_levi
A dabbler since childhood (she threw down at the Children's Aid Society on Sullivan Street), Levi bumped into Steven Alan at his store in 2012, and before long he was carrying her work. Recently, the Spring Street Social Society commissioned Sunset Park–based Levi to make 250 plates and decorative objects for a dinner party. From $25 at Homecoming, Joinery, the Primary Essentials, Steven Alan Home.
Forrest Lewinger
29, @workadayhandmade
Lewinger, who got his M.F.A. at California College of the Arts, moved to New York in 2011 and launched a line called Workaday Handmade; now he shares a Bed-Stuy studio with fellow ceramics bro Nicholas Newcomb and sells his bud vases at West Elm. From $30 at Mociun, the Primary Essentials, Still House, West Elm.
Clair Catillaz
29, @clamlab
Formerly a staffer at a brand-strategy firm, Catillaz spent off-hours at Clay Space 1205 in Greenpoint. Eventually she transitioned to making her mid-century-inspired pieces full-time, holing up in her live-work studio by the Jefferson L stop. From $40 at Homecoming, Joinery, the Primary Essentials.
Nicholas Newcomb
34, @nic_newcomb
A ceramicist since high school, Newcomb apprenticed with the late Toshiko Takaezu, a pioneering ceramicist and fine artist of the 1970s. Newcomb makes his triangle-­handle spoons and matte-exterior, gloss-interior dog bowls when he's not at his day job—as the director of Christopher Spitzmiller's ceramic-lamp studio in the Garment District. From $30 at the Primary Essentials, Rose Red & Lavender, Ware of the Dog.
Signe Yberg
41, @neonlegs
Formerly one third of ceramicist trio Mondays (the friends met at a Monday-evening class at Choplet), Yberg stepped out on her own in January. Working at Clay Space 1205—in addition to her fashion-styling jobs for celebrity clients—she perks up simple shapes (jugs, bottles) with bright lapis and deep coral. "I like when you can see the brushstrokes and drips," she says. From $18 at Homecoming, Joinery.
Julia Chiang
35, @juliachiang
In 2000, with a studio-art degree from NYU, Chiang did a residency program in China; now she's represented by galleries in Tokyo and Kansas City. A solo show of her spotted ceramic vessels, "Hanging and Holding," just wrapped at the New Museum store. From $200 at the New Museum store, the Paul Kasmin Gallery shop, the Standard shop.
Jennie Jieun Lee
41, @omenlee
Lee studied ceramics and printmaking at the Museum of Fine Arts school in Boston but took a decade-long hiatus that included a stint at the fashion label Libertine. She returned to ceramics in 2012—layering her glazes to achieve a shiny, painterly effect—and has two shows this summer: at Ille Arts in Amagansett and at Galerie Lefebvre & Fils in Paris. From $80 at Bushwick Cooperative, the Primary Essentials, VPL.
Isaac Nichols
29, @grouppartner
Two years ago, Nichols, a recent Cooper Union graduate, decided to start handmaking ceramic pots to complement his expanding collection of cacti. He's since built out a basement studio on Lorimer Street and gained Instagram traffic for his female-torso-shaped pots, complete with low-cut tank tops and exposed nipples. From $50 at dgimi.com.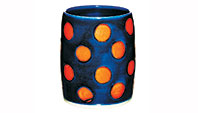 Rachel Howe
35, @smallspells
Until her wholesale business took off about a year ago, Howe was the studio manager of artist Laurie Simmons (mother of Lena Dunham). Her moon- and triangle-pattern cups and planters are inspired by Bauhaus weaving. From $25 at Cafe Dancer, O.N.A., Jumelle, Scosha, Steven Alan Home, Wolves Within.
Josephine Heilpern
28, @josephinenoel
Heilpern, who works part-time at a print studio, creates mugs that bear traces of the Memphis Group (Italian designers who played with bright geometries in the '80s). She's also big on texture. "I dip my handles in yellow rubber, and I leave the rims of my cups unglazed—I like the roughness on my lips." From $28 at Mociun, recreation­centershop.com.
Cody Hoyt
33, @codyhoyt
A trained painter, Hoyt decided about two years ago that some of his ideas "just didn't fit in two dimensions." The marble effect of his vessels comes from combining different wet clays, then cutting slabs with wire and reassembling them "like a puzzle." From $150 at Mociun, the Primary Essentials, Unis.
Pegah Shahghasemi
36, @kuzehpottery
Shahghasemi, a full-time graphic designer, founded Kuzeh Pottery two years ago, building her collection while studying at Mugi Pottery on 109th and Amsterdam. Her blue Sindukht mug is named after a female character from "The Persian Book of Kings." From $8 at the monthly Sugar Hill Market.
Shino Takeda
38, @shinotakeda
Takeda splits her time between the Togei Kyoshitsu studio in midtown and Clay Space 1205, where she and ceramicist Romy Northover collaborate on a tabletop line called Katakana NY. Because she pinches clay instead of using the potter's wheel, her cups and spoons are distinctively blobby and wobbly. From $18 at Greenhouse & Co., katakanany.com, Mociun, Nightwood, Steven Alan Home.
Cassie Griffin
28, @cassiepizza
Three years ago, Griffin recalls, "a friend suggested I check out clay, since I'm a Taurus, and that's an Earth sign." Now she waitresses part-time and sells her one-of-a-kind vases at Dimes (143 Division St.), the New Age–y restaurant and hang spot in East Chinatown. From $90 at Dimes.
Demetria Chappo
36, @demedemedeme
This Baton Rouge native often uses a shiny, metallic glaze, rubbed and rolled with crocheted lace, for a sea-urchin-like texture; her jewelry dishes employ a process called ­sgraffito—paint etched away with a sharp tool to reveal the clay underneath. From $34 at demetriachappo.com, West Elm.
Stepanka Horalkova
39, stepanka.etsy.com
A native of the Czech Republic, Horalkova loves the English alphabet: "I stamp letters in wet clay, let them dry, and rub stains into the grooves," she says. She's been a studio manager at the Teachers College ceramics studio at Columbia since 2005. From $35 at Domus Unaffected Living, West Elm.