Skeptics say that the food in Chinatown is too Westernized or too weird. Not true; while you won't find great Hunan or Sichuan cooking in this largely Cantonese neighborhood, there's an abundance of excellent, reliable—in some cases, extremely cheap—and delicious food.
Where to Go for …
… A BLOWOUT BANQUET
Ping's Seafood
View Menu
22 Mott St., nr. Pell St.; 212-602-9988
Some people think Chuen Ping Hui is the best Chinese chef in town, but he's not always behind the stove. Call and ask for Nancy, Ping's wife. Tell her you're interested in having a special banquet for ten but you want Ping to cook it. Plan to spend at least $1,000, and order the eight-pound lobster braised with long-life noodles and butter sauce.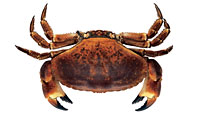 … IMPECCABLY FRESH SEAFOOD
Oriental Garden
14 Elizabeth St., nr. Bayard St.; 212-619-0085
Order Hong Kong–style Dungeness crab showered with crispy garlic, Santa Barbara prawns simply poached in water and served with a dipping sauce, lobster sautéed with ginger and scallion or steamed with garlic, and steamed scallops and oysters in the shell. Don't bother with the average dim sum.
… SLURPING DOWN SOME WONTONS
New Chao Chow
111 Mott St., nr. Hester St.; 212-226-2590
J.M. Family Noodle
19 Henry St., nr. Catherine St.; 212-571-2440
New Chao specializes in sub-regional Cantonese cooking called "chiu chow," which means it serves dishes like soy-braised duck and crispy bean curd filled with chopped shrimp. J.M.'s small plates (get a plate of beef and bean curd over rice at lunch for $3.50) are good. But both excel in wonton soup. New Chao's broth is outstanding, flavored with fresh herbs and white radish, and topped with pickle and fresh cilantro. J.M.'s version has an excellent broth too, but its big, meaty, shrimp-stuffed wontons are the stars. At both restaurants, if you ask for "no noodles" when you order, you'll get double the number of wontons. New Chao opens at 8 a.m. if you want soup for breakfast. Go to J.M. before 8 p.m.; it closes at 10, but much of the food's gone well before then.
… A BIG GROUP AT THE LAST MINUTE
Tai Hong Lau
70 Mott St., nr. Canal St.; 212-219-1431
One of the neighborhood's most consistent and reliable Cantonese. Order anything that doesn't sound like American Chinese food. The Peking duck has perfectly crispy skin, succulent meat, and wrappers that are better than most of their competitors. On Mondays, it's half-price.
… THE UNDER- THE-RADAR SPOT
Chan Noodle
79 Mulberry St., nr. Bayard St.; 212-349-1495
Head chef Zhi Xian Chen used to run the line at Ping's and has a similar modern-Cantonese menu. The difference is that since the restaurant is quite small, he cooks most of the food himself. His clams and crispy minced pork have that elusive wok-chi flavor that only years of experience can give.
… LATE-NIGHT MUNCHIES
Great N.Y. Noodletown
View Menu
28 Bowery, at Bayard St.; 212-349-0923
Fuleen Seafood
View Menu
11 Division St., nr Bowery; 212-941-6888
Both of these are bustling at 2 a.m., making them perfect for a hot bowl of noodles with roast duck after a night of bar-hopping. Noodletown is smaller, with tables for two or four; get the salt and pepper shrimp and the duck with asparagus. Fuleen's has several tables for groups of eight and more, and, as the name suggests, excels at seafood.
… THE CRISPIEST FRIED DUMPLINGS
New Green Bo
View Menu
66 Bayard St., nr. Mott St.; 212-625-2359
Some argue this is the best Shanghai-style restaurant in town. The soup dumplings and vegetarian duck are good, and hearty food like casseroles topped with an egg crêpe filled with tiny shrimp, braised pork shoulder, or giant "lion's head" meatballs are excellent winter meals. But the fried dumplings are the stars. Ask for them crispy.
… THE HEARTIEST SOUP DUMPLINGS
Joe's Shanghai
View Menu
9 Pell St., nr. Bowery; 212-233-8888
The best crabmeat dumplings in Chinatown. If you want something off the regular menu, try the bean curd with spinach. It's always packed, but the sister restaurant, Joe's Ginger, just opened a block away at 25 Pell St. (nr. Doyers St.; 212-285-0999), which might help relieve some of the perpetual congestion.
… THE JUICIEST PORK AND DUCK BARBECUE
Big Wong King
67 Mott St., nr. Bayard St.; 212-964-0540
Deservedly famous for the top-flight barbecue, which hasn't changed its recipe in 30 years. One of the busiest lunch spots in the neighborhood, but don't go for dinner; it's dead by nighttime. Order the pork or duck, chopped over rice or in noodle soup, and expect to share a table.