We the People
156 Stanton St., nr. Suffolk St.; 212-533-1091
Fourteen emerging designers, all fostering their own lines. The shop, which opened May 15, carries girly dresses, funky jewelry, and graphic tanks.
What to Buy: EKG Tank by Laura Lou, $38.
Love Brigade + Friends
230 Grand St., nr. Driggs Ave., Williamsburg; 718-715-0430
Williamsburg by way of London—literally and aesthetically. The founders launched a high-end experimental-fashion label in the U.K., then opened up a Stateside boutique.
What to Buy: Love Brigade Cathedral Pants, $120.
Trunk
68 Jay St., nr. Front St., Dumbo; 718-522-6488
Since November, Trunk's five designer-curator-owners have stocked cozy dresses, luxe accessories, and statement furniture (e.g., chairs made from traffic signs)—all crafted from locally sourced goods.
What to Buy: Panama Fedora by Charm NYC, $156.
International Playground
13 Stanton St., nr. Bowery; 212-228-2700
Opened in March, Carlos Campos alums Virginia Craddock and John Pizzolato's store allows New York and Scandinavian designers to test-drive styles before heading into full production.
What to Buy: Defense Cuff by Martine Ali in fourteen-karat gold, $550.
Vane X Sebago Concept Store 3
125 Rivington St., nr. Norfolk St.; no phone
Downtown artists and designers known for graphic tees and cool-kid ephemera (headphones, a miniature No. 2 pencil).
What to Buy: Vane for Sebago's Tuxedo II Dockside, $110.
Brooklyn Collective
196 Columbia St., nr. Sackett St., Carroll Gardens; 718-596-6231
Part boutique, part gallery, with some 25 artists and designers leasing space from founders and co-exhibitors Rachel Goldberg (jewelry) and Tessa Williams (fashion) each month.
What to Buy: Injured Bird silk screen, by Lauren Denitzio, nine-by-twelve inches, $25.
Urban Alchemist
343 5th St., nr. Fifth Ave., Park Slope; 718-499-0758
Brooklyn-based designers, artists, and foragers contribute handmade jewelry, quirky home goods (ceramic milk bottles repurposed as vases), and vintage finds.
What to Buy: Handmade elephant by Rabbits Moon, $36.50.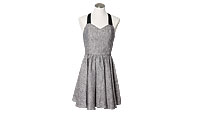 The Banquet
360 Atlantic Ave., nr. Hoyt St., Boerum Hill; 718-522-6906
A permanent showcase for fashion designer Miranda Bennett and jewelry designer Pamela Johnston, with rotating contributions from like-minded creatives.
What to Buy: Cove dress by Miranda Bennett, $285.
Con Artist
119 Ludlow St., nr. Rivington St., lower level; 646-342-2460
Members (who contribute photographs, rehabbed vintage, handmade baubles) pay a nominal fee for access to equipment, workspace, and a say in the boutique's inventory. What to Buy: Vintage skinny tie, $20.
OHWOW
227 Waverly Pl., nr. W. 11th St.; 646-370-5847
A pint-size branch of the Miami-based gallery collective ohwow (Our House West of Wynwood) selling photo books and limited-edition goods from gallery-affiliated artists.
What to Buy: The Stallion leather backpack by DRx, limited edition of ten, $800.