West African
Alvin Ailey American Dance Theater, 405 W. 55th St., nr. Ninth Ave.; 212-405-9000; $17 per class
Instructor Maguette Camara—who has performed with groups like Ballet Bougarabou Dance Company and the Rolling Stones—will break down traditional arm and leg positions as you learn this full-body, rhythmic dance style, set to the beat of a live drum.





Hip-Hop
Alvin Ailey American Dance Theater, 212-405-9000; $17 per class
Jonathan Lee (a former backup dancer for Madonna and Britney Spears) will teach you a music-video-inspired combo that incorporates Beyoncé booty shakes and a hard-hitting B-boy step. Newbies need not be intimidated; Lee is an incredibly patient instructor.
Broadway
Broadway Dance Center, 322 W. 45th St., nr. Ninth Ave., Ste. 3; 212-582-9304; $18 per class
You'll be one step closer to the Great White Way after Justin Boccitto teaches you the basics of jazz technique and a slew of isolations and across-the-floor combinations from shows like Chicago, Dreamgirls, Pippin, and Hairspray.
Voguing
Peridance Capezio Center, 126 E. 13th St., nr. Third Ave.; 212-505-0886; $18 per class
Madonna may have popularized voguing in the early nineties, but it's now made a comeback in the mainstream. Longtime voguer Cesar Valentino teaches an open-level "Runway Diva" class that'll run through everything from what facial expressions to make to how to isolate your hand movements while popping, locking, dipping, and spinning.
Michael Jackson
Chelsea Studios, 151 W. 26th St., nr. Seventh Ave., sixth fl.; 212-924-5877; $18 per class
Learn to moonwalk, crotch-grab à la "Billy Jean," and perfect your zombie arms at Mitchell Wayne's "Michael Jackson Mondays." You'll spend the first half-hour doing cardio and the second performing a stylized M.J. routine.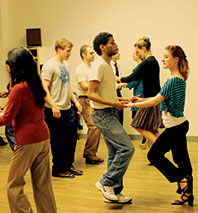 Ballroom and Latin
Stepping Out Studios, 27 W. 26th St., nr. Sixth Ave., ninth fl. 646-742-9400; $79 for four one-hour classes
Whatever you're looking to master—salsa, merengue, cha-cha, tango, waltz—these hour-long crash-courses will provide you with the basics. Single guys and gals: You don't need to sign up with a partner.